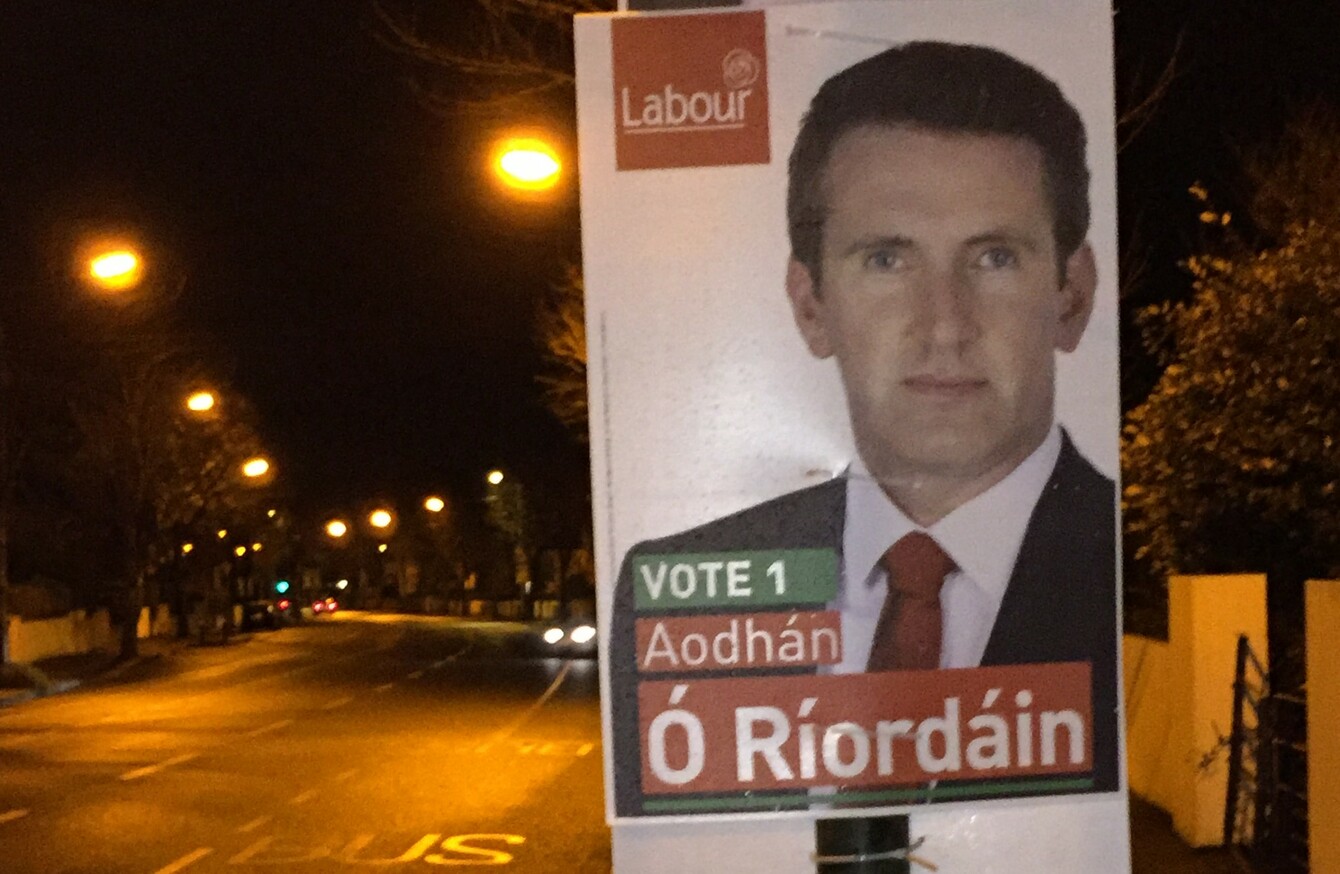 Posters in the 'constituency of death', Dublin Bay North.
Image: TheJournal.ie
Posters in the 'constituency of death', Dublin Bay North.
Image: TheJournal.ie
JOINING A PARTY canvass as a non-partisan observer usually provokes the same question, 'why in the name of God am I out here in the freezing cold?'
Fortunately, Aodhán Ó Riordáin's supporters move along at quite a good clip so staying warm wasn't the problem in Dublin Bay North. Keeping pace with the Minister of State's nine strong team was, however.
On this particular evening, Labour members were canvassing in the Woodbine estate. It's a part of Raheny that would generally be good ground for the party, but it's new territory for Ó Riordáin who was elected in 2011 in a different part of the constituency.
Dublin North Central has since merged with Dublin North East, he was elected in the former and we were canvassing in the latter.
The retiring Seán Kenny is Labour's sitting TD in the area and, during a quick pep talk on an estate corner, Ó Riordáin told his volunteers to remind Kenny supporters that he's now the only Labour horse in the race.
There's one thing the former teacher wants to make clear, both on the doorsteps and in the interview: he thinks Labour's place is in government.
He argues that, in the long-run, being in government doesn't actually hurt Labour's popularity as much as people think:
I just want to convince people that the place for Labour is in government, I swear to God we had 14 years in opposition. Every election we were talking about social justice, we were talking about equality, we were talking about investment in public infrastructure and public space and everybody kept on saying, ' Ahyea but Bertie's great'. That was us for 14 years and we were at 10% in every election, we're 10% now going into an election. I think we might surprise a few people.
Breaking off from our brief chat, Ó Riordáin jogs up to the door of one man who wants a word.
He's not thinking of voting Labour: "You're trying to get religion out of schools."
"Not true," he replies.
Another one of the first doors he called to brought up another social issue, "I'd be very pro-life."
We've a few moments as the canvassers forge on ahead and have another talk. This time about his work in spearheading the government's National Drug Strategy.
Decriminalising the possession of small amounts of drugs has moved from fantasy to a distinct possibility during his short time in the drugs brief.
Is it going down well with people?
People may have said initially that it was brave, which is another word for foolhardy, to make that conversation and drive that kind of agenda. But I'm getting a good reaction to it.
From what was observed among people in Woodbine, people are worried about crime and are open to new approaches.
That 70% of drug convictions are of users and not dealers seems particularly egregious given recent events.
Ó Riordáin put that stat to a number of people, "a waste of time", he said.  There was agreement.
I think it will be a job to convince Irish people and change the mentality first and foremost, but you know last April when I talked about injection centres people said it would never go anywhere.
These doorstep interactions were all pretty respectful, there was nothing that you'd consider to be an anti-Labour rant. There were a few complaints about the removal of the Christmas bonus.
"Ah, but we've restored that," Ó Riordáin was quick to respond each time.
Some people complained about Labour not delivering on Free GP Care and there were two people who said that Labour had 'let working class people down'.
His responses:
We didn't have the money to do it over the last few years. 'What could we do, go into opposition and let the IMF run the show?'
But what about those people who come at him with direct criticisms about decisions Labour have made? Cutting child benefit and the like.
Ó Riordáin is clear about his approach. If they want to engage, that's fine, he's open.
But if they just want to pick things out, there's no point trying to change their mind.
#Open journalism No news is bad news Support The Journal

Your contributions will help us continue to deliver the stories that are important to you

Support us now
"The country was a heap and we made it better. Generally if people are picking out issues like that, they're probably not supporters anyway," he says.
And I think I can spot somebody. Look, if somebody is going to give out about what we've done in the last five years and give me a list of complaints, that's fine. If somebody is talking on the one hand and on the other hand, then you're going to engage with that person.But if they've a list of things to criticise then I mean. Like that guy back there, he couldn't remember who gave back the Christmas bonus, it's because he's most likely a Fianna Fáil supporter.
We move on.
The next house has a big wide open driveway and his campaign manager points in that direction. Ó Riordáin stops him: "Wait, jaysus no."
Probably a good idea, the gate has a big notice for Irish Water. Let's just say they're not welcome.
When the economy was mentioned on the doorsteps, it was positive. Ó Riordáin thinks that's where the election will ultimately be decided, his seat included.
And what of future government? First off, he wants to continue as the mouthful that is Minister of State for Equality, New Communities, Culture and National Drugs Strategy.
Independents in government with Fine Gael and Labour?
"I don't want us to be held hostage by people who put their finger in the wind every morning and decide which they're gonna turn." So that's a no.
And what of Fianna Fáil? Maybe a grand coalition?
He laughs:
I spent 14 years trying to get Fianna Fail out of government, I'm not going to get them back in, no. They've no values. Sinn Féin and Fianna Fáil to me are very similar, they've no values.
"They're valueless entities. At least with Fine Gael you know where they're coming from."