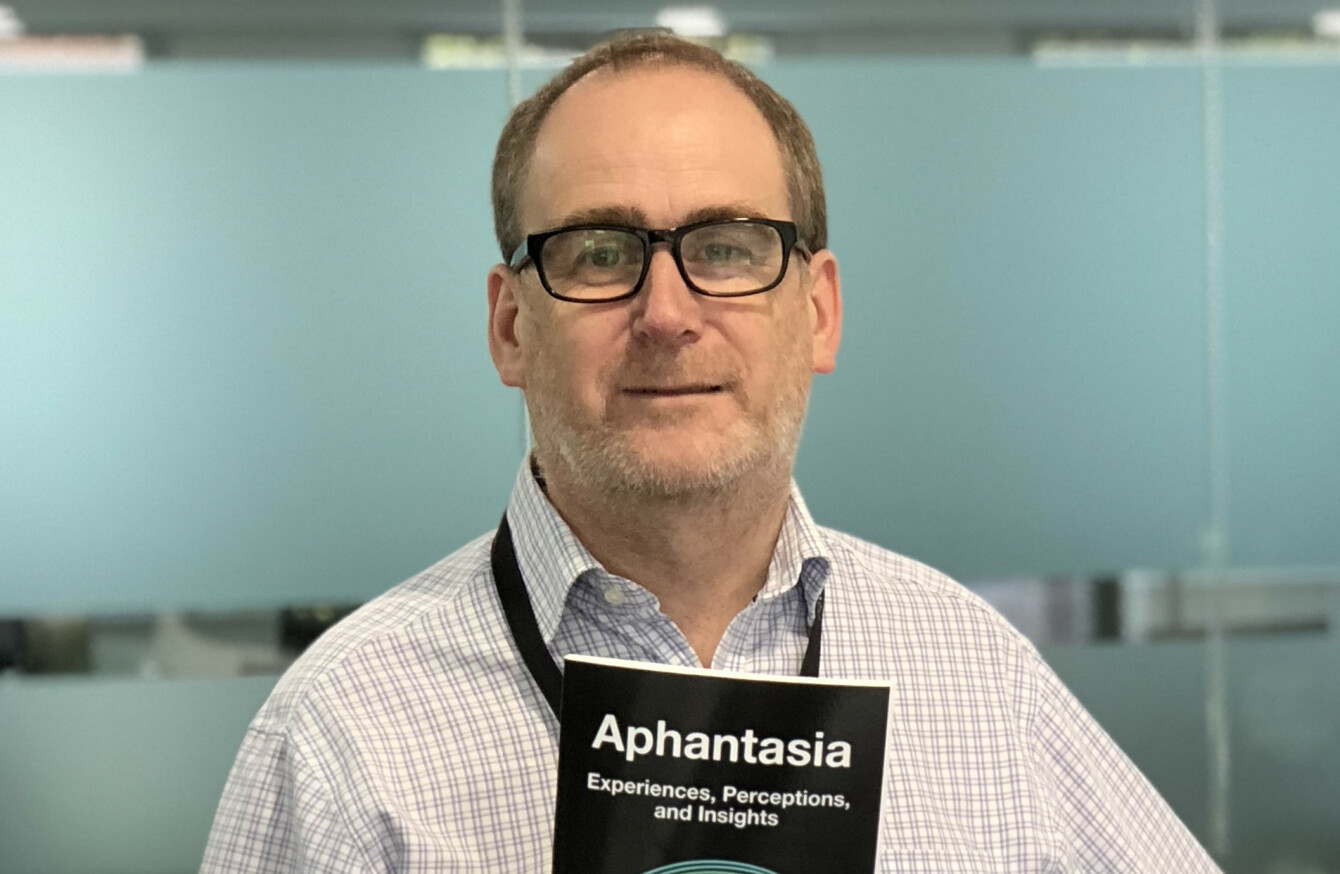 Alan Kendle
Image: Alan Kendle
Alan Kendle
Image: Alan Kendle
CLOSE YOUR EYES and picture a sunrise.
For most people, the ability to visualize images – such as a sunrise – seems straightforward, and can be accomplished with ease. However, for millions of people around the world, conjuring up an image in one's mind's eye is not possible and attempts to visualise images just bring up darkness.
Two years ago, scientists at the University of Exeter coined a name for the inability to see images in your mind – Aphantasia. They believe that 2% of the world's population could unknowingly suffer from it.
Alan Kendle, from England, has never been able to visualize images.
He explained to TheJournal.ie: "It's an inability to visualise in your mind. It's not that you can't think of something, but the thing you think of doesn't have any physical structure or form as an object in your head."
Since the discovery of the condition, scientists have also come to understand that some people with Aphantasia can't hear sounds in their mind.
"I don't hear anything in my head, people say they can hear music in their head but I don't hear anything," Kendle said.
When I read a book, I don't hear words. If I'm speaking to someone and they say something it doesn't pop anything into my head, nothing at all.
A life without memories 
A person's ability to remember past events is deeply intertwined with the visual images that come along with them. This, of course, poses a problem for those that cannot visualize mental images.
People with Aphantasia can only remember events because they know that they happened, thus making many mundane events difficult to recall.
"I can't recall an image and say we did that. I'm not recalling the image but just the knowledge that it happened," Kendle said.
For example, Kendle remembers going to the US when he was 18 solely because he knows he travelled there, but he has no physical memory to look back on.
Most people may consider the inability to look back on major life events a negative, but Kendle admitted that it has its benefits – he doesn't have to suffer any bad memories from traumatic events.
"When I was in my 20s I saw a boy who bled to death because he cut the artery in his leg accidentally with his bike frame. He died shortly afterwards but I don't have a memory of that," Kendle told TheJournal.ie. 
I don't have memories of my parents dying. I don't have bad memories of them in the same way people have vivid memories of their parents' last days.
On the flip side, Kendle has no visuals to accompany positive events in his life, but with the help of technology, he has discovered ways of helping him recall important moments.
"I rely more on technology now than I would've been able to do years ago. Google Photos is my best friend because it chronologically displays pictures in the order I upload them," he said.
I'm 56, I've reached a point in my life where you just accept that you are who you are and you don't think too negatively about your situation. You just accept who you are.
'I just didn't see it coming' 
Kendle has lived with Dyslexia for his entire life. Before realising that he has Aphantasia, he never noticed that he might have a condition that prevented him from seeing mental images. He simply believed that his brain worked just like everyone else who has Dyslexia.
It was only when his wife was listening to BBC radio and heard an interview with someone with Aphantasia that she put two and two together that this could be what Kendle suffers from.
"I was surprised, I just didn't see it coming. I thought it was just my Dyslexia, I didn't think it would be a unique condition," Kendle told TheJournal.ie. 
"My wife heard about it on BBC and she told me about it. I downloaded the podcast, listened to it and understood that's what was going on in my head."
Before discovering his condition, Kendle, an engineer by day, had been working on a book about living with Dyslexia. Upon his discovery he scrapped his book about Dyslexia and began writing about Aphantasia. He soon bagged a deal with a publisher.
#Open journalism No news is bad news Support The Journal

Your contributions will help us continue to deliver the stories that are important to you

Support us now
Because the discovery of Aphantasia came about through university research, most medical professions have no understanding or knowledge of the condition. When contacted by TheJournal.ie, the HSE confirmed that it had not heard of the condition.
Because of this, Kendle said that the book was important, to spread the message of the condition because, as noted above, up to 2% of the population could have it and be completely oblivious to that fact.
He told TheJournal.ie that he just wants to help those who may have the condition to understand it and be able to preserve memories they haven't been able to.
He said that his conversations about Aphantasia have already made some of those around him realise they have the condition.
"I know of three or four other people in my work building of over 200 people who think they have it," Kendle said.
"My colleague in work who found out he has it… something he started doing this year, which is something he doesn't normally do, is taking more pictures.
"He said: 'Well, I know now that they're my memories.'
"What it meant was that he has changed what he does because of the knowledge he has and he's able to have more memories now."
Kendle's book – Aphantasia: Experiences, Perceptions and Insights – was published on 7 December. It includes insights from contributors across the world, detailing their life and experiences with the condition.