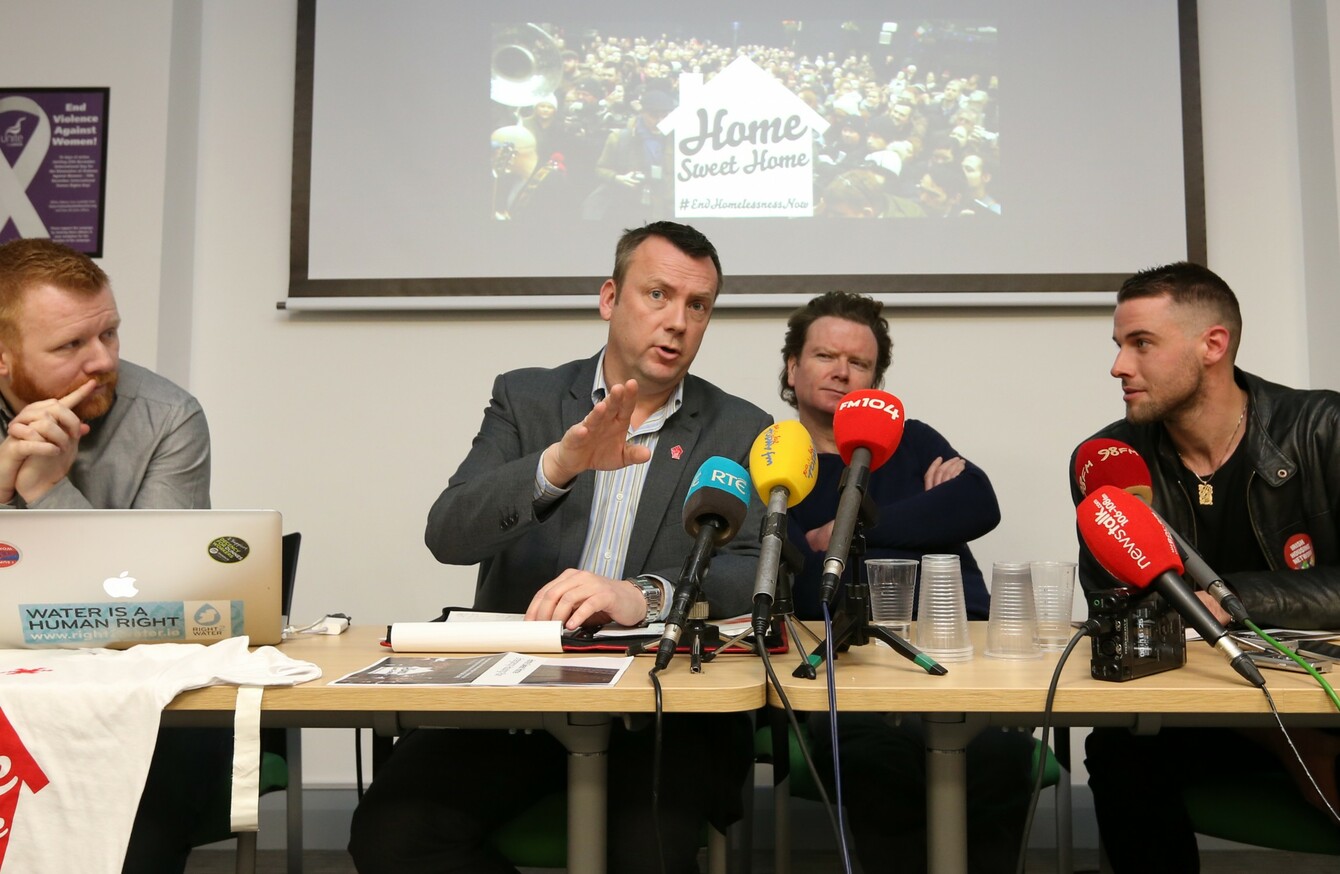 Home Sweet Home campaigners at a press conference today.
Image: Sam Boal/RollingNews.ie
Home Sweet Home campaigners at a press conference today.
Image: Sam Boal/RollingNews.ie
HOME SWEET HOME campaigners have said they will not vacate Apollo House unless the Government agrees to certain demands, among them committing to putting Nama properties "on the table" to help address homelessness.
Speaking this morning at the launch of an alternative housing plan, Brendan Ogle – a Unite trade union official and one of the leading members of Home Sweet Home – called on the Government to address the issue of homelessness in Ireland.
Ogle said that the group wanted Housing Minister Simon Coveney and Finance Minister Michael Noonan to use powers under the Nama Act (2009) to make properties available to house the homeless.
Ogle said that seven representatives from Home Sweet Home would be meeting with Coveney tomorrow in order to discuss their demands.
"I would like for the minister tomorrow to accept that this campaign has shone a necessary light on a key deficiency in what the state offers to homeless people," he said today.
And as a result of this campaign he is going to use the legislative powers available to the Government to put Nama properties on the table to help alleviate the homelessness crisis going forward.
HSH came to the public's attention when they took over a vacant Nama office building – Apollo House in Dublin – in late-December.
The group is made up of trade union and housing activists, as well as notable celebrities, actors and musicians.
The building has since been used to house up to 40 homeless people per night, and the campaign has attracted widespread public support, as well as hundreds of volunteers and over €170,000 in monetary donations.
The occupiers of Apollo House have been given a court order to vacate the building by 12 noon, next Wednesday 11 January.
The campaign on Tuesday marched with hundreds of people to deliver a letter to the Department of Finance calling on Finance Minister Michael Noonan to use the Nama Act to alleviate homelessness.
Under Section 14 of the Nama Act, the Finance Minister may direct Nama to make available certain properties under its control in order to achieve its purposes.
Under Section 2 of the Nama Act, one of the nine purposes laid out is for Nama "to contribute to the social and economic development of the State".
In effect, HSH are calling for the Government to commit to forwarding this purpose of Nama in order to ensure that safe, secure accommodation is offered to homeless people in need.
They want the finance minister the use the powers granted to him under Section 14 to order Nama to make suitable properties available.
Emergency Housing Plan 
HSH – with the support of the Unite and Mandate trade unions – today launched its Emergency Housing Plan, which laid out its demands from Government going forward.
These include:
Declaring a national housing emergency
Implementing rent controls
Ensuring tenants in buy-to-let properties can't be evicted if the property is sold
Guaranteeing all emergency beds for homeless people for a period of six months
Commenting on the plan, David Gibney of the Mandate trade union said that the current Government Housing Action Plan – launched last July – had failed.
"The Government's plans have been tried… their plan has failed," he said.
"We have no faith in the government's housing plan overall.
They've tried and tested it for years and years and it's time for a new plan.
Campaigners said the housing plan and their demands would be discussed with the minister when they meet tomorrow.
TheJournal.ie has contacted the Housing Department for comment.