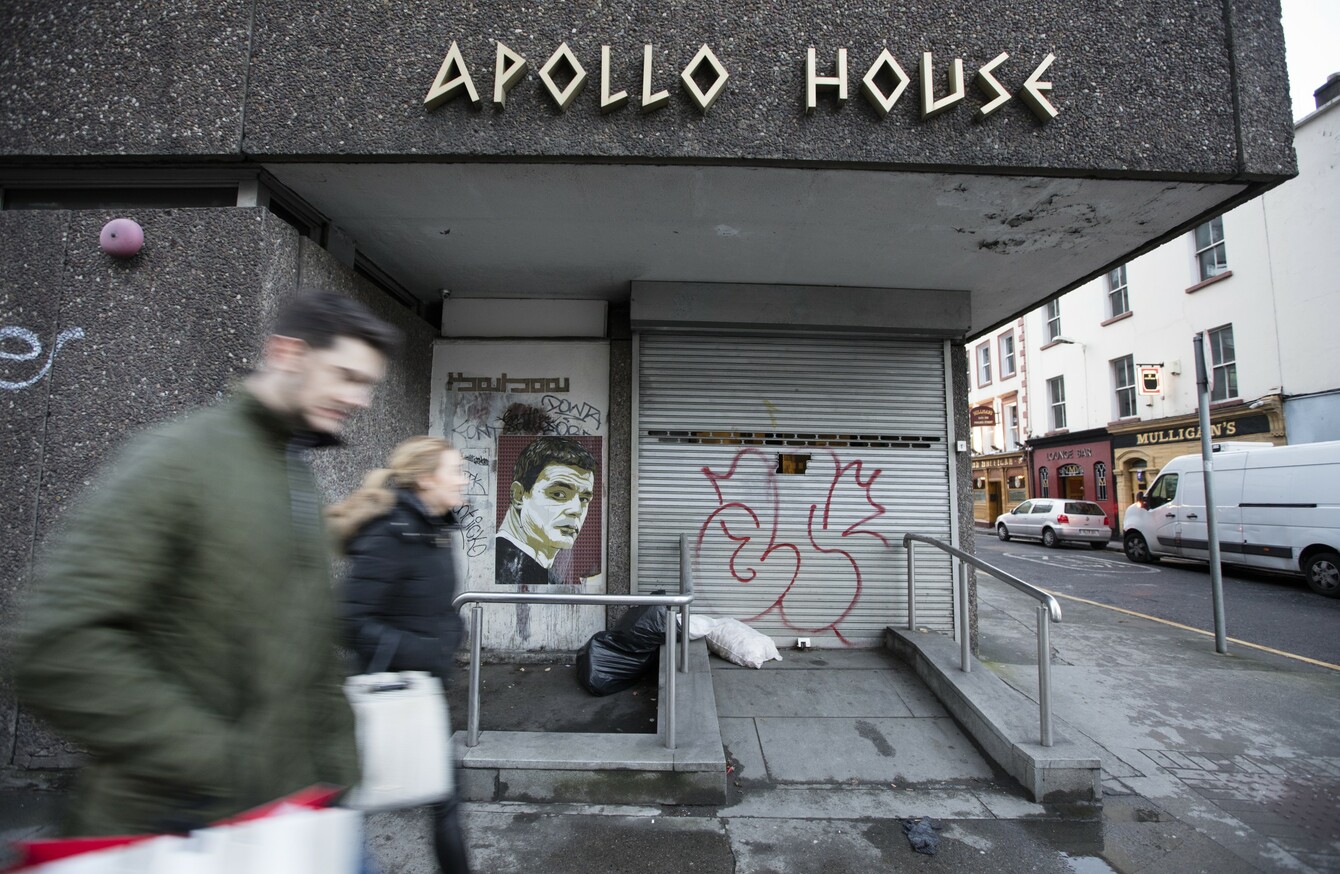 Image: Eamonn Farrell
Image: Eamonn Farrell
Updated: 18.10
RESIDENTS AT APOLLO House will only leave the makeshift accommodation if promises made by Dublin City Council (DCC) and Simon Coveney are kept.
Two new emergency accommodation units are to be opened in the city centre where residents will have their own key, it emerged this evening.
However, all residents will only leave so long as assurances made by DCC and Coveney are delivered.
Brendan Ogle of Home Sweet Home (HSH) said residents of Apollo House will only be moving out when there's a long-term plan for their accommodation.
"As far as we're concerned this is now in the hands of Dublin City Council and the promise of the minister," Ogle said.
They have made a commitment to the residents of Apollo House that alternative accommodation will be available to match their needs. So it's up to those people and it's up to the minister to deliver on that promise and as soon as those promises are delivered on then those people will settle down.
Agreement
Minister Coveney has also guaranteed that there will be no families in hotels or B&Bs by July of this year.
The High Court ruled late last year that residents of Apollo House must vacate the premises by Wednesday at noon.
Glen Hansard is one of the defendants in the High Court action taken against Home Sweet Home and the musician said that their actions have got people talking about the issue of homelessness.
"When we kicked open the doors of Apollo House, we kickstarted a conversation," Hansard said this evening.
We didn't start the conversation and we probably won't be the last, but we did draw attention back to a conversation that is very, very important. When we went into Apollo House on 17 December there wasn't enough beds in the system and that's why we went into Apollo House. That's why I went into Apollo House anyway, everyone had a different reason.
A spokesman for HSH this evening said that from today, the group has agreed not to accept new residents into Apollo House and that it will facilitate the transition of existing residents to suitable accommodation once DCC has provided them with "the appropriate support services to meet their short and long-term needs".
He added: "The minister did not confirm whether the two additional facilities for homeless people will be NAMA buildings. Solicitors acting for Home Sweet Home have written to the Minister for Finance on this matter and are awaiting a response."
Home Sweet Home have also said that the group are to set up a full-time permanent support centre in Dublin for people seeking accommodation.
Home Sweet Home will also have monthly meetings with Dublin City Council to discuss and assess the housing and homelessness policies.
The group has also said that more than €160,000 in funding has been donated to it and has pledged to publish its campaign spending and donate any excess to charitable homelessness causes.
"It hasn't been an expensive campaign because of the fantastic donations," Ogle said at a press conference this evening.
Not just the financial donations but also food and clothing and beds and clearly we haven't been paying rent or anything. It hasn't been a particularly expensive campaign, I was given an exact figure last week but it may have increased. There are security costs, medical costs and other costs.
Agreement
In a statement this evening, Minister Coveney said "an agreement has now been reached to facilitate a transition by the individuals accommodated in Apollo House to alternative accommodation, with the appropriate support services to meet short and long-term needs".
Coveney said the two new facilities in the capital will include units suitable for single people and couples. They will also promote independent living skills, he claimed.
The government has committed €5.35 billion to deliver an extra 47,000 social housing units by 2021.
With reporting by Rónán Duffy and Cormac Fitzgerald