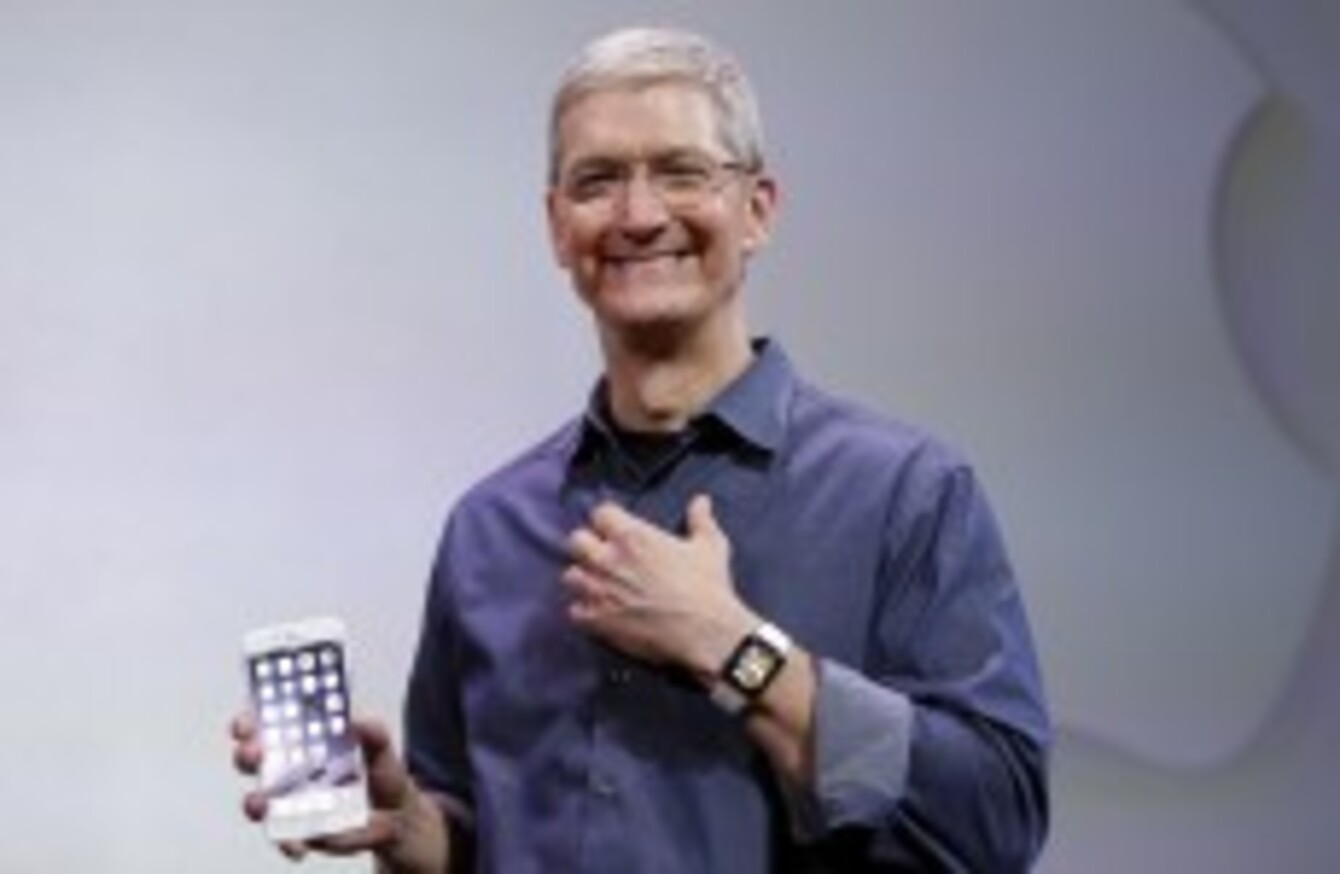 Image: AP Photo/Marcio Jose Sanchez
Image: AP Photo/Marcio Jose Sanchez
SO ANOTHER YEAR has passed and another Apple event is done and dusted.
While there were many product announcements and services introduced during a frantic two hours, there were many more talking points that came from the event. Here are the main ones.
Mobile payments is a long-term game Apple is playing
The rumours of mobile payments and NFC featuring were pretty much bang on as Apple Pay was announced. Prioritising privacy and convenience, Apple's mobile wallet may have a good chance of succeeding considering the number of companies and brands it's teamed up with in the US.
But adoption will be very slow. The only devices that support this are the iPhone 6, iPhone 6 Plus and Apple Watch, which will likely sell well, but the higher than usual price might deter some, even with contract subsidies.
Also, the number of retail stores supporting it in the US from the word go is said to be around 220,000, a tiny percentage of the seven to nine million merchants that accept credit cards.
Instead, this move sets the foundation for such a service and Apple has the influence and resources to make such an idea work. It will likely need two or three more years before any results emerge, but if they're positive, then it will pay off handsomely for the company.
Apple didn't address the elephant in the room, and that could hurt it
Perhaps it didn't want to dampen the jovial mood it set during the event, or couldn't fit it in, but not addressing the iCloud troubles in any form may have come as a surprise to some.
Whether it was an intentional decision or they were simply unable to fit it in without sacrificing part of the event schedule, it was more jarring when you consider how much emphasis it put on security and privacy around Apple Pay.
Maybe it will address it properly later on, but there was a genuine opportunity to lay some uncertainties to rest, and by not taking that chance, it could have a negative effect on other products like Apple Pay.
Apple continues to position itself as a lifestyle company
At Apple's developer conference in June, it introduced HomeKit, its entry into the smart home market, and HealthKit. Now the inclusion of Apple Watch and the company's acquisition of Beats Electronic means the company is now firmly placed in the lifestyle industry.
For example, while Apple Watch functional and has some nice features, the product is made to look stylish, something you will be happy to wear anywhere you go. Why else would there be a luxury version of its smartwatch?
Apple has been obsessed with design since the early days, but now it wants to feature in every part of your life. Considering what it has at its disposal, it could very well do that.
There's no i in Apple (at least for newer products)
With the exception of the iPhone, one of the more noticeable aspects about Apple's event is that its new products dropped the 'i' naming scheme for every new product it announced.
Perhaps it wanted to give the brand name more coverage or got tired of the iSore jokes that would regularly accompany said announcements, but the i is becoming less prevalent and is only propped up by the iPhone. Speaking of which…
Is Apple giving up on the iPad?
While the iPhone 6 Plus may seem like an anomaly for Apple smartphones, the 5.5 inch screen may be directed more towards professionals and companies who want the benefits of a tablet, but aren't willing to invest in one.
By their very nature, tablets have found themselves in a no-man's land as anything it can do, a computer or smartphone can do better. iPad sales have been stagnant in recent months and if the uptake of the 6 Plus is positive, then the iPad's future may be less certain.
#Open journalism No news is bad news Support The Journal

Your contributions will help us continue to deliver the stories that are important to you

Support us now
Apple smartwatch looks solid, but one major detail was left unanswered
At least from first impressions, Apple Watch looks like a good device, but despite the features, additions and extras included, there was no mention of battery life.
The entire purpose of wearable technology is that you're able to forget about it until you actually need it and with Apple Watch promising to track your activity, fire notifications and message, it's going to be a drain on battery life. The only aspect that was touched upon was the charger it uses which doesn't inspire confidence.
Free U2 album = more iTunes users & more Apple Pay users
As much as we like to criticise and slag off U2, it's hard to ignore just how influential the band is even after all these years. While many scoffed at the news it was offering its new album for free on iTunes, it will be downloaded and listened to in its droves.
The important detail is that anyone who signs up to iTunes before 13 October, you get it for free. U2 is still influential enough for non-iTunes users to sign up to the service and people will sign up. And that may come in useful for Apple Pay, which uses iTunes details for purchases.
The real success story has Irish roots
While the entire event was Apple's, people may have missed Stripe's announcement. The company, which was founded by Limerick brothers John and Patrick Collison, announced a partnership with Twitter yesterday to help power an ecommerce service, and soon after Apple Pay's unveiling, immediately offering integration with it.
The fact that it's so on the ball with trends and well regarded is the reason why it's receiving many plaudits, and is something that most Irish businesses can take inspiration from.