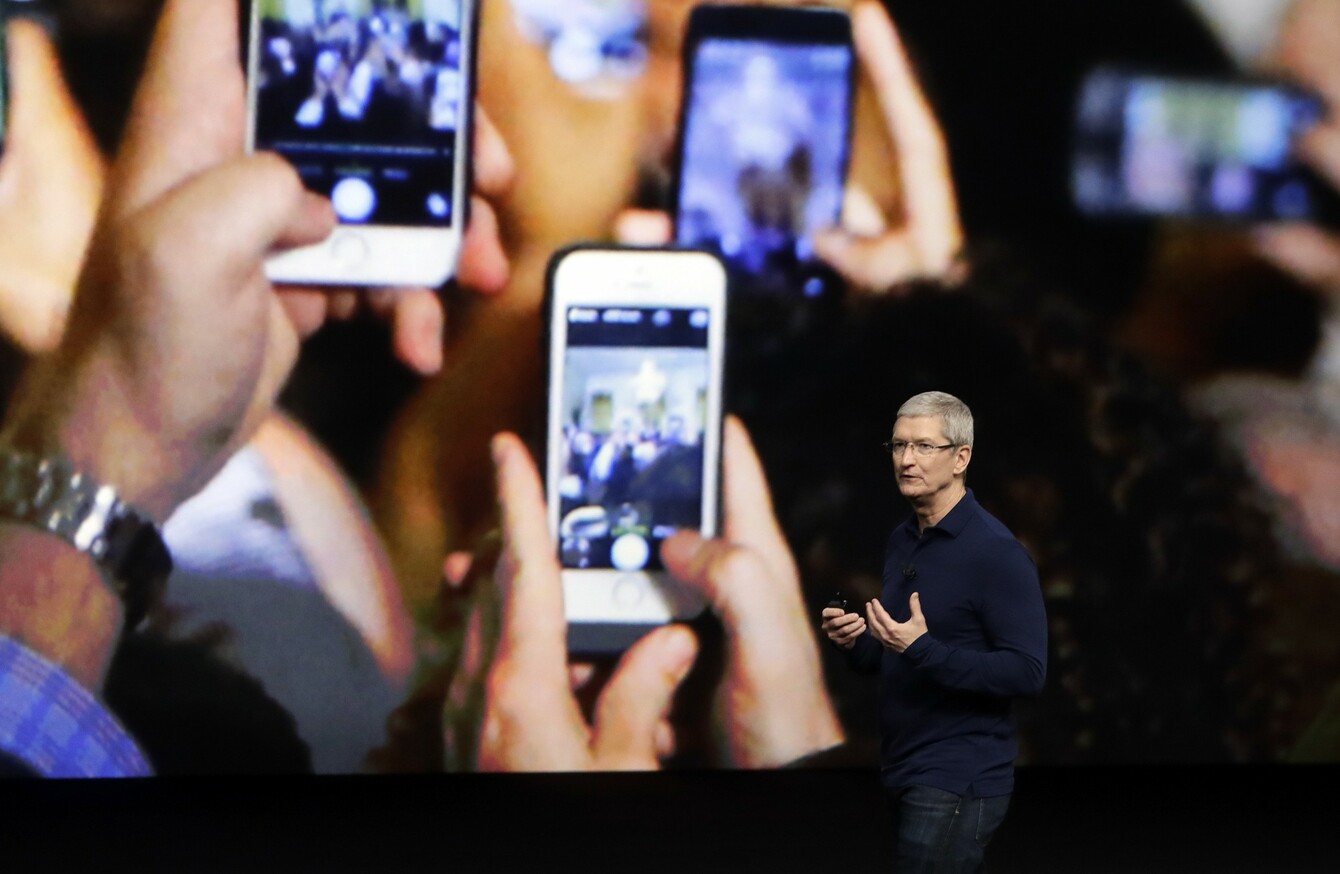 Image: AP Photo/Marcio Jose Sanchez
Image: AP Photo/Marcio Jose Sanchez
LAST NIGHT, APPLE held its September media event where the iPhone 7 was announced alongside some other products.
As far as events went, it was pretty standard but with a few small surprises here and there. Here are the main talking points from the event.
Apple (mostly) fixes one of the iPhone's most annoying problems
For years, one of the major criticism about the iPhone was how the minimum storage space was set at 16GB. This is changed now that the iPhone 7 range and 6s range will now be sold with 32GB as the minimum (the iPhone SE is still stuck with 16GB).
However, for those who want a little bit more storage will have to make a significant jump. There is no 64GB storage option, meaning you will have to get the 128GB option at the very least as the only other option is 256GB.
In comparison to the original options of 16GB to 64GB, this probably isn't as bad a compromise, but it's still overkill for most users outside of those obsessed with capturing 4K video footage.
The Apple Watch now has a clear aim
Apple's smartwatch has been around for the good part of 18 months now and while it's easily the most recognisable smartwatch brand around, it hasn't captured the imagination of the general public.
That seems to be overcome with the introduction of the Apple Watch Series 2 which is "swim proof" and can survive being submerged up to 50 metres. But its biggest addition is the inclusion of in-built GPS, meaning people can wear it and track their activity without needing their iPhone.
This is major as the Apple Watch's main audience is going to be runners. While advertising it as a lifestyle device is going to win the hearts of major fans, doubling down on the idea that it's a valid replacement for Fitbit and other wearable fitness devices (but one that can do so much more), could help it in the long-run.
The appearance of a certain mustachioed man brought the magic
It's tough to get excited about announcements at the start of any event, especially when you're waiting for the big reveal, but the announcement that Nintendo would be bringing Super Mario to the iPhone received a large applause, and for good reason.
Mario is easily one of the most beloved characters in pop culture, not just gaming, and seeing him a game developed by Nintendo on a non-Nintendo platform is exciting.
Granted, it's not an iOS exclusive – it will arrive on other platforms later – but getting it first is a massive coup for Apple.
The game is an endless runner-style game and can be played with one hand. It's also a paid title which is good as it means the focus won't be on ads or in-app purchases – the latter will feature in some form but won't impact the main game.
Also, the announcement saw Shigeru Miyamoto take the stage, briefly speaking in English before switching to Japanese. It was fun to watch and to see him make chomping noises when telling the audience you can play it while eating a burger (or apple… geddit) got a laugh.
Forget ditching the headphone jack, getting annoyed about wireless is where it's at
Maybe it was the fact that rumours had been circulating for so long, or the fact that the new iPhone will come with an adaptor for normal headphones, but the announcement wasn't the focal point of Apple's headphone plans.
Instead, much of it was directed at AirPods, Apple's wireless earbuds which it revealed at the event.
It won't arrive until October, but it's going to be limited to a small audience initially. Costing €179, they work with Siri and a single charge will last five hours.
For that last part, the AirPods case also doubles up as a charger but it's an imperfect solution even if the charging speed is fast (which is possible considering how small the batteries are for each earbud but still).
Is it arrogance or is Apple really thinking about the future? It might be right in its decision – it has been regarding other technology like the CD-Drive and flash support – but we really won't know for some time.
The headphone jack has been around for so long, people were always going to get annoyed if its existence was threatened. Yet while wireless has a future (not having to deal with tangled wires is an upside), whether we or the technology are ready is another story entirely.
It will be a painful process. Yes, it's inevitable that more smartphone makers will ditch it in favour of USB-C (or the Lightning port in Apple's case) or encourage users to go wireless entirely, but it brings up some problems.
One is like now having different headphone standards in the short- or medium-term – 3.5mm, Lightning and USB-C - and getting people accustomed to charging another wireless device regularly is another challenge to overcome.
So too is the price. Until the price is similar or close to what headphones are now, it's going to be harder to convince people to switch, especially if they feel losing them is far too easy.
The iPhone 7 Plus camera setup is worth getting excited about
Say what you want, but the 7 Plus' dual-camera offering opens up a lot of possibilities. The two cameras included are a 28mm wide lens and a 56mm telephoto lens, the latter being the important one to note.
All smartphone cameras are wide lens, meaning it's great for scenic photos or getting in groups of people. It's not so good for taking photos of people which is where the telephoto lens comes into play.
By placing a long telephoto lens on the iPhone, it will let you zoom in 2x without losing image quality. A future software update will allow for a depth-of-field effect, which will ensure the subject of the photo will pop out more by creating a blurred effect in the background.
The Huawei P9 also had a similar setup but had its flaws so seeing how Apple's camera software fares in the field will be interesting.
The other important element it allows is for Augmented Reality. It's likely you have experienced it before by catching monsters in Pokémon Go or by transforming your face in Snapchat, but the ability to determine depth opens up significant possibilities for this field.
Those above examples rely on guesswork to superimpose additional features like masks or monsters but the dual-camera approach will help impose them in a more natural way.
This is looking further down the line, but it would be foolish to think that Apple (or other smartphone makers) hasn't been working on its own offerings.