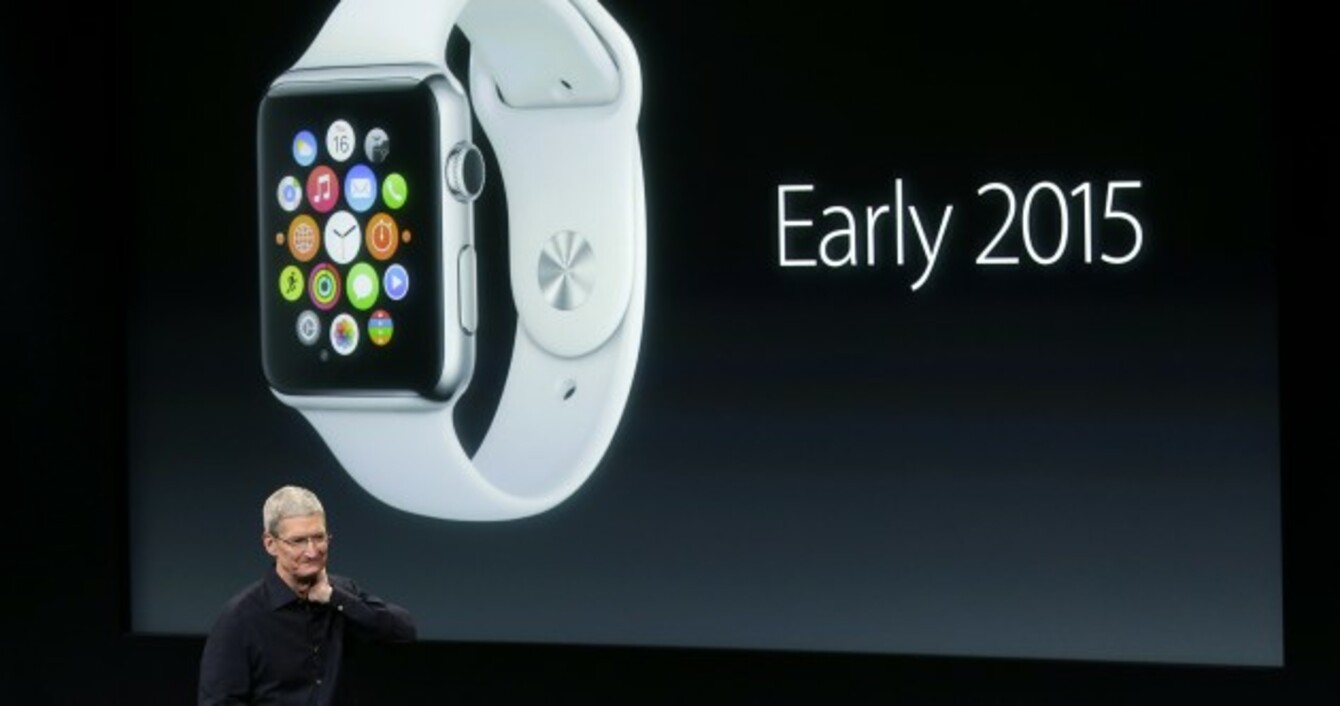 Apple CEO Tim Cook talks about the new Apple Watch
Image: Marcio Jose Sanchez/AP/Press Association Images
Apple CEO Tim Cook talks about the new Apple Watch
Image: Marcio Jose Sanchez/AP/Press Association Images
SURE YOU CAN get an Apple iPad, iPhone and, for now at least, iPod. But thanks to a small Athlone software company there may never be an iWatch – at least not one made by the US technology giant.
The $616 billion (€484 billion) company has so far had to settle for the name Apple Watch instead thanks to a Europe-wide trademark Athlone-based Probendi took out on the name iWatch in 2008.
Italian ex-pat Daniele Di Salvo set up the Irish company in 2006 to sell software for petrochemical companies and other operations to share critical information in real time.
This morning he told RTÉ radio he "cannot talk about this" when asked if he had heard from Apple over the name or if they had been in talks about the US firm buying the rights.
But he said his company had been in talks with some Chinese firms about making a rival product under the brand iWatch.
We have been contacted by some very important manufacturers in China about the possibility of manufacturing a smartwatch and selling it with the name iWatch," he said.
"Discussions are still ongoing – we are good at software but hardware is definitely not our business. But we are evaluating the product that we've got."
It's not the first time this has happened
Apple reportedly paid a Chinese company $60 million in 2012 after a long-running battle over the iPad name, which the Asian firm was claiming the rights to in the key market.
Di Salvo said he planned to keep developing his iWatch software for now as "about 100″ Italian local governments as well as law enforcement agencies in South America were already using the product.
He said the company's lawyers had been issuing warning to anyone who associated the iWatch name with a smartwatch "because it is not".
He said Probendi was initially incorporated in US as a spin-out from an Italian firm but it was moved to the Republic because "Ireland is a very business -friendly country".
The Apple Watch isn't due to be released until next February after software problems forced the company to push back a planned Christmas sale date.
Apple's latest results showed it sold over 39.2 million iPhones in the three months to late September and turned over $42.1 billion (€32.8 billion) in products for the period.
Probendi is yet to file any annual accounts.