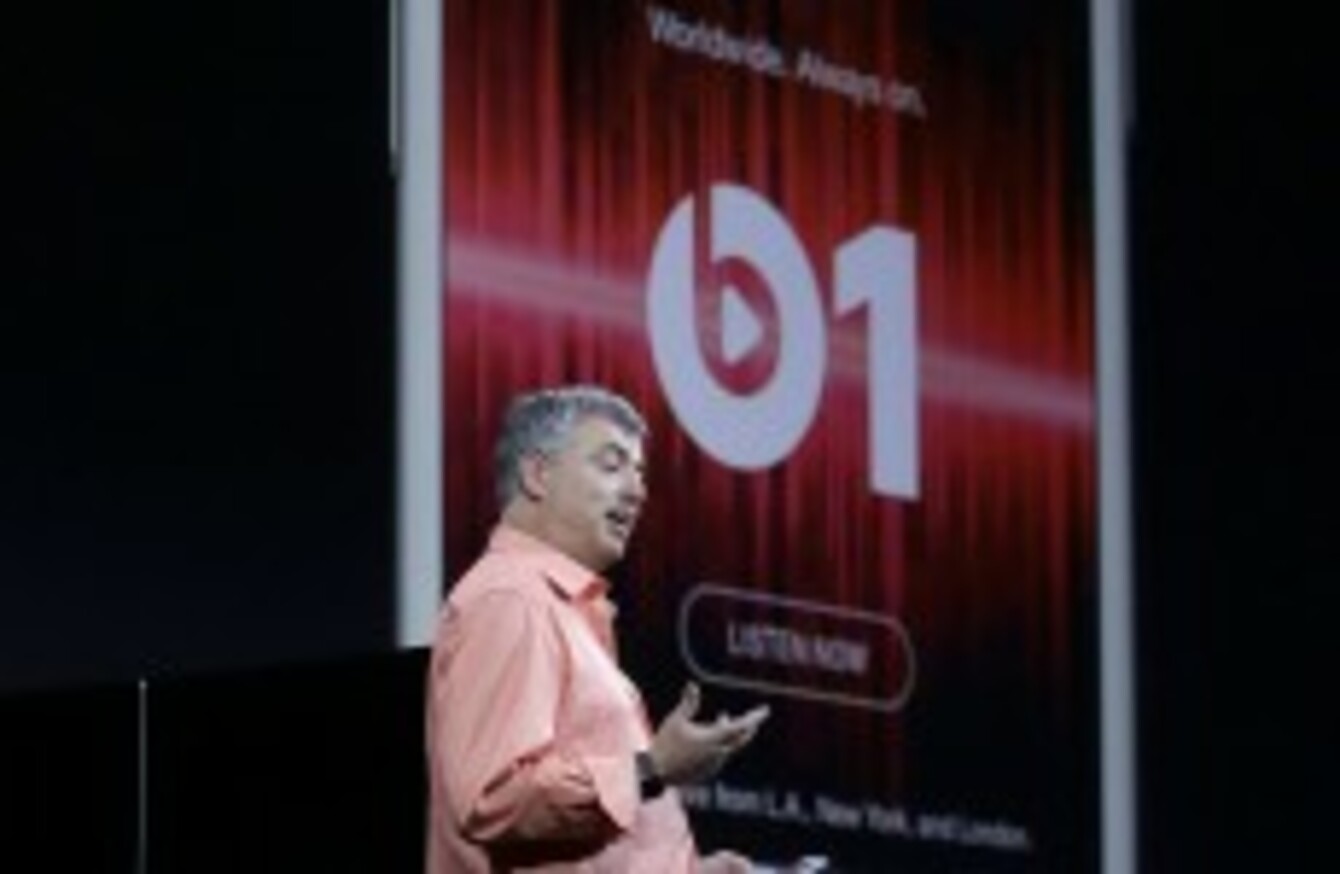 Eddy Cue, Apple's senior VP of internet software and services, talking about Beats 1 earlier this month.
Image: AP Photo/Jeff Chiu
Eddy Cue, Apple's senior VP of internet software and services, talking about Beats 1 earlier this month.
Image: AP Photo/Jeff Chiu
APPLE'S OWN MUSIC streaming service will launch later today, marking its long-awaited entry into a crowded field.
It already faces stiff competition from the likes of Spotify, Deezer, and Google Play Music to name a few, but what do you need to know about it?
What time is it arriving?
At 8am PST which is 4pm Irish time. The app is being included with the update to iOS 8.4 and since it's an update, it won't require as much space as the update to iOS 8. iOS 8.3 was 1.4GB so expect the same here. Beats 1, Apple's first radio station, will begin streaming at 5pm.
How do you update?
Go into Settings > General > Software Update and follow the instructions from there.
Why is Apple Music part of the iOS update? Wouldn't it make sense to have it as a standalone app?
There are two reasons for this. The first is it's replacing the standard music app which is mandatory for iOS. Apple has a large collection of apps that can't be deleted and since they're updated through iOS instead of the App Store, this is the only way to change it. It's also replacing the Beats Music app in the US.
The other reason is adoption rates. Apple needs Music to be a success and it needs it to be on as many devices as possible. That's the reason why it's offering the three-month free trial as a way of getting people hooked on the service.
It has 800 million people already signed up to iTunes so it already has a strong base to work from. Whether that will translate to paid users is another matter entirely.
Source: Apple/YouTube
How much does it cost?
Apple Music is a paid service, costing €9.99 per month, but as mentioned earlier, it will include a three month free trial for all users. If you have a family, you can pay €14.99 a month which will allow access for up to six people.
It will also be the first Apple-made service to appear on Android (an app will appear later this year) and it will also be on Windows devices through iTunes.
How many tracks will be included at launch?
It's expected to be around 30 million tracks. That's roughly the same as Spotify and Google Play Music so any music you'll find there, you'll find here and vice versa.
You will be able to upload up to 25,000 of your own songs on the service and it's planning to increase that number to 100,000 tracks by the time iOS 9 arrives (usually at the end of September).
Does it have any major features to help it compete against its rivals?
Nothing major but there are two elements which could help it. The first is its own music playlists, curated by experts and not algorithms. This is what Beats Music did with its app before Apple acquired it last year, and it will appear here.
The other is exclusive releases, something it has experience with through iTunes, and it already has with Taylor Swift's album 1989 appearing. It's likely that alongside exclusive songs and videos uploaded by the artists themselves on Connect, its own social media service, there will also be exclusive interviews through Beats 1 Radio.
It's probably not one major thing but a number of small features that will allow Apple to compete. Streaming is the main focus, but Apple is hoping the other features will help complement it.
What happens to iTunes or iTunes Match? Will they still be around?
iTunes will still be around and Apple Music will be included as an update. Considering it still has music, podcasts, TV shows and movies to sell, it won't be disappearing anytime soon.
For iTunes Match, both it and Apple Music are separate but users won't have to pay two subscriptions to avail of both services so for now, it's here to stay.
What happens if you finish the trial but don't subscribe?
You can still access it but what you can do with it will be very limited. You can still view and follow artists' feeds on Connect, but you won't be able to play content on it.
You can listen to both Beats 1 Radio, and you can listen to Apple Music's radio stations which cover specific genres. However, much like Spotify's free service, you only get a limited number of skips for the latter and these playlists will also be ad-supported.
Outside of that, the only music you'll be able to access will be your own tracks. Any music you streamed through Apple will be inaccessible.
Will its introduction result in Apple trying to stifle competition? What's to say it won't try pushing Spotify or other rivals out of iOS?
It's true that Apple has a history of pushing certain competitors out of the way (as do many other companies), but there isn't anything to suggest it will try pushing competitors out of iOS.
It already been talks with different musicians and record labels over exclusive content, and will start by streaming Pharrell Williams' new single Freedom exclusively, but it has already gathered attention for pushing music labels to pressure rivals like Spotify to drop its free tier, reducing the competition Apple would face.
Nothing like that has come to fruition, but it shows how much of a threat it views both its rivals and the ad-supported business model free music streaming follows.
What other problems does it face?
The major one is apart from a few small things, there's nothing major to separate it from the likes of Spotify. Despite Apple describing the service as 'revolutionary', the reality is there's nothing eye-catching about it. Spotify already has an advantage with social sharing and for now, Apple doesn't seem to have that yet.
The one thing it could do to separate itself from rivals is to provide exclusive content. It already has this in the form of Taylor Swift, the only service that will have her music after she pulled her catalogue from Spotify last year, but this depends on it having exclusive content regularly for it to work.
The other major problem is most people don't want to pay for streaming music, although that is slowly changing. Its biggest rival, Spotify, has 20 million people paying for the premium version while 75 million people use it overall.
Whether it will get users who jump ship or new users who haven't paid for streaming before is unclear, and only offering a paid tier means it's facing a challenge.
What are its rivals doing?
While there are a number of them to choose from, the two biggest ones would be Spotify and Google Play Music.
Google drew first blood by adding a free option to its music service, a week before Apple Music's launch. It is still experimenting with YouTube Music Key, a paid music service based around YouTube, having recently extended the trial period to September (it was originally supposed to end in May), while considering a paid tier for YouTube as a whole.
Spotify already laid down the groundwork for its service earlier this year by announcing the inclusion of video, podcasts and exercise music – adjusting the tempo of your music to match how intensive your training is – and will be working on that for the foreseeable future. It's still dealing with criticism from some artists over its low royalty rates, something that won't be disappearing anytime soon.