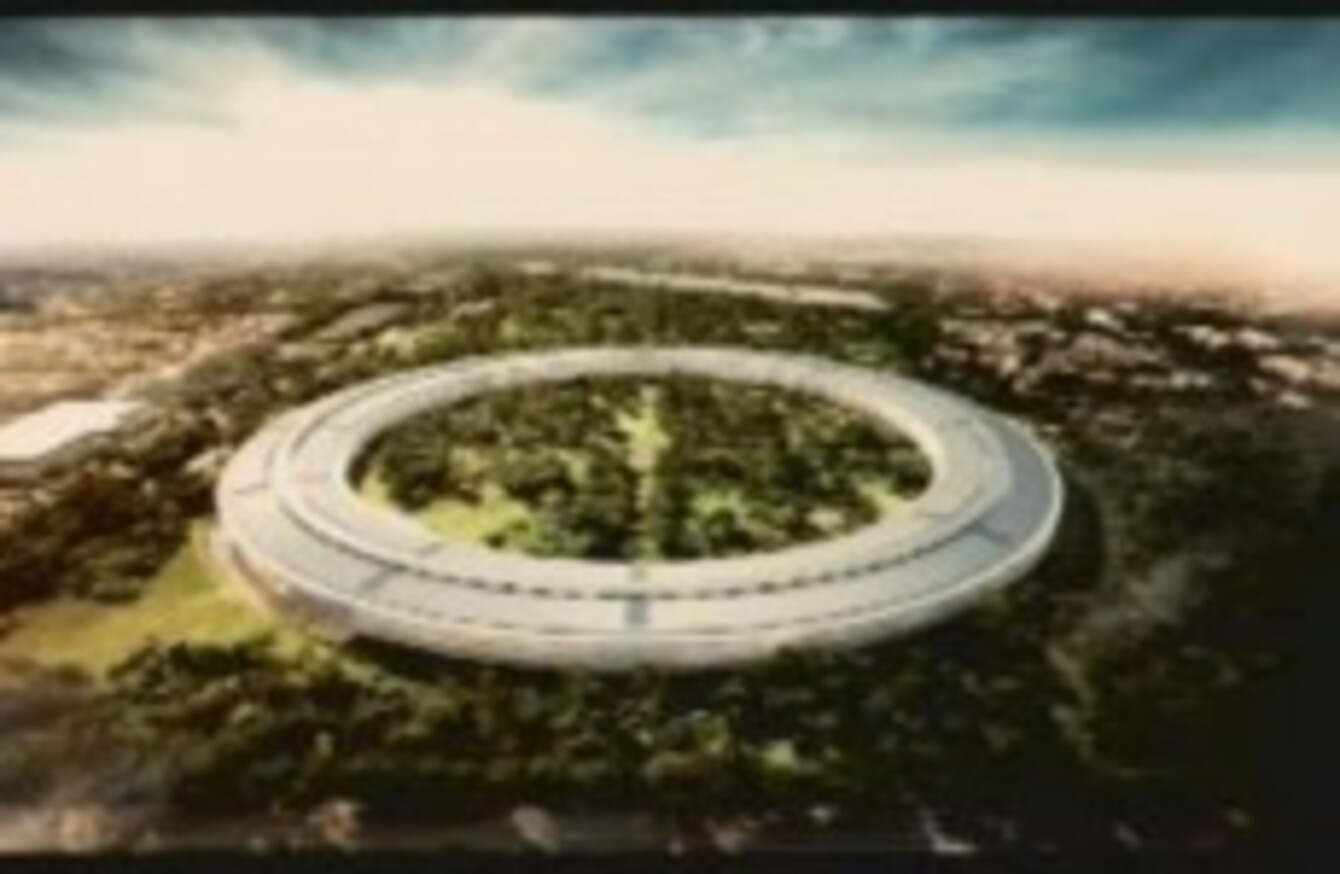 Artist's impression of the new Apple HQ, which should be finished by 2015
Artist's impression of the new Apple HQ, which should be finished by 2015
STEVE JOBS HAS attended a city council meeting in Cupertino, California to present his idea for Apple's 'spaceship' HQ.
Not content with announcing Apple's new iCloud service and new operating systems this week, now he says that he and his architects have come up with a plan to put 12,000 people in one circular building only four storeys high by 2015.
Built on the site of an old Hewlett Packard Computer Systems Division, Jobs is promising that the 'footprint' of the building will be as minimal as possible; that the employees will enjoy acres of tress and landscaping and a fitness centre. He says it will be a change from the dozens of "not very good buildings" which currently house his staff.
A cafeteria will house 3,000 people at any one time, and the campus will generate its own power using natural gas. Buses running on bio-diesel fuel will take employees where they need to go, and an auditorium will see Apple making announcements like the one earlier this week on its own doorstep.
Jobs says that Apple wants to stay loyal to Cupertino, from where the company grew "like a weed". He says the location is special to him because Bill Hewlett of Hewlett Packard gave him his first job when he was 12 or 13 and now he's building his HQ on an old HP site.
Asked by a city councillor if Apple will be providing free WiFi to the residents of Cupertino, Jobs quickly responded saying that his company is the city's largest tax payer and said:
If we can get out of paying taxes I'll be glad to put up a wifi network.
#Open journalism No news is bad news Support The Journal

Your contributions will help us continue to deliver the stories that are important to you

Support us now
Apple's spaceship HQ

This image shows the current site usage. Jobs bought the site from Hewlett Packard in 2010 and it's adjacent to Apple's current offices

Source: Cupertino City Channel via YouTube

Apple's spaceship HQ

Apple's spaceship HQ

Apple's spaceship HQ

The building will feature curved glass all the way around, which Jobs says they're used to producing. He says they've hired the best architects in the world.

Source: Cupertino City Channel via YouTube

Apple's spaceship HQ

Jobs has hired an arborist from Stanford University to fill the area with 6,000 indigenous trees, replacing some of the apricot orchards already on siteSource: Cupertino City Channel via YouTube via http://www.youtube.com/user/cupertinocitychannel

Apple's spaceship HQ

Apple plans to replace tarmac with trees and grass, landscaping 8o per cent of the campusSource: Cupertino City Channel via YouTube via http://www.youtube.com/user/cupertinocitychannel

Apple's spaceship HQ

Jobs says he hopes they'll "get lucky" and reach 13,000 employees. Surface parking on the site will go down 90 per cent, will most vehicles stored underground. Source: Cupertino City Channel via http://www.youtube.com/user/cupertinocitychannel