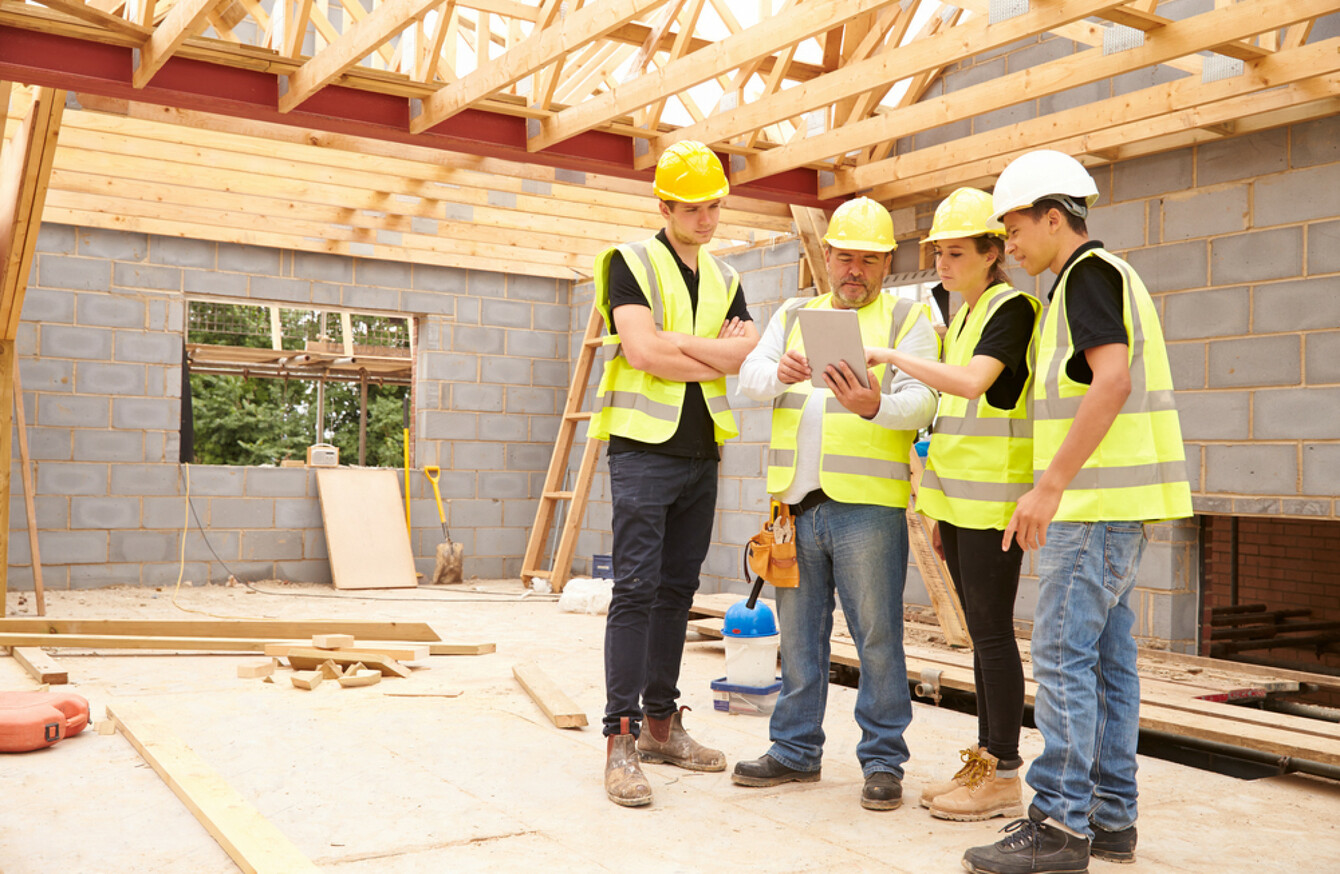 Image: Monkey Business Images via Shutterstock
Image: Monkey Business Images via Shutterstock
THE NUMBER OF people applying for apprenticeships in Ireland has been increasing substantially over the last three years, as the construction industry recovers after shrinking during the recession.
Figures released by the government show that the number of construction apprenticeships rose from 650 in 2010 to 2,271 last year. The government expect the number of apprenticeships registered this year to reach 3,000.
There's still some way to go before they reach 2007 levels, however, where 5,208 apprenticeships were registered.
In response to a question posed by Social Democrats co-leader Catherine Murphy, the following breakdown of figures was given:
The increase is most apparent in the top three most popular apprenticeships: electrical, plumbing, and carpentry apprenticeships.
Here's how the number of apprenticeships have risen in those professions over the past 3 years:
Electricians
2014: 845
2015: 956
2016: 1,343
2017, registrations up until September: 1,221
Plumbers
2014: 318
2015: 289
2016: 345
2017, registrations up until September: 397
Carpenters
2014: 185
2015: 291
2016: 399
2017, registrations up until September: 301
Catherine Murphy told TheJournal.ie that it would be a few years before these apprentices became "fully-fledged crafts people".
"Obviously we're lagging behind because we haven't been training people in," she said.
"There doesn't seem to be enough skilled people to produce the kind of work er need to build the required number of houses."
Murphy said that there are many skilled construction workers who travelled abroad when the recession hit, but if they were to return, then there would be an even greater demand for houses and accommodation for them.
Minister of State for Training and Skills John Halligan commented on the figures:
"We are now seeing strong growth in registrations in construction apprenticeships with 2017 registrations likely to be close to 3,000.
This is against a backdrop of a near total collapse in construction apprenticeship registrations during the crisis.
"The current growth in registrations, which is forecast to continue to 2020, offers excellent opportunities for young people to build careers and is a critical component of skills supply to a growing sector."
Recently, the government announced that it would introduce a construction register to prove that builders are competent, as the sudden increase in activity in the construction sector coupled with the urgent need for housing has raised concerns that building standards may suffer.