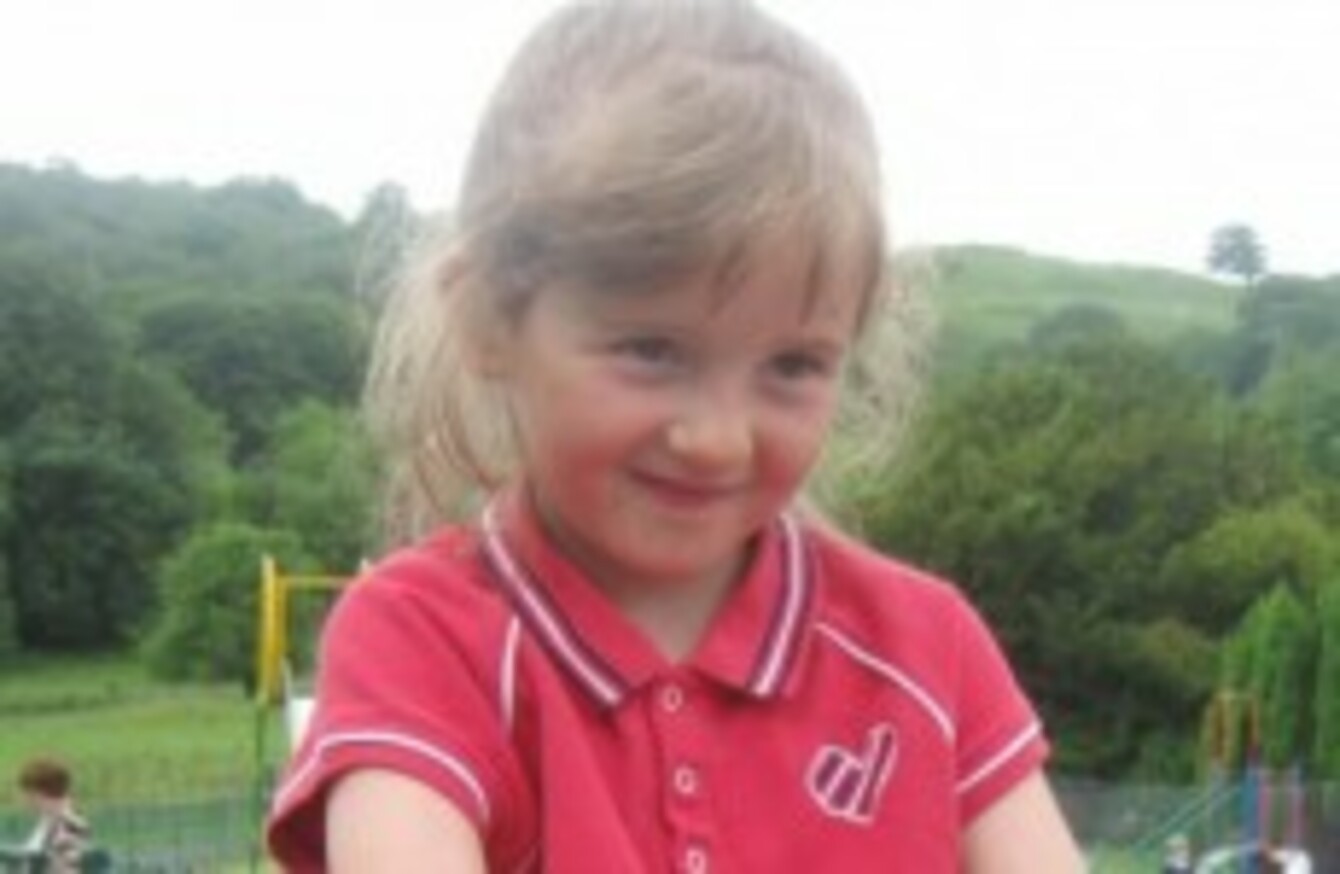 Image: Dyfed-Powys Police/PA Wire/Press Association Images
Image: Dyfed-Powys Police/PA Wire/Press Association Images
THE PARENTS OF murdered schoolgirl April Jones gave a heartbreaking interview on 2FM this morning.
Coral and Paul Jones told Ryan Tubridy that on 1 October 2012 their lives changed forever.
Their daughter, April, aged five years old, had been out playing with friends when she was taken just outside her home in Machynlleth.
A day like any other 
It started out like every other day. We actually did a bit of Christmas shopping down the road from us, came back and April had done really well on her school report. She'd gone swimming with her friends and come back and we let her out for an extra 15 minutes. It just escalated from there. 
They sent their son Harley out to tell April to come in.
"He came back with his bike, screaming to say she had been taken," said Coral.
"That is when the nightmare began."
A friend of April's saw what happened, but she was hysterical herself, said Paul.
Coral said she knew something was wrong from the word go, but Paul said they were still hopeful that day. 
You always have to hope, you cant just give up. By 10.30 that night I had bizarre feeling that she wasn't going to come back.
Following April's abduction, one of the biggest searches in Britain was undertaken.
Paul said they were in shock that something like this could happen, adding that the community was also distraught.
A community in shock 
You just don't think that things like this can happen to you… it is a very quiet place… it devastated the whole town. Our community classes itself sort of like a loose family and I am sure in Ireland it is the same thing.
Police later pinpointed a local man, Mark Bridger, as the one who had abducted April.
April's father knew of him, but not very well.
"He came over very charming, a little reckless, " said Paul. He said he often talked about his time in the army, which was later discovered to be a fabrication by Bridger.
Bridger had six children from various women. April's father said his daughter would sometime play with Bridger's children. 
Mark Bridger 
Speaking about Bridger, Paul said:
"He lived in a land of his own. He believed his own lies".
Bridger would often speak about how he was an ex SAS officer, a lie April's father said he carried on since he moved to the town from London.
"He lived that lie and believed that lie."
Initially Bridger told police he had run over April by accident and picked up her body to take her to hospital, however his story constantly changed.
When Bridger's house was searched a large quantity of blood was found near the fireplace, in the bathroom, near the washing machine Bone and skull fragments were also found in the fire place.
A large number of specialist knives were also found in the house.
Our little girl 
"When police told us… it must have been really brutal… she was only five, only little," said Carol. 

Telling their other children Jasmine and Harley was very tough, they said.
"Harley just squealed. It was something you won't forget for the rest of your life," said Paul.
"They are both amazing little characters, " said Carol, who said they are very proud at how well their children have coped.
"We live from day to day, hour to hour. If I have bad day, Paul picks it up."
#Open journalism No news is bad news Support The Journal

Your contributions will help us continue to deliver the stories that are important to you

Support us now
Both said that guilt is something they still struggle with.
"I feel guilty because she is not with us," said Carol, adding:
I still feel guilty for letting her out.
Mark Bridger was given a whole life sentence for the murder of April Jones.
April's parents said they drew some comfort from the demolition of Bridger's home last year.
Paul and Carol Jones are campaigning against the easy access to images of child sexual abuse online.
Over 300 horrific images of child sexual abuse were found on Bridger's laptop. It is believed he was looking at them prior to going out and abducting April.
Images 
"We want them off the network," they said. They both stating that network providers need to do more. 
"It's too easy for people to download pictures or anything they want."
They hope that more people seeking to view inappropriate images online will seek help and support before they commit offences against children.
April: A Mother And Father's Heart-Breaking Story Of The Daughter They Loved And Lost is out now.