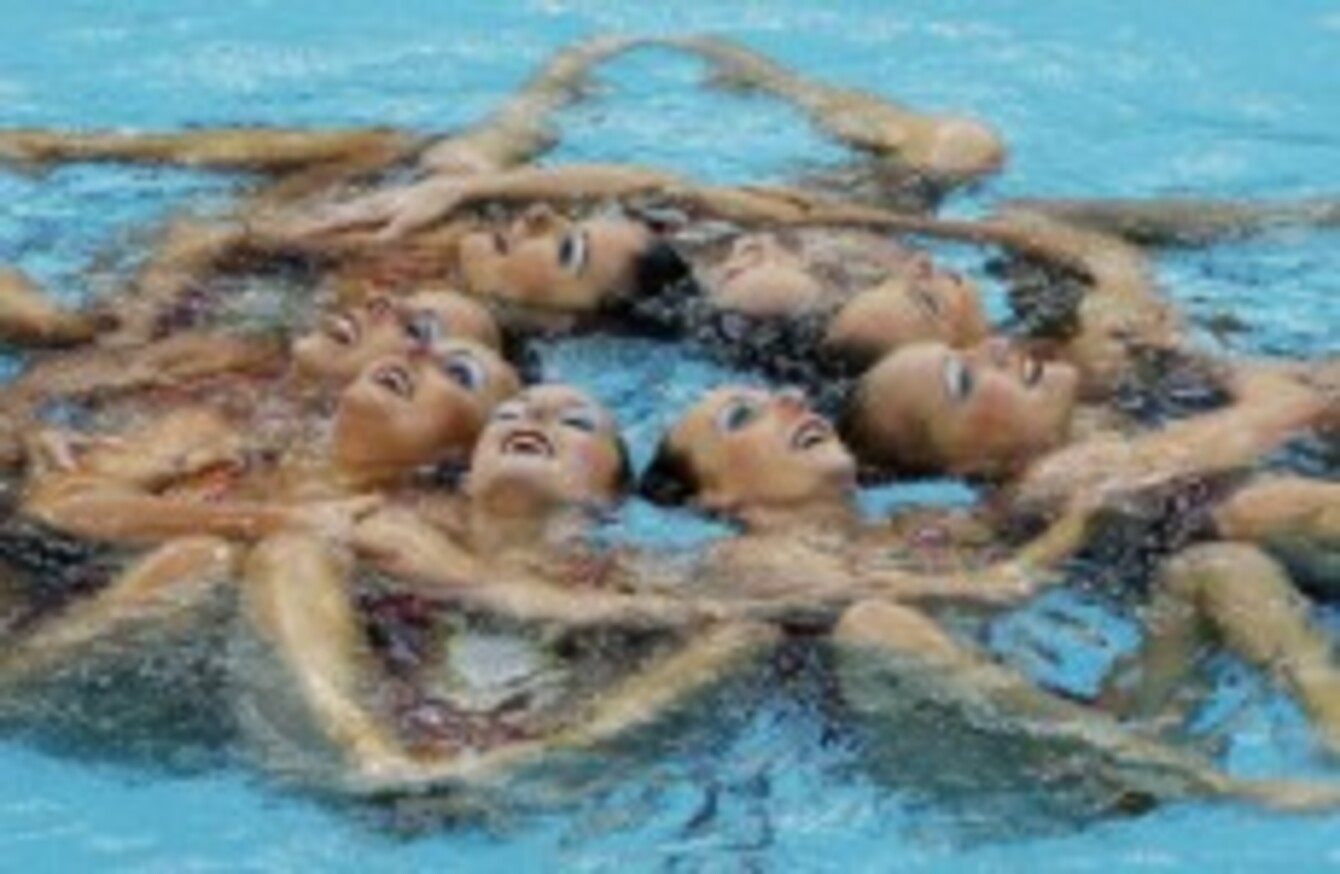 The US team at the Beijing 2008 games
Image: Lynne Sladky/AP/Press Association Images
The US team at the Beijing 2008 games
Image: Lynne Sladky/AP/Press Association Images
THE BRITISH WATER polo team have confirmed that they'll train at Dublin's National Aquatic Centre ahead of next summer's London Olympic games.
The team will travel to Ireland to make use of the facilities for two weeks immediately prior to the games.
The Minister for Sport, Tourism and Transport , Leo Varadkar, says the decision is a direct result of international matches held at the NAC earlier this year, between the British and Hungarian water-polo men's senior squads.
The Hungarian men's water polo team, who've won the gold at Sydney, Athens and Beijing, played Britain in June in Dublin, and they've also indicated that they would like to return for a bigger tournament next July.
[caption id="attachment_216465" align="alignnone" width="296" caption="Hungary's Norbert Hosnyanszky, right, and Croatia's Petar Muslim, right, in Shanghai last month. Eugene Hoshiko/AP/Press Association Images "]
[/caption]
Low Take-Up
However, apart from the British water polo team, the USA's synchronised swim team are the only other Olympians to confirm that they will use Irish facilities next summer.
Twenty American swimmers and team officials will arrive for the two weeks before the games to train – it's expected they will stay in the north Dublin area, providing a much-needed boost to the local economy.
In October, the British paralympic swim team will arrive for a one-week training camp in Dublin ahead of the autumn paralympic games.
The National Sports Campus looks after the booking of facilities at the NAC and at north Dublin's Morton Stadium for athletics events.
Chief Executive Barry O'Brien told TheJournal.ie that,
The primary requirement of our facilities is to meet the demands of Irish athletes. In addition, we open up our facilities to external parties, in accordance with government policy. We've been following a very definite policy with the NAC, we've always known they are world-class facilities, which people don't always believe we have here in Ireland. We're in a very competitive international environment. The UK facilities and boroughs can offer teams financial incentives to come and train. So it's very very competitive, and we're very pleased with the announcement that the British water polo team will come here to train – they've chosen the NAC over facilities in their home country, which is also obviously hosting the games.
Mr O'Brien says it's likely that a number of Olympians will also come and use the NAC, in a solo capacity, ahead of the London games. He explains they'll most likely book in closer to the time. He also pointed out that the American Junior team trained here last year, and a number of the team's members will be taking part in the Olympics.
When the London 2012 games were awarded to London, there was much hype here about the amount of interest we could expect in Irish facilities, but that hasn't proven to be the case.
The NSC also looks after Santry's Morton Stadium, which hasn't confirmed any bookings for pre-Olympic training. Barry O'Brien says he's 'hopeful' that teams will still book in. Upgrade works at the stadium have brought facilities closer in standard to those athletes will be using in London, and Mr O Brien says the new Mondo Super-X track laid in Santry is already building a reputation as being a 'fast track'.
We've informed people that the facilities at Santry are now up to the world class that they would expect. Athletes tend to operate at a lower profile and in a more individual capacity (therefore not booking in as a team for training camps). Athletics Ireland intendsto organise a significant event next July, immediately in advance of the Olympics, so the invitation would be there for people who would like to run competitively in conditions similar to those they'll find in London, and we're very very hopeful (that there'll be take-up there).
A governmental body, which is led by Junior Minister for sport Michael Ring, is co-ordinating the use of Irish facilities for training ahead of the Olympics.
The Irish Times reports that 80 international federations are committed to doing their pre-Olympic training in centres all over Britain – that number is likely to increase over the coming year.
Ireland's failure to provide financial incentives to squads, like those available in Britain, is being widely blamed for the low take-up.
A spokesperson for Junior Minister Michael Ring told TheJournal.ie that,
The Department has produced and widely promoted a cd, which contains the details of a number of Irish elite sports facilities, which have been identified as suitable for pre-London training camps. A number of these sports facilities are also directly promoting their own facilities to try and attract international teams and athletes. These include UCD, the University of Limerick and the National Sports Campus Development Authority which is actively marketing the National Aquatic Centre and Morton Stadium.
Meanwhile, here's France demonstrating perfect symmetry, timing, and group-think at the sychronised swimming event at the 2000 Olympics.