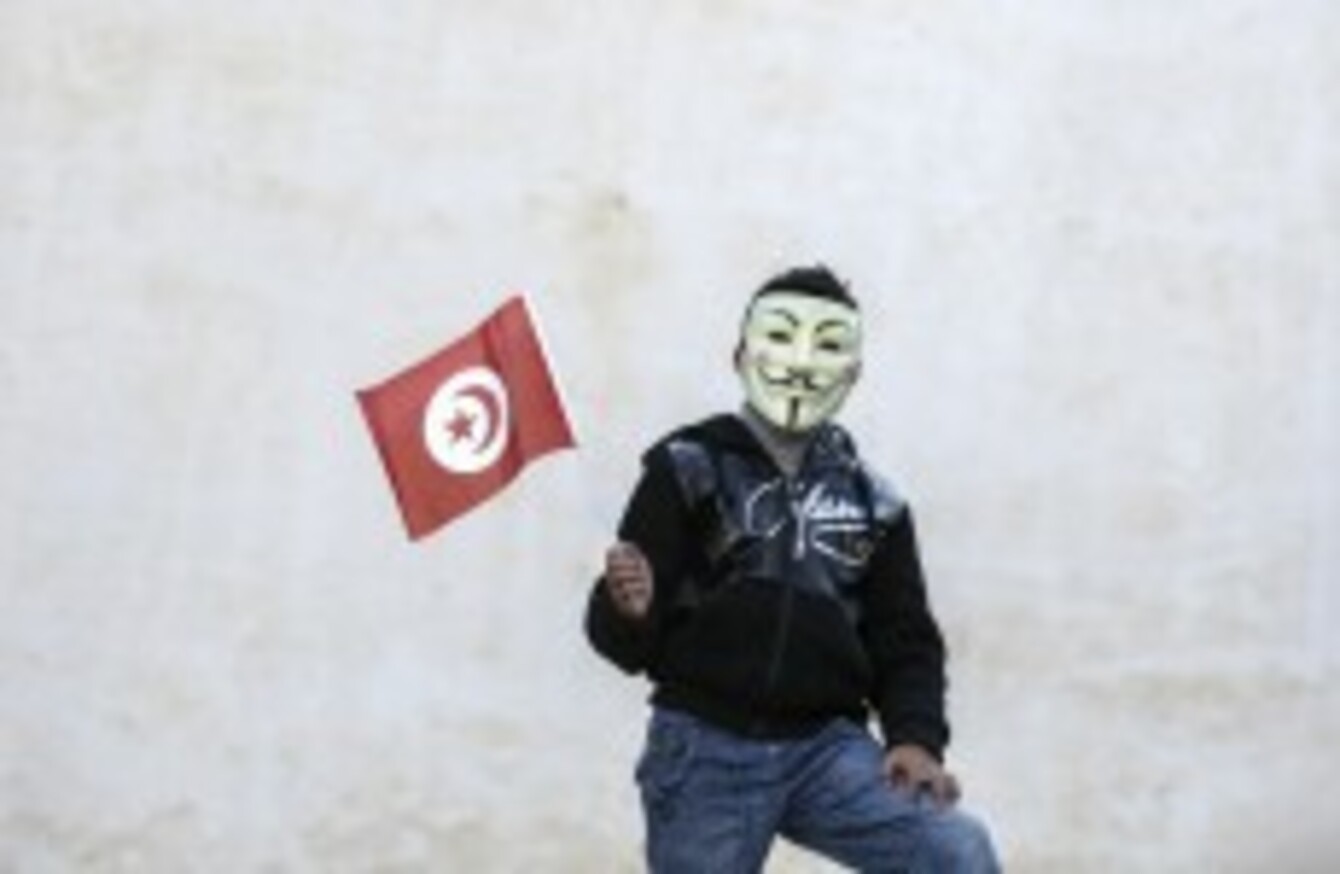 A civilian wearing a mask holds a Tunisian flag in Sidi Bouzid on Tuesday, to mark the third anniversary of the self-immolation that sparked the uprising.
Image: AP Photo/Aimen Zine
A civilian wearing a mask holds a Tunisian flag in Sidi Bouzid on Tuesday, to mark the third anniversary of the self-immolation that sparked the uprising.
Image: AP Photo/Aimen Zine
TUNISIA MARKED THE third anniversary this week of the self-immolation of a young street vendor which sparked the Arab Spring.
Around 1,000 anti-government activists, protesting over lingering economic woes, gathered in Sidi Bouzid, the town where Mohamed Bouazizi staged his iconic protest on 17 December 2010.
That desperate act of protest that led to the toppling of long-ruling strongman Zine El Abidine Ben Ali and eventually ignited uprisings across the region.
Three years on, unemployment in Tunisia remains stuck at 15 per cent, with that figure rising to 24.4 per cent, the nation's highest, in the Sidi Bouzid region, home to nearly half a million people.
With popular discontent at the government's failure to improve living conditions in the marginalised region still running high, President Moncef Marzouki, outgoing Prime Minister Ali Larayedh and parliament speaker Mustapha Ben Jaafar stayed away from planned ceremonies in Sidi Bouzid.
Marzouki and Ben Jaafar were heckled and pelted with stones at last year's events.
"We have gained nothing from this revolution. I have friends in prison for drugs, others who have died trying to reach Italy illegally, and some who have died fighting (with jihadist rebels) in Syria," said Bilel, a young protester from the poor Sidi Bouzid neighbourhood of Enoor.
A rival demonstration by supporters of the ruling Islamist party Ennahda drew about 300 people.
In the capital, events to mark three years since the uprising had been equally muted.
Marzouki and Larayedh took part in a discreet ceremony at the presidential palace, according to photographs distributed by the presidency.
"We have the right to be proud of what we have achieved," Marzouki said in a speech published by his office.
A Tunisian man pretends to use a loaf of bread as a weapon in Sidi Bouzid on Tuesday to mark the third anniversary of the Tunisian uprising. Image: AP Photo/Aimen Zine.
He highlighted the "freedom of expression and opinion" among the revolution's gains, and the fact that Tunisia has not succumbed to the violence plaguing other Arab Spring countries.
Hopes that the Middle East and North Africa would be transformed by a democratic tide over the past three years have been dashed in most countries. Here is a brief rundown:
BAHRAIN
A protest movement that erupted on February 14, 2011 was put down a month later, but this small Gulf kingdom is still the scene of unrest as a Shiite majority contests the ruling Sunni dynasty.
EGYPT
President Hosni Mubarak handed over to the army on February 11, 2011 after a general revolt left almost 850 people dead.
On July 3, 2013, Islamist president Mohamed Morsi, the first freely-elected head of state, was also ousted by the armed forces.
More than 1,000 people, mainly Morsi supporters, have since been killed in street clashes and security forces have made 2,000 arrests.
Supporters of ousted President Mohammed Morsi rescue an injured comrade during clashes with security forces in Cairo, Egypt on 6 December, 2013. Image: AP Photo/Khaled Kamel.
LIBYA
Since Moamer Gaddafi regime collapsed in October 2011, authorities in Libya have struggled to maintain order.
They rely on former rebel groups which have become armed militias that challenge the state if their interests are threatened.
#Open journalism No news is bad news Support The Journal

Your contributions will help us continue to deliver the stories that are important to you

Support us now
SYRIA
Since March 2011, peaceful protest in Syria has been transformed by a brutal crackdown under President Bashar al-Assad into all-out war that essentially pits Shiite Muslims against Sunnis.
More than 126,000 people have died, according to a Syrian non-governmental organisation, and millions of people have been displaced.
Syrian refugees, pictured this week, facing into a miserable winter in the  Lebanese town of Arsal. Image: AP Photo/Bilal Hussein.
TUNISIA
Tunisia is where the "Arab Spring" began but is still without a strong central government almost three years after Zine El Abidine Ben Ali fled on January 14, 2011.
A constituent assembly dominated by Islamists from the Ennahda party was elected in October 2011 but Tunisia is beset by chronic social unrest and political crises, including the murder of two opposition figures this year.
YEMEN
Yemen is struggling to establish a new constitution under a UN- and Gulf-backed transition launched when president Ali Abdullah Saleh stepped down in February 2012.
The main sticking point is southern Yemen's demand for autonomy.