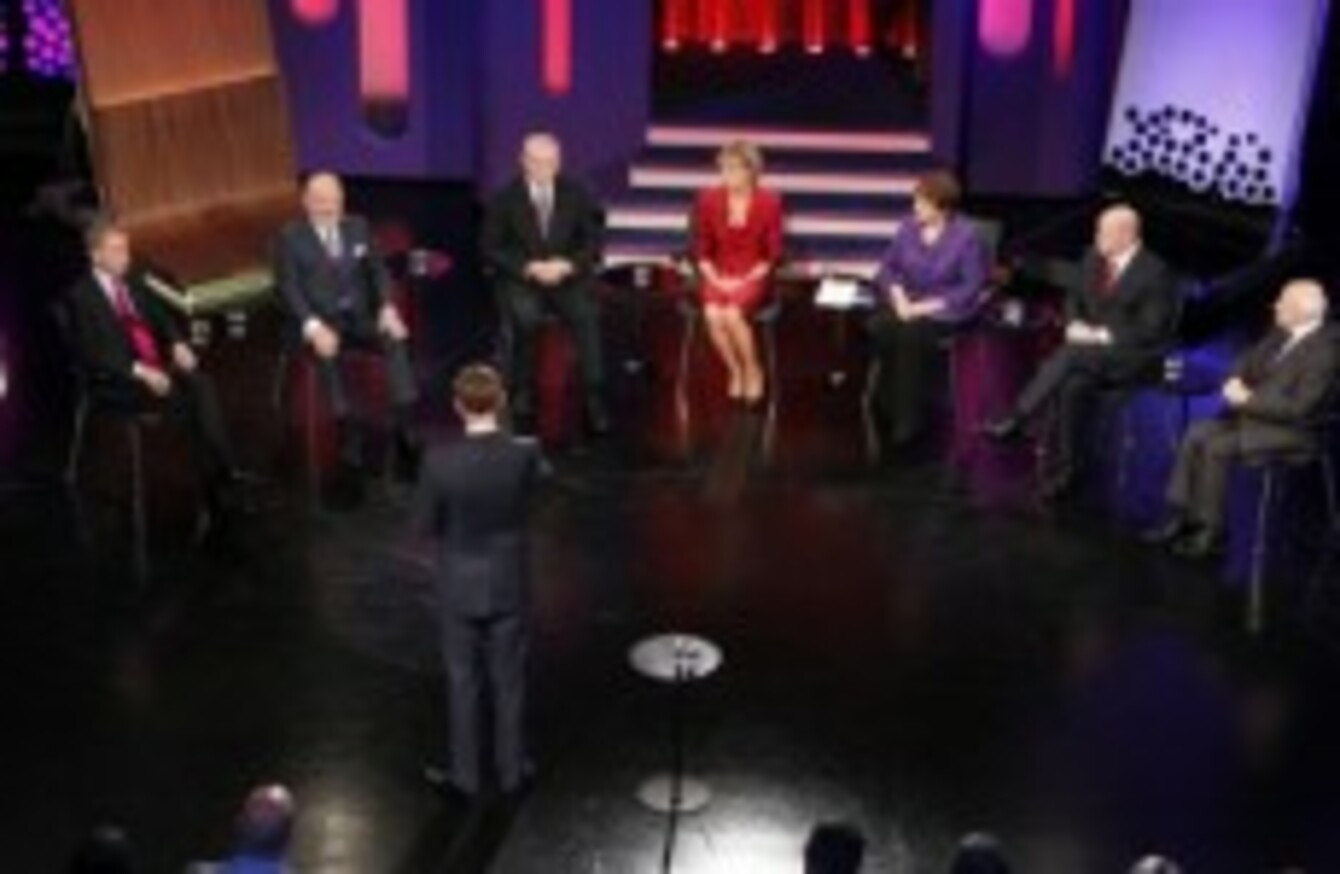 Image: Kyran O'Brien/KOBPIX
Image: Kyran O'Brien/KOBPIX
Updated at 11am with Dana's schedule
AS THE CAMPAIGN for the presidential election hits its final stretch, check out where you can meet the candidates today.
Mary Davis starts her day with an interview on the Tommy Marron show on Midwest Radio in Mayo at 9am. At 10.20am, she will begin canvassing at O'Hora's Hotel before visiting Louis Walsh's mother Maureen at her home in Kiltimagh. At 11am, Davis will visit students at Kinaffe National School in Swinford before heading to the Ballymote Mart in Sligo. At 12.45pm, she will be at the Tesco Arcade in Sligo town to meet with people from cancer services and the Special Olympics. From 2.30pm she will be canvassing in Ballina before heading to The Welcome Inn in Castlebar at 4pm. Her next engagement is at Don Creevy's Bar in Westport at 5.30pm.
Seán Gallagher will kick off his morning at The Square Shopping Centre in Tallaght from 11am. He will then move onto Dominic's Community Centre at noon before visiting The Guardian Project at the Arklow Bay Hotel in Wicklow from 2pm. At 3.30pm he will take a walkabout of Arklow town and Bridgewater Shopping Centre. From 5pm he will be meeting the Arklow Community Group and at 6.45pm will attend the Wexford Opera Festival.
Michael D Higgins begins his day with an interview on RTÉ's Morning Ireland at 7.30am. From 10.30am he will meet with students at Coláiste Chilliain in Clondalkin. At 2.30pm, he is due to meet artists and view their exhibition at Wexford Arts Centre before taking a walkabout of the town. From 3.35pm he will take a tour of Wexford Opera House in advance of the opening of the Wexford Opera Festival. At 4pm, Higgins will meet with the Ferns Diocesan Youth Services.
Martin McGuinness will meet descendants of the 1916 leaders on Dublin's Moore Street at 3.30pm. He will then participate in a tour of the GPO/Moore Street site with some of the relatives.
Gay Mitchell starts his day at 9.30am with a walkabout of Patrick Street, the English Market and Oliver Plunkett Street in Cork City. From 11.15am he will be interviewed by Niall Prendeville on Cork's 96FM. At 11.45am, there will be another walkabout in Midleton. He will then travel to Waterford to canvas at Dungarvan Shopping Centre at 1pm. At 2.50pm he will arrive in Tramore for more meet-and-greets. At 3.40pm he will canvas at Arkeen Shopping Centre on the Dunmore Road. From 4.10pm, he will be interviewed by WLR and Beat FM. Mitchell will then travel to New Ross for more canvassing. At 6pm he will arrive in Wexford Town before travelling to the Riverside Park Hotel in Enniscorthy for 7pm. At 7.30pm there will be a constituency rally at the Farm Centre on Mill Park Road.
Dana Rosemary Scallon begins the day by visiting Carlow town between 10am and 1pm, and will spend an hour in the morning canvassing at Dunnes Stores beside Talbot Hotel. Afterwards, she will travel to Tallaght in Dublin and will be there from 2.45pm until 4pm.