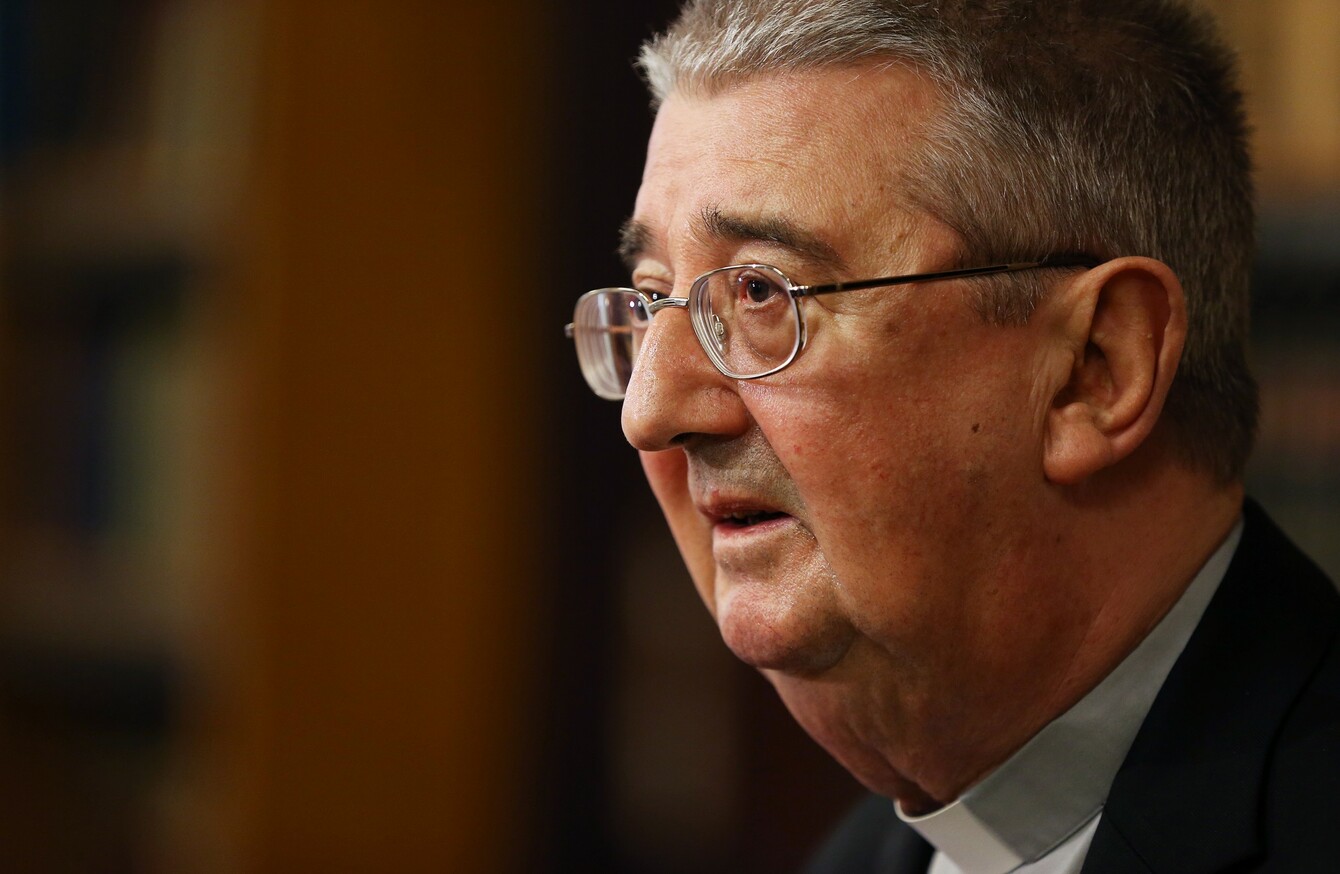 Archbishop of Dublin Diarmuid Martin
Image: PA Wire/PA Images
Archbishop of Dublin Diarmuid Martin
Image: PA Wire/PA Images
THE ARCHBISHOP OF Dublin Diarmuid Martin has said there is a "stubborn reluctance" within the Church to let go of the idea that First Communion and Confirmation preparation should take place in primary school.
Martin also said some in Irish religious education is fixated on questions of ownership and management.
The separation of Church and State is not a hostile one, he said, but added there are concerns it could turn into one due to a "hostile relationship" being spurred on by a growing number of vocal supporters who wish to create tensions between the government and the Catholic hierarchy.
In his lecture to the Diocese of Wurzburg in Germany on Saturday, he touched on issues such as the same-sex marriage referendum, secularisation and the changing landscape of the Catholic religion in Ireland.
Divestment 
Martin characterised the existing church-state relationship as one of "prudent distance", pointing out that he has always advocated for divestment, but said he has been relatively unsuccessful in pushing that idea into practice.
Martin highlighted that almost 90% of all primary schools in Ireland are under religious patronage, and are almost fully financed by the State. Yet less than 80% of the population registers as Catholic.
"Preparation for First Communion and Confirmation is carried out primarily in the schools. There is a stubborn reluctance within the Church to allow that situation to change. With the exception of Catholic Schools Week, the Irish religious education establishment is fixated on questions of ownership and management and too little on the purpose of the Catholic school and the outcomes of Catholic education in terms of faith formation," said Martin.
He stressed that Catholic schools are welcoming to people of different faiths, but said this is not a reason for maintaining patronage of most of the primary schools in the country, particularly when more and more people want something else.
More and more parents look on their local Catholic schools primarily as State schools somehow under Catholic patronage. If enrolment policies become more diversified, equality and non-discrimination legislation will be used to challenge any exclusive denominational character in the ethos of a State school, except where necessary to protect the rights of minorities.
"The risk now looms large that effectively it will become more and more difficult to maintain a true Catholic ethos in Catholic schools.  The move towards parishes undertaking more effective faith formation of young people is miniscule. I fear that much of the debate about schools fails to address the real challenges about the religious education of our young people," said Martin.
The response of the Catholic Church 
The Archbishop acknowledged that changes are taking place within the Church.
"The more fundamental question, however, is whether or not in its responses the Irish Church is responding to the true challenges?" he asked.
"Ireland is today undergoing a further phase of revolution of its religious culture," he said, adding that regular religious practice in Ireland has dramatically decreased in recent years.
"Secularisation is well advanced in Irish society and yet there are many residual elements of faith and religiosity present in daily life.  Irish national radio and television both transmit the Angelus bells twice a day!" he said.
Martin also recounted a conversation he had with Pope John Paul II when he was appointed on the issue of secularisation.
"How it is that secularisation came to Ireland so quickly?" Pope John Paul II asked at the time.
"My answer to that question was quite simple: "Your Holiness is wrong", though my Vatican training did not allow me to express myself quite in those exact words. The Pope was wrong. Secularisation, whatever that means exactly, had been on the Irish radar screen for many years. It was not all negative but it was not an overnight wonder.
It was there, but not fully recognised. It was there but the answer of the Irish Church was for far too long to keep the same show on the road, not noticing that there were problems with the show and that the road was changing.
Same-sex marriage referendum
Speaking about the same-sex marriage referendum, Martin said the vote was not about doctrine.
The Ireland which many looked on as a bastion of Catholic influence was the same one which in 2015 approved same-sex marriage by an overwhelming popular vote…  Many in Ireland and overseas were surprised by the result of the Referendum on same-sex marriage.
What is worthy of note is that every single political party in Ireland supported the change of status.  The vote was not about doctrine.  It was however not just about personal sympathy with gay and lesbian people and their families but about a conviction that gay and lesbian people should be permitted in civil law to have their stable loving relationships recognised in marriage.
Martin reiterated what he has said before – that the sexual abuse scandals significantly impacted on the faith of Irish Catholics.
He said it was also an indication of an "underlying crisis of faith where the self-protective institution had become in many ways decoupled from the horror which ordinary people rightly felt".
The emerging post Vatican II new religious culture, with its stress on the role of the laity, found itself once again betrayed by a culture of clerical self-protection, said the Archbishop.
All of this indicates how Ireland needs to do much more to incorporate a broad spectrum of activity of laymen and women in the life of the Church and to be witnesses to their faith in the emerging Irish culture, he concluded.