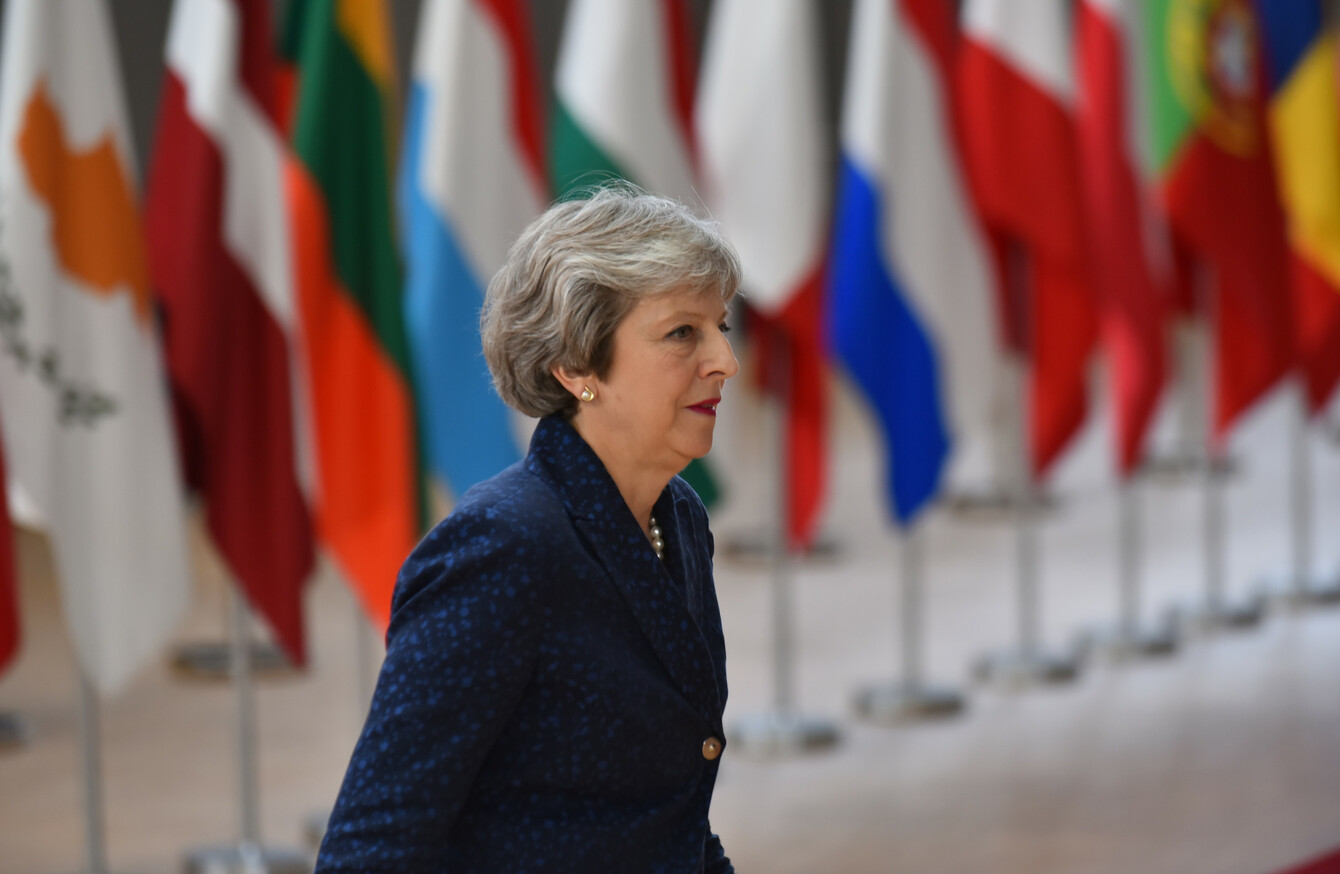 Image: SIPA USA/PA Images
Image: SIPA USA/PA Images
THIS FRIDAY WILL mark the two year anniversary of Theresa May's appointment as British Prime Minister, but the resignation of her Brexit Secretary David Davis means questions about whether she will reach a third anniversary are swirling.
While the task ahead of her at her appointment was daunting – leading the country in Brexit negotiations while uniting a party and country that had been bitterly divided on the issue – May was cast as the spiritual successor to Margaret Thatcher, her supporters t believing she was the kind of negotiator who could get all that the Leave campaign had promised Brexit would deliver.
Described as a "bloody difficult woman" by Tory grandee Ken Clarke, May promised that the next man to find out how "bloody difficult" would be EU Commission Jean-Claude Juncker.
But in the two years that have followed, May's attempts to guide the good ship Brexit have hit stormy seas again and again.
Her initial cabinet reshuffle was called a "brutal cull" by the Daily Telegraph, despite May being a senior member of David Cameron's previous cabinet.
In an attempt to unite the party and ward off unrest from Brexiteers May, who advocated staying in the EU, appointed several of the most vocal proponents of Brexit to senior posts, including Boris Johnson as Foreign Secretary, David Davis as Brexit Secretary, and Liam Fox as International Trade Secretary.
That move did not head off the unrest though and Johnson has repeatedly undermined his boss, last month saying that if Donald Trump were in May's position "actually you might get somewhere". Up until last weekend's cabinet meeting at Chequers, Davis had also been another who has publicly grumbled about issues from the speed of negotiations to the Irish border.
Now, just two days after the warring factions in May's cabinet approved a plan in a bid to unblock negotiations with Brussels, long-time eurosceptic Davis announced he was stepping down in a letter scathing of the agreement.
"The general direction of policy will leave us in at best a weak negotiating position, and possibly an inescapable one," he wrote.
The impact
After last year's attempt to consolidate her power by calling a snap election backfired spectacularly, the ability for May to suffer many more setbacks was limited.
With her ally Amber Rudd having to resign in April in the wake of the Windrush scandal, May can ill-afford another dissenting voice at the cabinet table, but will Davis' resignation be the end of days for her?
His departure could embolden Brexit-supporting Conservative lawmakers — who have long considered May too prone to compromise with the EU — to challenge her leadership.
However, what May does have going for her right now is time – or the lack of it. It is now less than nine months until Britain leaves the EU on 29 March next year. With the EU continually warning Britain that time is running out to seal a divorce deal, any potential challengers may be deterred from taking on such a mammoth task.
At the very minimum, it would require a politician of bulletproof ego to believe they could deliver a meaningful Brexit in just nine months in charge.
#Open journalism No news is bad news Support The Journal

Your contributions will help us continue to deliver the stories that are important to you

Support us now
Speaking of which…
While there are plenty of challengers in the wings, the Jacob Rees Moggs of the world, a potential compromise candidate – Michael Gove – openly supported the Chequers plan over the weekend.
Environment Secretary Michael Gove said yesterday that it did not contain everything he wanted but "I'm a realist".
"All those of us who believe that we want to execute a proper Brexit, and one that is the best deal for Britain, have an opportunity now to get behind the prime minister in order to negotiate that deal," he told the BBC.
The wildcard in the situation is Johnson. He hasn't publicly commented on Davis' departure and has cancelled a number of appearances today, fuelling speculation that if someone is to challenge May, it will be him.
As for whether it will happen – or if the UK could head back to the polls this year – only time will tell.
But for May, either way, time is a commodity that she doesn't have a lot of.