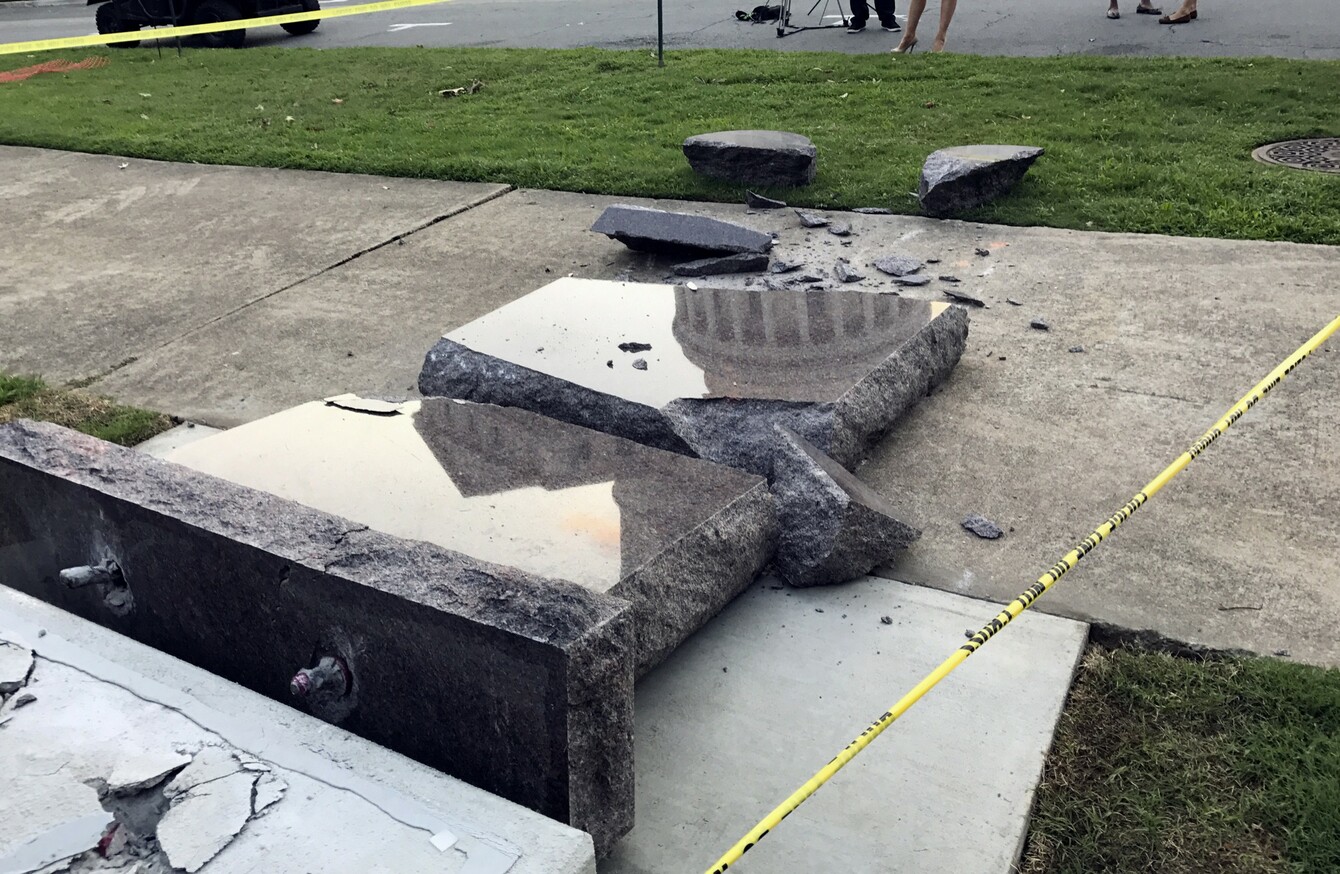 Image: Jill Zeman Bleed/PA Images
Image: Jill Zeman Bleed/PA Images
A 32-YEAR-OLD man has been arrested for ramming his car into a monument to the Ten Commandments outside the Arkansas state legislature early yesterday, shattering the statue less than 24 hours after it was erected.
The suspect, identified as Michael Reed, will face charges of defacing objects of public interest and criminal trespass, the Little Rock, Arkansas sheriff's office told AFP.
Reed apparently live-streamed video of himself charging his vehicle at the granite stele.
"Freedom!" he cries as the car slams into the six-foot tall monument, according to footage posted on his Facebook account and re-posted by the Arkansas Online news site.
"Some idiot in my home state broke all 10 commandments at the same time," Southern Baptist pastor and conservative ex-governor Mike Huckabee wrote on Twitter.
"He wasn't Moses and it wasn't Mt. Sinai," added Huckabee, a former Republican presidential hopeful.
Source: djmattcruz/YouTube
In October 2014 the suspect, Reed, destroyed another Ten Commandments monument that had been installed at the foot of the Oklahoma state legislature.
Local media reported that Reed also broke that monument by ramming it with a vehicle.
The latest incident has added fuel to controversy over raising religious symbols on public land.
The first amendment to the US Constitution states that Congress "shall make no law respecting an establishment of religion" — and on this basis the American Civil Liberties Union said it would challenge the placement of the monument in court.
Defenders of the monument claim the engraving references the country's historically Christian roots — and that since it was built with private money, it cost taxpayers nothing.
They also point to a 2005 US Supreme Court ruling that allowed a similar monument at the foot of the Texas state Capitol to stand.
Comments are closed due to legal proceedings