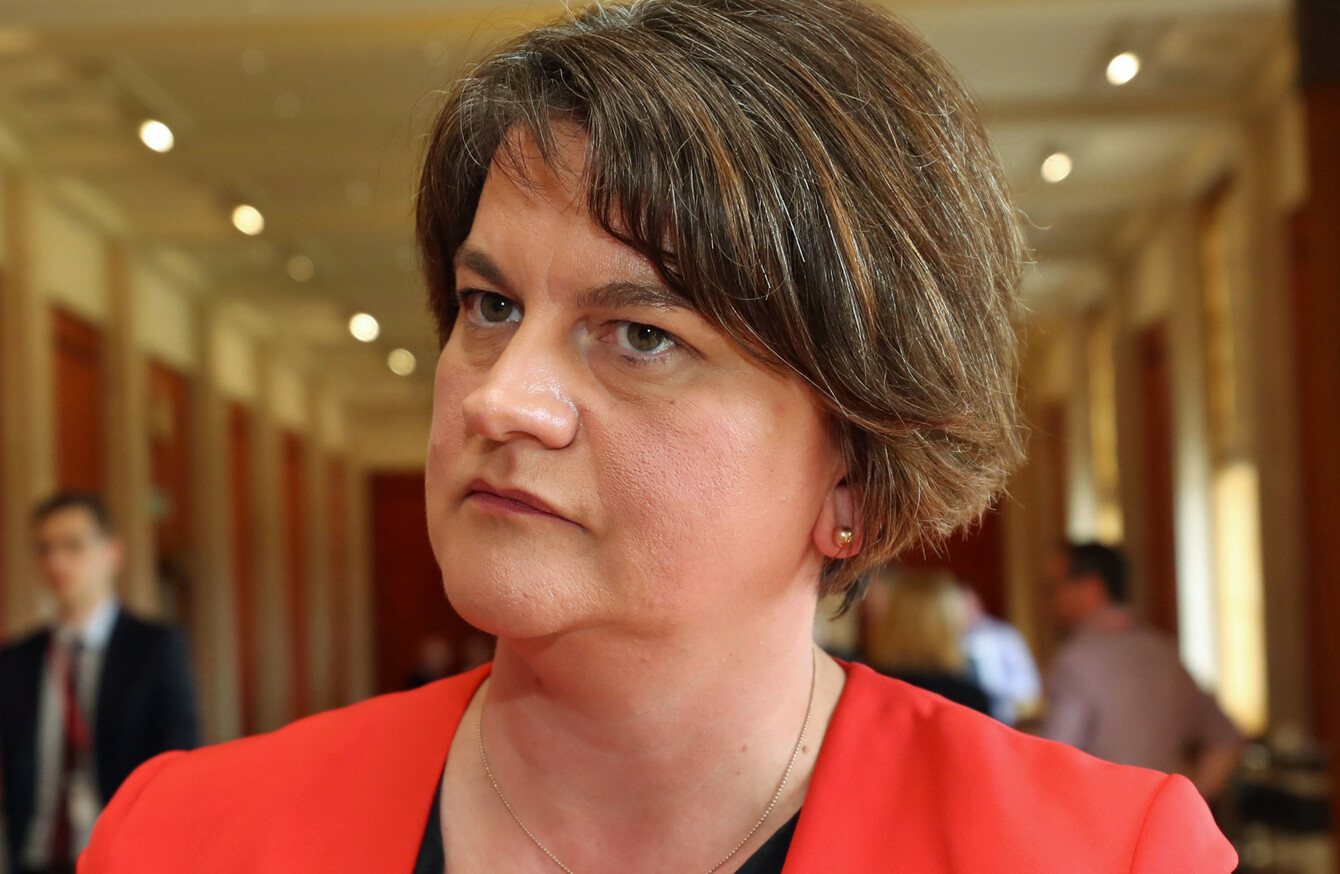 Foster has previously said she does not feel she bore any personal responsibility.
Image: Niall Carson/PA
Foster has previously said she does not feel she bore any personal responsibility.
Image: Niall Carson/PA
THE PUBLIC INQUIRY into the Renewable Heat Incentive (RHI) in Northern Ireland is approaching 100 days of hearings and today it will hear from DUP leader Arlene Foster.
Arlene Foster was the minister in charge of the enterprise department when the scheme was set up and for the first two years of its operation. RHI encouraged businesses and households to switch to more environmentally friendly heating methods through financial incentives.
However, it has emerged that companies were encouraged to install biomass boilers and when the cost of wood pellets fell, the cash incentives did not fall in response. This meant that for every £1 spent, businesses were effectively recouping around £1.60.
There were also widespread abuses reported, as subsidies paid to companies were not capped. This meant the more heat a business generated, the higher the subsidy it received. There were reports of businesses leaving the heating on all through the day, opening windows to cool down offices so that they would be entitled to more funding from the Stormont government.
In one instance, an empty barn was found to be heated solely to generate profit. The scheme is expected to cost taxpayers around £500 million and it caused political turmoil, including the resignation of the late Martin McGuinness in January last year.
Foster is expected to face intense scrutiny in front of the inquiry, led by retired judge Sir Patrick Coughlin later today.
In her witness statement, which was published yesterday, Foster denied claims there was a "party narrative" by the DUP to discredit former Enterprise Minister Jonathan Bell in the fallout over the RHI scheme.
As reported by BBC News, the inquiry has already heard allegations that a former DUP adviser was prepared to fit his story with the party's narrative when the scandal emerged in December 2016.
That led Bell to claim he had been the victim of a "smear campaign" orchestrated by the DUP, when he went public in an interview with the BBC in late 2016.
In her witness statement, Foster said she believed there "was no party narrative".
Here's what we know about the RHI scheme so far:
The scheme was severely understaffed
Peter Huchinson, who worked at the Department for Enterprise when the RHI was set up said he had raised staff shortages but that nothing came of it. A similar scheme in the rest of the UK had 77 staff, while the scheme in the North was run by two civil servants and there was high turnover of staff.
Seamus Hughes, who looked after the day-to-day running of the initiative in 2014, admitted to the inquiry that he "didn't really understand" what was going on.
He said he had not been told to monitor technology types or boiler run times and sizes and was mainly focused on logging the number of applications coming in.
There was a "conspiracy of silence" around RHI
Neasa Murnaghan, a legal representative for the Department for the Economy said in November that there was a conspiracy of silence around the scheme. The inquiry also heard the department had failed to undertake the required review ahead of the launch of the scheme.
Former chairperson of the Assembly's Enterprise Committee Patsy McGlone said information had been withheld from Stormont scrutiny.
He told the inquiry that he was "angry" watching evidence at the inquiry. He said if the committee had been told that cost controls in the scheme that was running in the rest of the UK were not considered for the one in the North, MLAs would have asked questions about it.
"In all our lives we're only as good as the information we're given."
David Sterling, the head of Northern Ireland's civil service also told the inquiry that officials were not taking minutes at all meetings because "ministers like to have safe space where they can… think the unthinkable and not necessarily have it all recorded".
He suggested that it was sometimes safer not to have it recorded as it could not then be released under Freedom of Information legislation.
Officials dismissed concerns raised by a whistleblower
Business-owner Janette O'Hagan, who has been described throughout the inquiry as a whistleblower, raised concerns about the scheme in 2013. At least one of her emails went to Arlene Foster's constituency office.
She had looked at the regulations and compared them to the other scheme in the rest of the UK and said she immediately saw the problem. She suggested that people were "burning to earn". 
She asked for a meeting with Foster but met with officials from her department instead. O'Hagan told the inquiry that it was clear her points "would not be further investigated".
There was selective leaking of information to businesses
Dr Andrew Crawford, who was an advisor to Foster, admitted he had twice sent his poultry farmer cousin – a claimant on the initiative – confidential papers about it. He said he did not intend to give his cousin an unfair advantage but acknowledged that it was wrong.
Officials had also tipped off boiler installers who were involved in the scheme in 2015, telling them that changes were on the way due to its rising cost. This allowed them to push customers to get their applications in before the scheme became less profitable for them.
How much did Arlene Foster know?
Appearing before the inquiry in April, Foster was asked whether she felt responsible. She said it was her position that she did not feel she bore any personal responsibility. She said issues in the background had not been brought to her attention and it would have turned out differently if she had known.
Earlier, the inquiry had heard from senior civil servant Fiona Hepper that she did not tell Foster that the cost of the scheme had risen by more than £100 million. This was after the then minister had decided to proceed based on different cost figures.
Today she is likely to face robust questioning about how much she was aware of, including whether she knew of former special advisor Timothy Johnson's alleged role in delaying cost controls in the scheme.