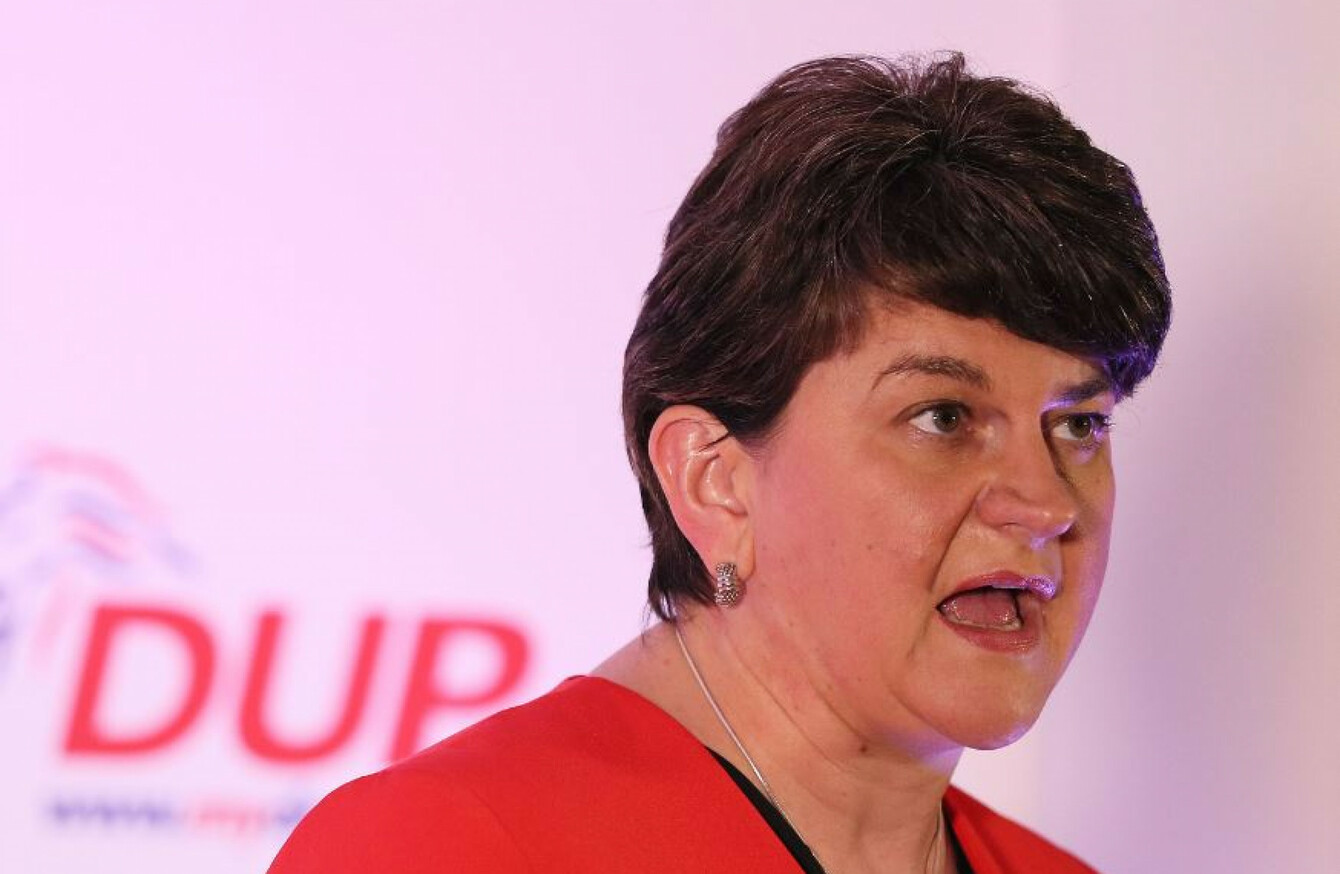 DUP leader Arlene Foster pictured in Belfast tonight
Image: Brian Lawless/PA Wire/PA Images
DUP leader Arlene Foster pictured in Belfast tonight
Image: Brian Lawless/PA Wire/PA Images
DUP LEADER ARLENE Foster has said she will bring forward proposals to address cultural issues such as the Irish language in a bid to restore Northern Ireland's Assembly.
Foster made the comments while addressing members of the Democratic Unionist Party in Belfast tonight.
Power-sharing in the North collapsed in January when then Deputy First Minister the late Martin McGuinness resigned over the Renewable Heat Incentive (RHI) or 'cash for ash' scandal, which could cost taxpayers in the region of €460 million.
A snap election was held in March but negotiations since then have repeatedly stalled, with the Irish language proving to be a major sticking point. As outlined here, the DUP had begun to roll back on certain funding commitments to Irish language projects under the last Assembly.
Sinn Féin is pushing for a stand-alone Irish Language Act, something the DUP has resisted.
Speaking tonight, Foster said if Irish language legislation becomes a reality, there must also be legal protections for British culture and Ulster Scots.
She told party members: "We have nothing to fear from the Irish language, nor is it any threat to the Union.
"We have previously supported practical measures for the Irish language and we will do so again if we can reach a wider agreement on these matters.
However what we cannot and will not do is simply agree to one-sided demands. I have also heard from those within the Unionist community who hear others speaking about respect whilst at the same time they engage in a campaign to denigrate and demonise any and all aspects of our British identity in Northern Ireland or insult the Ulster Scots community. That is not acceptable.
"In 2021, Northern Ireland will celebrate its centenary. Too much of the tale of our first century has been hallmarked by division. Now we stand on the cusp of a new century for Northern Ireland.
"I want the story of Northern Ireland's next 100 years to be of a place and people that thrive within the United Kingdom. And I believe that cultural security and confidence are vital to this new, more positive chapter in our history," Foster said.
'Not listening' 
Michelle O'Neill, Sinn Féin's Assembly leader, rejected the DUP's proposals.
In a statement, she said Foster's comments demonstrated that the DUP has not "listened or acknowledged the reasons for [Martin McGuinness'] resignation".
Establishing an Executive that may collapse after a matter of months on the same issues will only fail all our people.
"Let's agree to quickly conclude talks on implementation and rights, that is the only way to build a sustainable Executive that will last."
Earlier today, Sinn Féin President Gerry Adams said there will be no re-establishment of the Assembly without a stand-alone Irish Language Act.
Speaking to RTÉ Radio One's Morning Ireland, Adams said: "Do we harp back to the old days in the North where one party comes to the Assembly and says 'Sin é' – that's it – and they're in charge?
"Or do we develop, as the Good Friday Agreement envisages, a society in which everyone's rights are upheld and protected? That's the crossroads that the leadership of Unionism is at."