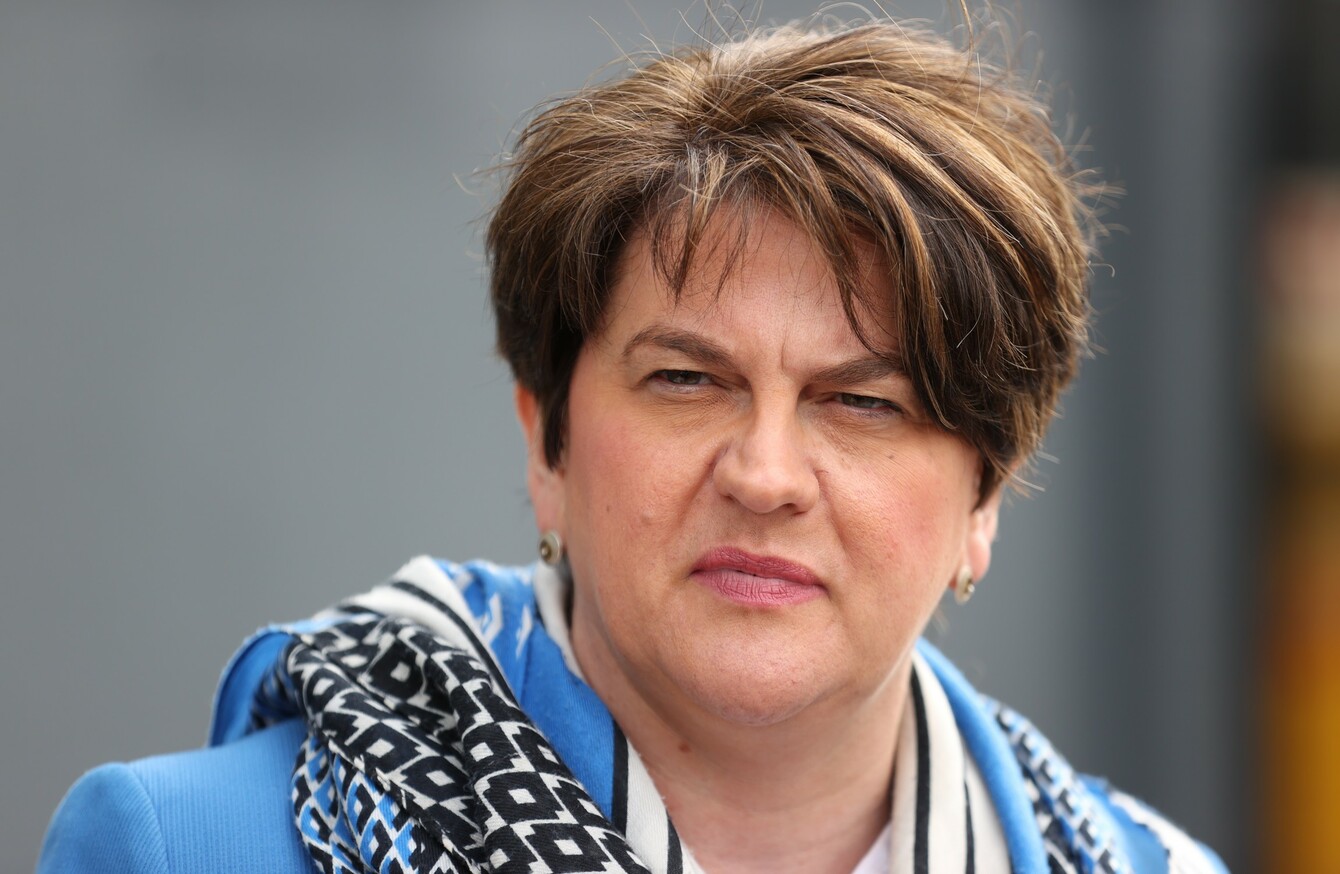 Image: PA
Image: PA
Updated Apr 30th 2021, 1:01 PM
NORTHERN IRELAND FIRST Minister Arlene Foster has confirmed she will be stepping down as an Assembly member for Fermanagh and South Tyrone.
Foster said none of the party colleagues who moved to oust her from leadership have spoken to her since and that she still has not seen the letter of no confidence that was signed by a majority of the DUP's senior elected representatives.
Foster said she would wait until she steps down as First Minister at the end of June before outlining her intention on whether she will leave the DUP altogether.
"It's been a turbulent week, it's been a week where I've had to make pretty big decisions," she said.
"But I think the time is right to move on and to do something different, and that's what I'll do."
On a visit to Kirkistown Primary School in Co Down this morning, Arlene Foster said: "Politics is a very brutal game I think everybody knows that to be the case. I haven't actually spoken to any of the colleagues who are purported to have signed the letters, they haven't been in touch. So, you know, that's a matter for them. I'll move on and look forward and I'm looking forward to the next chapter as to what I'm going to do with my life."
Foster made clear that some of her "very good friends" did not sign the letter of no confidence.
"I think you should also recognise that not everybody signed the letter, some very good friends did not. And I think you should note that as well," she said.
The DUP leader added: "I haven't really had any engagement from any of the colleagues who felt that I should leave, so I suppose that's the disappointment – that I don't actually know what the reason is for it, but, as I say, you know, that's politics, all political careers have to come to an end, mine will come to an end at the end of June."
Foster said she hoped the DUP would continue to "look forward".
"I joined a party that wanted to look forward, that wanted to build a Northern Ireland for everybody, that recognised that there was divisions in society and to try and deal with those divisions and to move Northern Ireland to a better place and I hope that's the direction of the party that continues," she said.
Asked whether she would like to join the Lords, she said those decisions were not made by her.
She said she wished whoever leads the party well, but she would not be drawn on who she would be supporting in any leadership contest.
"I don't know who the next leader of the party is going to be, I don't know what their policies are going to be, undoubtedly we'll hear more of that in the coming weeks, but I am simply saying to you that I hope that, as the largest party and as the largest Unionist Party, that is a positive message that we're bringing forward to the future, because I think there's a very positive story to tell," she said.
Foster said she hoped devolution was not at risk.
"The future of Northern Ireland is very much tied up with devolution and being able to take those decisions locally, it's very important," she said.
#Open journalism No news is bad news Support The Journal

Your contributions will help us continue to deliver the stories that are important to you

Support us now
Foster has led the DUP since December 2015, becoming only the third leader and the first woman to hold the role in the party's history. She also became the only woman to hold the post of First Minister a month later.
Her resignation followed reports that a significant majority of the party's representatives in Stormont and the House of Commons had signed a letter of no confidence in her.
There has been growing discontent about Foster's handling of Brexit negotiations and the Northern Ireland Protocol.
In her resignation speech, she said the continued success of devolution would depend on continued hard work, determination and courage on all sides of the political spectrum.
"For me my decision to enter politics was never about party or person, it was about speaking up for the voiceless and building a Northern Ireland which could prosper and be at peace within the United Kingdom," she said.
Contains reporting by Gráinne Ní Aodha and PA.