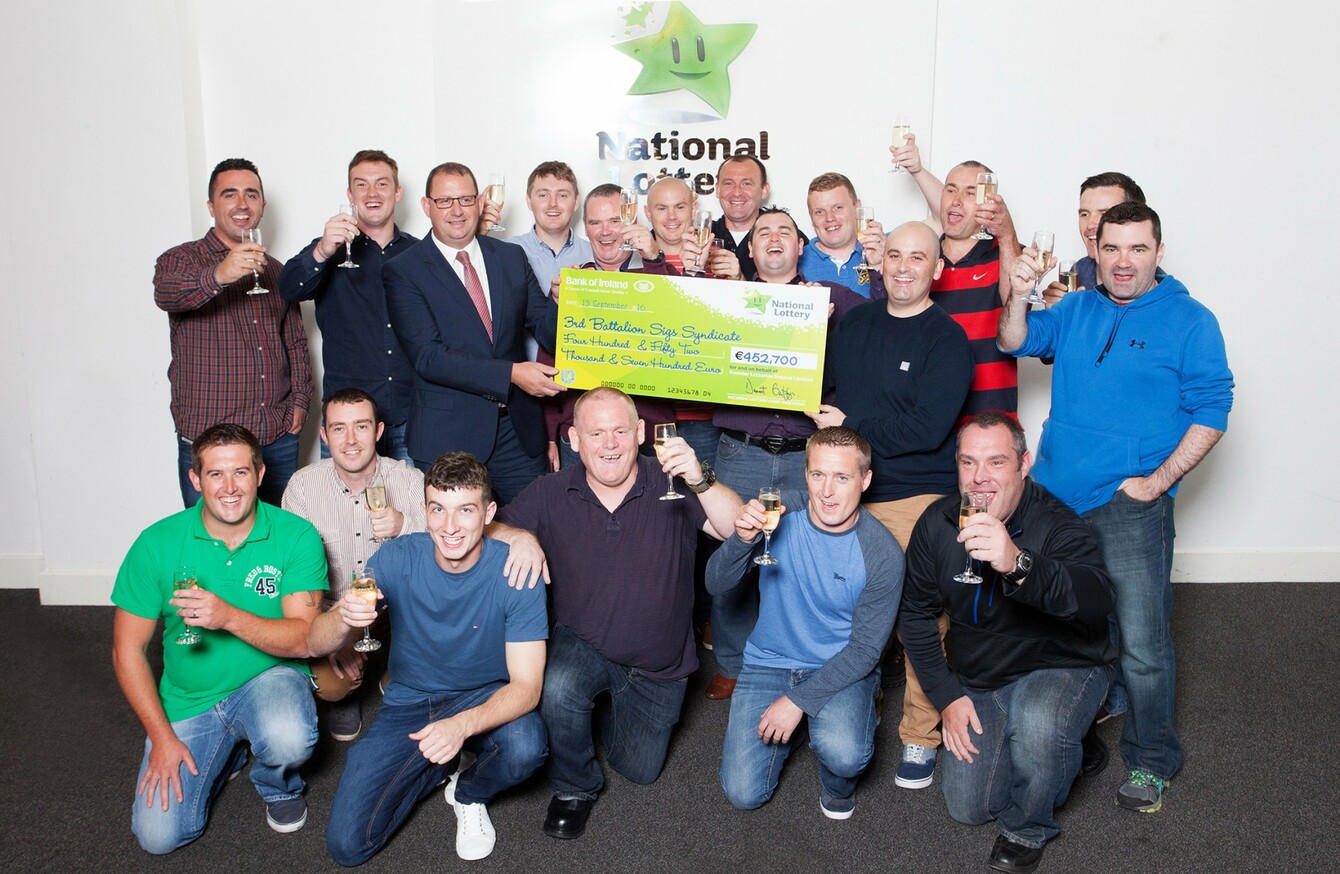 Image: Mac Innes Photography
Image: Mac Innes Photography
A GROUP OF 20 soldiers from the third infantry battalion in Kilkenny collected a cheque for €452,700 from the National Lottery headquarters in Dublin today.
The army syndicate group won the prize in the Lotto draw on Saturday 27 August, when they matched five numbers and the bonus number to win the biggest prize on offer to date in this category.
Hailing from Kilkenny, Waterford, Cork, Tipperary, Laois and Carlow, the men, aged 23-54, are stationed at Stephens Barracks in Kilkenny.
The group is made up of 18 privates, one corporal and one sergeant. They started playing Lotto together in January 2015.
Speaking today, syndicate spokesperson Daniel McGrath from Cork said: "Our first online ticket purchase in May was a Quick Pick and we decided to keep those same numbers going. Good thing we did."
'I couldn't believe it' 
Clive Parsons from Kilkenny spoke of his surprise when he found out about the win.
"I'd an email from the National Lottery saying we'd won but I didn't read it until the next day as I thought it would just be for a few euro.
"I was out with the family and took a break to look at my emails. I scanned down the page and saw that we'd won a few small prizes on the first two lines and then I saw the big one … I couldn't believe it."
The group will split the winnings equally, each taking home €22,635.
"There are a few lads getting married soon and a couple are buying houses so it couldn't have come at a better time for them.
"Two have newborn babies so the money will give them a good start. We're all delighted and we'll have a few drinks together back in Kilkenny today to celebrate and a day off work tomorrow," McGrath said.