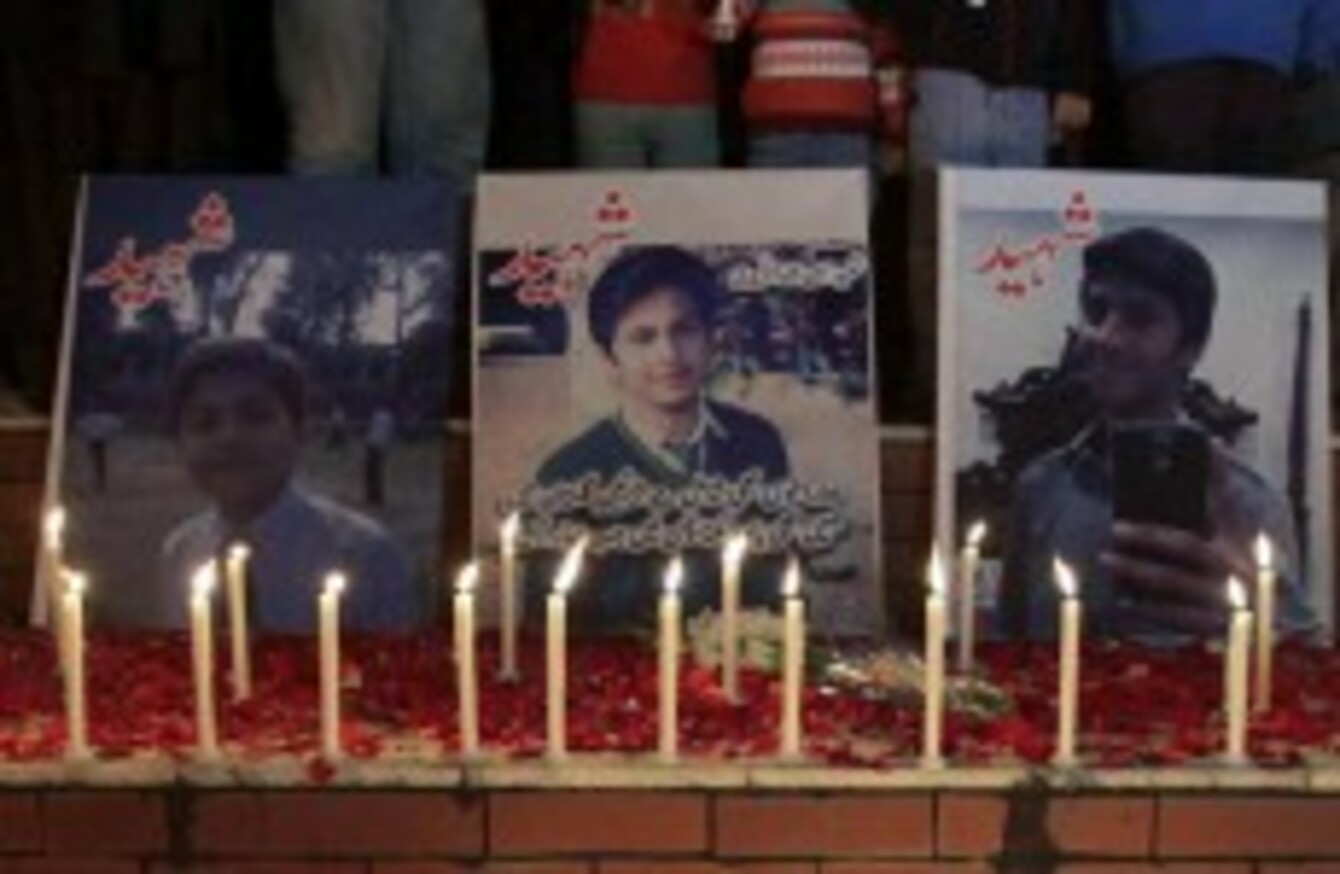 Local residents place candles around portraits of the victims killed in Tuesday's Taliban attack.
Image: AP/Press Association Images
Local residents place candles around portraits of the victims killed in Tuesday's Taliban attack.
Image: AP/Press Association Images
Updated 9.52am
PAKISTAN PLANS TO execute around 500 militants in coming weeks, officials have said, after the government lifted a moratorium on the death penalty in terror cases following a Taliban school massacre.
Six militants have been hanged since Friday amid rising public anger over Tuesday's slaughter in the northwestern city of Peshawar, which left 149 people dead including 133 children.
After the deadliest terror attack in Pakistani history, Prime Minister Nawaz Sharif ended the six-year moratorium on the death penalty, reinstating it for terrorism-related cases.
A senior government official told AFP on condition of anonymity:
Interior ministry has finalised the cases of 500 convicts who have exhausted all the appeals, their mercy petitions have been turned down by the president and their executions will take place in coming weeks.
A second official confirmed the information.
Of the six hanged so far, five were involved in a failed attempt to assassinate the then-military ruler Pervez Musharraf in 2003, while one was involved in a 2009 attack on army headquarters.
Police, troops and paramilitary Rangers have been deployed across the country and airports and prisons put on red alert as the executions take place and troops intensify operations against Taliban militants in northwestern tribal areas.
Authorities have made several arrest after attack.
"Quite a few suspects who were facilitators in one way or the other have been taken into custody," Interior Minister Chaudhry Nisar Ali Khan said, adding that the interrogations were "moving ahead in a positive manner."
He did not disclose their identities or say how many they were.
Seven Taliban gunmen wearing explosives belts stunned the world on Tuesday by storming into the military run school and slaughtering 148 people, including 132 students.
Another nearly 121 students were wounded in the ensuing eight-hour siege of the school, located in an area where many military families live.
The group claims it fights to establish a ruling system based on its own harsh brand of Islam. It has killed thousands over nearly a decade.
The government bombed the militants' hideouts in country's tribal area along the Afghan border in response, and also lifted a ban on the execution of convicted terrorists.
Local militants have threatened attacks to avenge the hanged men.
Khan, the minister, said Pakistan was at war with the militants. He appealed to the nation to help authorities in a countrywide crackdown on the insurgents.
Originally published 9.20am. Additional reporting by Associated Press