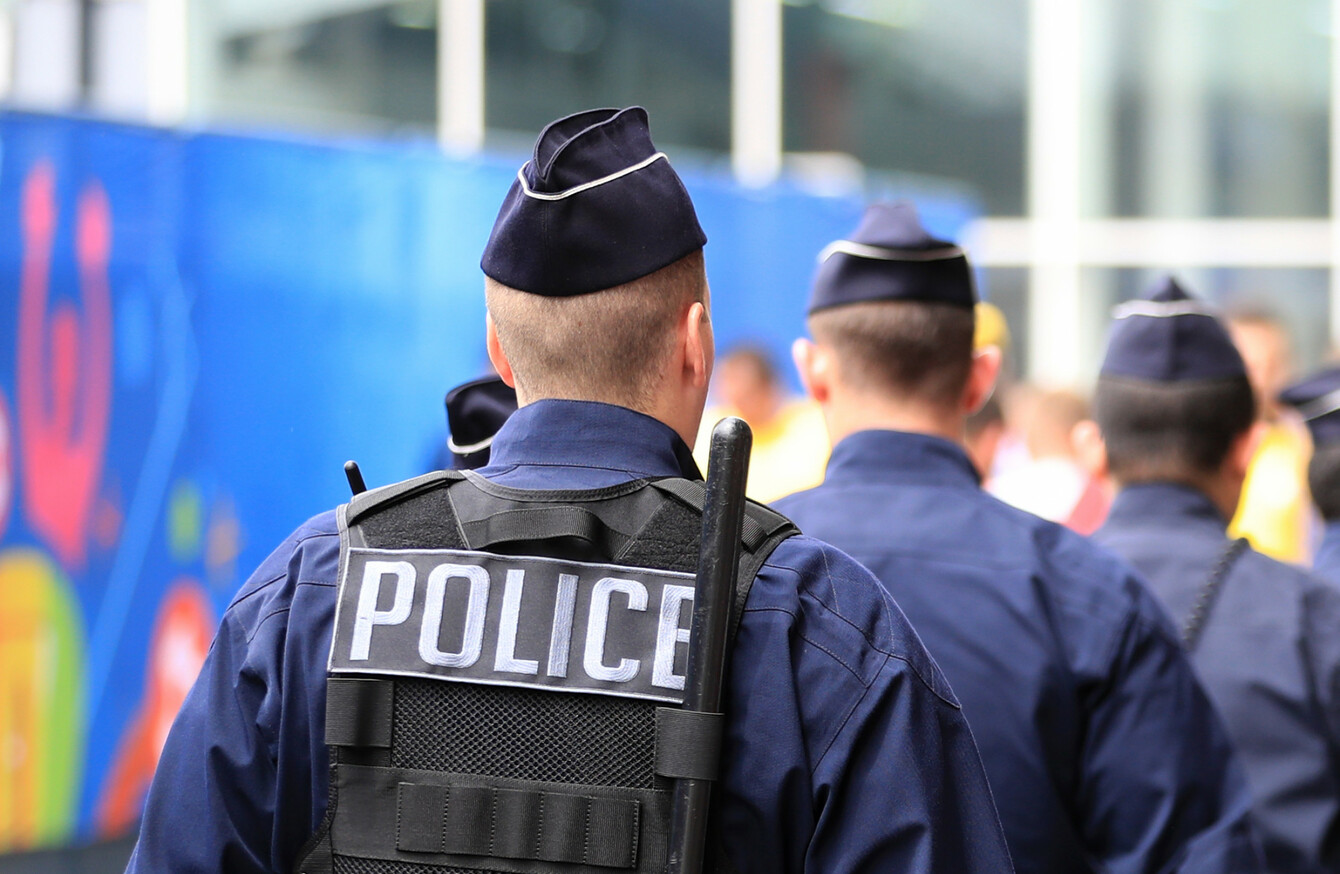 File photo of French police.
Image: Mike Egerton
File photo of French police.
Image: Mike Egerton
FRENCH POLICE HAVE arrested three people after a man was beaten to death in broad daylight by a gang of teenagers in Pau, a town in southern France.
A 32-year-old was murdered early on Friday evening in a notorious area of the town by a group of youths, whom witnesses described as being in their early teens and aged 16-17 at most.
The victim, who had a history of violent crime and drug dealing, was repeatedly kicked and punched by a group of up to 12 teenagers, and was also beaten with a plastic chair leg and a piece of wood in front of horrified witnesses, local media reported.
Pau prosecutor Cecile Gensac confirmed that three people had been arrested over the murder of the victim, a French national born in Burkina Faso in west Africa who had moved from Paris to Pau in recent years.
"The man died Friday in the street in an area of Pau after a group attacked him," Gensac told AFP.
The housing estate in the Saragosse area of Pau, where the crime took place, is known for its high crime rate and is typical of many deprived, high-immigration urban neighbourhoods in France.
But murders committed by minors are rare and the man's death on a grassy public area was widely reported, with Le Parisien newspaper describing it as a "terrifying lynching".
"They're very young: 12, 13, 14 years old. It's a gang around here that smokes weed, that causes problems," one local told La Republique des Pyrenees newspaper.
The death came as French President Emmanuel Macron prepares to unveil his long-awaited strategy for tackling the entrenched social problems found in many poor areas in the country's towns and cities.
The 40-year-old leader has faced criticism from some associations for failing to put tackling crime, unemployment, poverty and Islamism at the heart of his agenda since his election in May 2017.
'Doing badly' 
Presidential aides have said Macron will avoid announcing a new strategy based on massive increases in public spending.
"The aim is not to reinvent grand projects" that are "top-down", an aide told reporters last week, but to "be efficient and succeed in bringing on board locals" to encourage community projects.
Macron is likely to insist on his government's record of investing in schools in poor areas, creating a new community police service for crime-hit zones, and economic reforms which he believes will generate more jobs.
A host of local lawmakers from the hardest-hit urban areas of France have warned about the problems of crime, poverty and Islamism that blight the lives of local families.
The mayor of the gang-plagued region of Seine-Saint-Denis north of Paris published a column at the weekend urging Macron not to miss the opportunity to send a signal about his intentions.
"The suburbs are doing badly," wrote Laurent Russier.
Ten people were in police custody on Monday in Seine-Saint-Denis after a 41-year-old man was stabbed to death at the weekend in a shop.