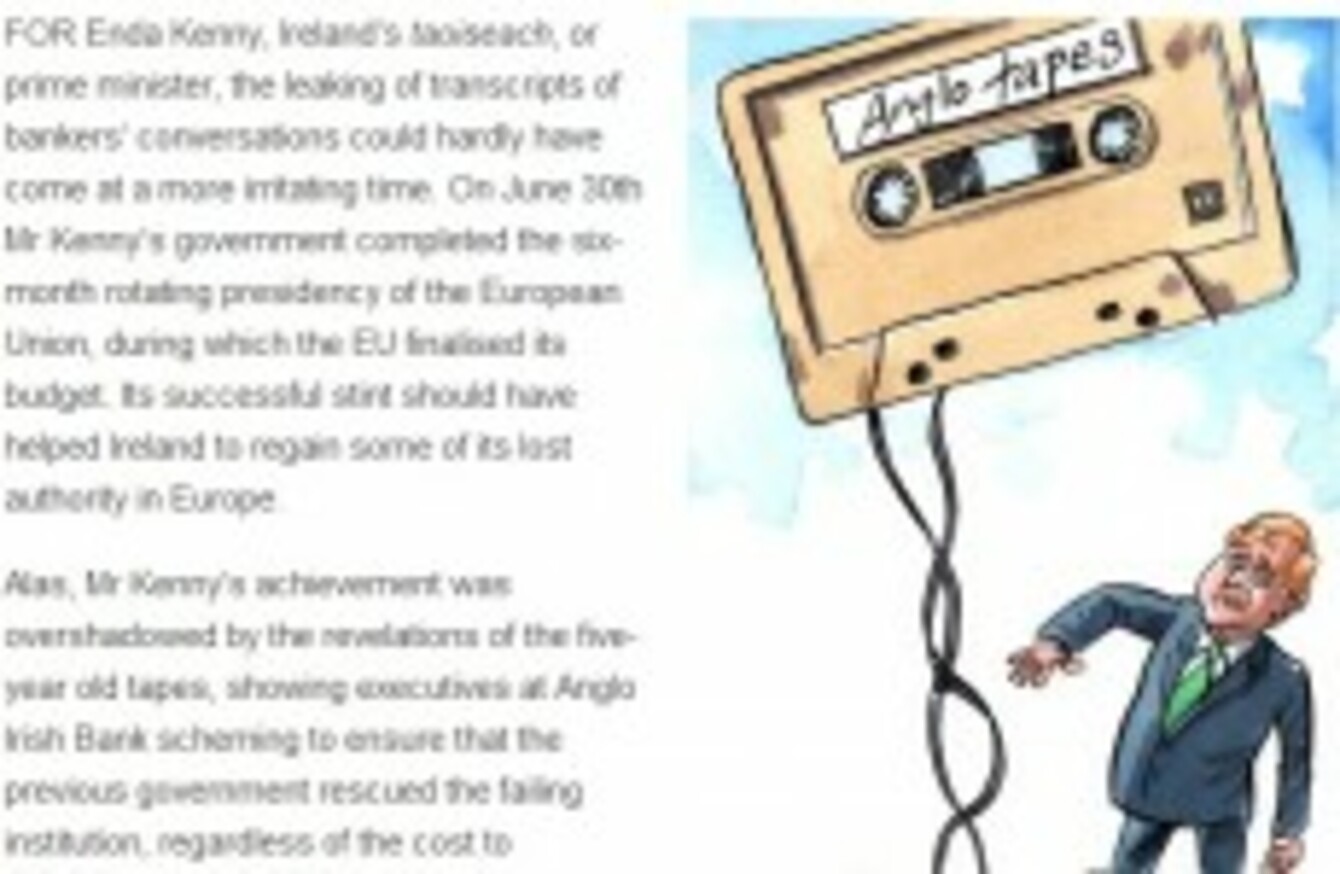 Image: The Economist
Image: The Economist
THE LEAKING OF taped conversations between senior executives at Anglo Irish Bank during the financial crisis of 2008 came at an "irritating time" for the Taoiseach, according to this week's The Economist.
An editorial in the European edition is generally downbeat on Ireland's progress and prospective recovery, something else which will not be welcomed by Enda Kenny.
The author claims that the Anglo Tapes scandal, coming as it did at the end of Ireland's EU presidency, stopped the nation from regaining some of its "lost authority in Europe".
Alas, Mr Kenny's achievement was overshadowed by the revelations of the five-year old tapes, showing executives at Anglo Irish Bank scheming to ensure that the previous government rescued the failing institution, regardless of the cost to taxpayers.
It called the publication of the transcripts as "the latest setback" for Ireland after six years of austerity. Citing disappointing rewards for Irish sacrifices, the recent dip back into official recession, a lack of economic gains and a dubious export-led recovery, as well as the homegrown mortgage crisis and public debt levels, the article does not make happy reading.
According to the magazine, the Fine Gael/Labour coalition has two options for that €1 billion savings come October and Budget 2014 – ease up on austerity or accelerate the pace of deficit reduction.
"The budget will be a test for Mr Kenny's fractious coalition," it adds, bringing up the ever-controversial Protection of Life during Pregnancy Bill 2013 and an impending inquiry into how Anglo's executives got it "so spectacularly and so cynically wrong".