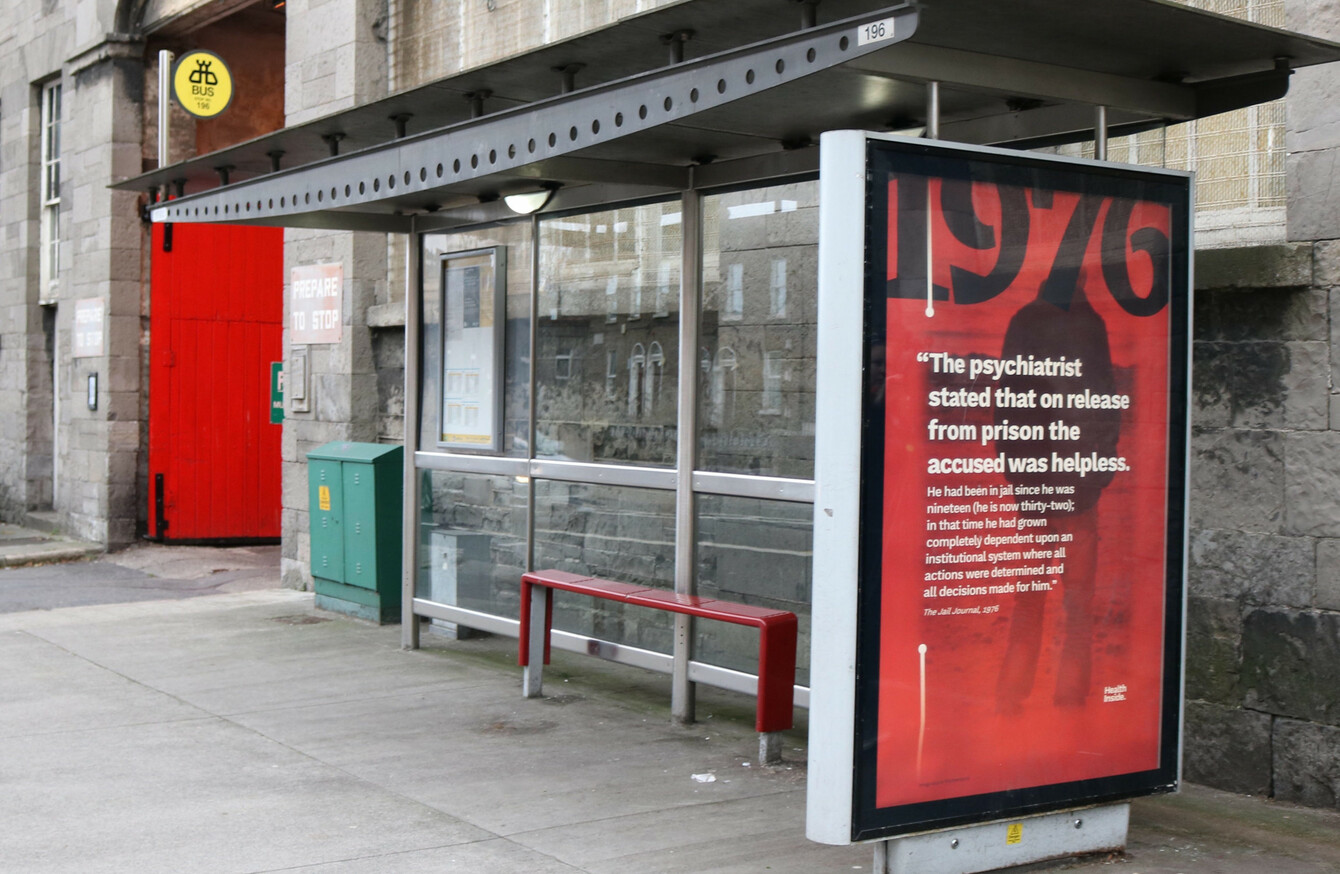 'The psychiatrist stated that on release from prison the accused was helpless. He had been in jail since he was nineteen (he is now thirty-two); in that time he had grown completely dependent upon an institutional system where all actions were determined and all decisions made for him' (The Jail Journal, 1976)
'He is serving ten years and he has fought to maintain his sanity. He remembers his last journey to Dundrum Mental Institution. He was taken here in a strait-jacket. He remembers weeks of heavy sedation and the inevitable return to his white-washed cave in Portlaoise.' (The Jail Journal, 1973)
POSTERS AND ADS are being displayed in the area around Mountjoy Prison to raise awareness about the kinds of conditions prisoners in Ireland have been subjected to over the years.
The project, Health Inside, is a new public art intervention about the Irish prison system and prisoners' health in the nineteenth and twentieth centuries.
Across eight bus shelters and two billboards, the artwork reflects on prison conditions, the mental health of men and women in prison and the social problems that imprisonment can cause. It's a collaborative public art intervention by visual artist Sinéad McCann and UCD historians Catherine Cox and Oisín Wall. 
McCann told TheJournal.ie that it came about because she's working on a research project in UCD in the Department of History that looks at healthcare in prison. As part of her work, she looks at how this research can be communicated to people through art and cultural events – taking it out of academia and making it accessible to all.
The eight posters displayed over 10 sites are feature material a number of images from archival photos, including:
A child convict in Mountjoy Convict Prison (1857)
The interior of a prison showing suicide-prevention nettings (1918)
The interior of Dundrum Mental Hospital Dublin (1971)
Street scenes from Dublin north inner city (1974 & 1978).
The photographs are woven together with quotes from Irish historical sources, like the 1867 Prison Inspectors Report, Correspondence to the General Prison Boards Chairman, 1885, the Prisoners Rights Organisation Report 1978, and The Jail Journal (1973-76). 
 'Walls keep people out'
The fact that the posters and ads are located near the jail is important – particularly as for McCann it disrupts what you might think of as 'traditional advertising'.
"Walls [are] a place keep people in but also keep people out," explains McCann. "It's a powerful gesture to make artwork and place billboards besides a prison; to make experiences outside prison visible on outside walls so people could get a view in."
Keeping people out is a really easy way to demonise people… We are trying to humanise the prison experience and are looking at healthcare as a way to do that.
'Everyday indignities'
Historian Oisín Wall is a Postdoctoral Research Fellow at UCD. "The pieces each speak to both historical items of the time but also something more common – I would say the experience of most prisoners in the western prison systems since the late 18th century."
He said that the quotes suggest "little everyday indignities that you get in prison".
So things like when prisoners are in reception, when they arrive in prison first there's a quote from the 70s about having to strip down in front of prison guards and other prisoners. And then another one is about from about 1975 is about being locked in your prison cell for 15-16 hours a day with no sanitation, but a chamber pot. It's those little dehumanising things that we wanted to draw attention to.
He said that while those experiences were of their time, they want to use them to get people to question what sort of indignities might be happening within the prison system today. 
"Really brilliant reform has been done in the last few years – the Irish prison system has come on in leaps and bounds but the nature of imprisonment is… inevitably these indignities are a huge part of it," said Wall. "It's trying to ask people to think about the situation today."
"And I think that obscuring of prisoners and of prisoners' lives really contributes to a very easy dehumanisation you come across it often in literature, press, TV – this the idea of prisoners of being somehow not almost not fully human in a way," he went on. "An animalistic othering. Which is, I think, really destructive and so we are inviting people to think more about it and to try and put themselves in the shoes of people undergoing these experiences."
The Irish prison system has gone through different phases over the years – and was sometimes a testing ground for new ideas about imprisonment, said Wall. "There was quite a lot of experimentation going on around the country."
The Irish prison population reached 4,000 prisoners towards the end of the 19th century – but this began to decline. Going towards Irish independence, it declined rapidly and then peaked again during the War of Independence. Then it fell, and by 1955 it was down to 350 prisoners in Ireland.
A lot of prisons got closed -  there were 10 prisons closed in the first 30 years of the Irish State, leaving just four prisons open. "So it looks like crime is dying off in Ireland at that point," explained Wall. "Then the 1960s come along and in the course of the '60s the prison population doubles – by 1990 it doubles again and 2010 doubled again to 4000."
This was matched however with a lack of investment, leading to overcrowded and often unsanitary conditions in the 1980s. There was also regular rioting through the 70s or 80s, while practically no education was offered in prisons. 
Reform began in the 1990s, leading us to the situation we're in today. 
"The quotes are quite emotive and the tone of the posters themselves are supposed to be reflective," said McCann of the ads. "The sites of the advertising spaces is interesting because it's almost like I used that as a device to draw people in. People will look at the poster and think 'what is this trying to sell me?' and then they realise it's not trying to sell them anything.
Through that process of trying to figure it out they are engaging with the material. We are bringing them into that space to reflect on that experience and what that might be like to have a mental breakdown in prison and to offer a space for empathy for people to come into it if they feel that is relevant.
Does she want people to think about what prisons are like in Ireland today? "It's interesting to look at what those quotes are saying in relation to what's happening now," said McCann. "It's easier to look at the past and say 'isn't that awful' and then use that as a way to get in to what is happening now."
While Mountjoy Prison didn't collaborate on the project, it knew it was taking place. 
More about the Health Inside project can be read on its website.