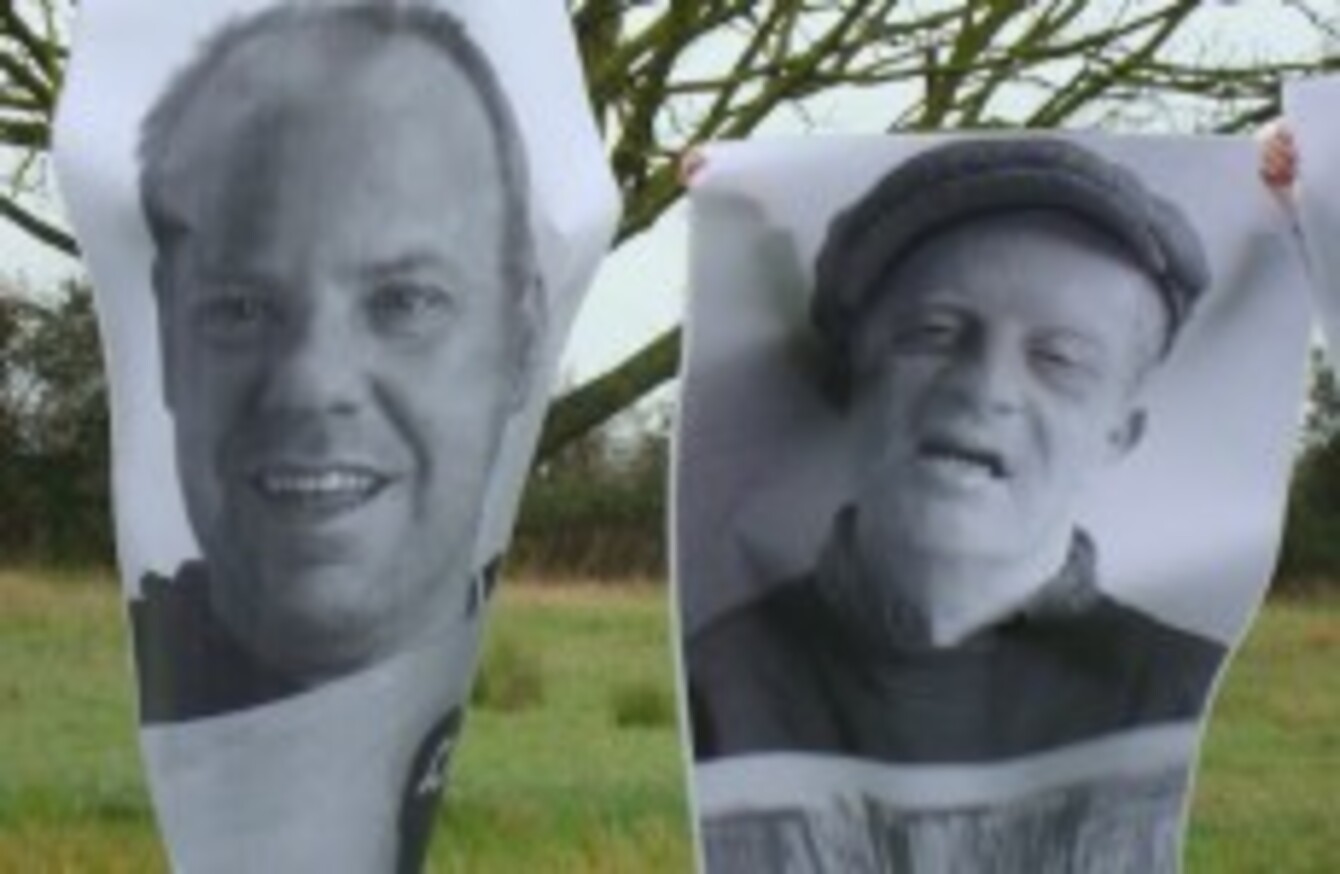 Image: Gypsy Ray
Image: Gypsy Ray
IS ART CREATED by people with a disability somehow 'different' to other art?
Artist Gypsy Ray, based in Callan in Co Kilkenny, has seen students she works with having their work thought of as lesser because of their ability.
So she has launched a new project featuring their portraits, boldly proclaiming: "We are artists: No other labels please".
When Ray was on an international flight to the US, she watched a TED talk by this French artist, JR:
Source: TED/YouTube
Ray felt that JR's Inside Out Global Photographic Project was something that needed to happen in her town of Callan, and with the people she works with at KCAT (Kilkenny Collective for Arts Talent).
Working with artists of different abilities at this art centre, Ray felt that displaying their portraits would help challenge the perception that their work was somehow 'lesser' than the work of other artists.
Inside Out is inspired by JR's large‐format street "pastings", and involves sharing large-scale portraits, as a way to share untold stories and transform messages of personal identity into works of public art.
Each Inside Out action around the world is exhibited online, and nearly 200,000 people have participated so far.
Ray felt the project "would challenge people's perception about people or educate the public about something".
"I work with people who do have special needs," explains Ray. "And I was really tired of always when they showed their work they were labelled as artists with special needs rather than as visual artists."
Ray teamed up with the KCAT artists, staff and others at the Kilkenny Collective for Arts Talent to create the 14 portraits, and got the local community on board to display the works.
Her project addresses the perception that artists who also have special needs should be labelled according to their disability, rather than simply as the artists they are.
The artists here portrayed are dedicated practitioners whose work deserves no special status, just the same careful and critical attention afforded to any other work of art.
Together, the participants decided on a title for their project: "We are artists: no other labels please".
Ray wants to put across a true representation of who the artists are with her portraits. "I've known them a long time, all of them. It's not just me imposing my idea of who they are."
Labels and art
Ray says that with art there will always be tags – "with me it's 'an American woman artist' – but adds:
I think what happens when they put an artist with 'special needs' is it almost degrades or takes the work down a peg before it's looked at.
Many of the people she works with are "very fine artists". "And if their work was shown without the label 'special needs' they would be up there with other artists."
The photos were printed in New York and shipped to Ireland, for free, where they were laminated by Ray so they could be used in the future by KCAT.
"Some were overwhelmed by the size of them," she says of the reaction of those captured in the portraits. "They are also overwhelmed that now they are in these windows."
The photos will be hung in the windows of local businesses in Bridge St, Callan.
Ray indicates that the hope is the photos will lead to a discussion about art, disability, and the invisible barriers in art. "This is where it will be interesting with public reaction," she says.
"I think that what will happen is when they are up on the web and they become almost viral, the responses… then that's when [the discussion] will happen. I think that's what [JR] wants with these projects."
The portraits, which were launched on Thursday, will be shown first outside the Art Centre's building on Mill Lane in Callan and then in various windows along Bridge Street in the town.