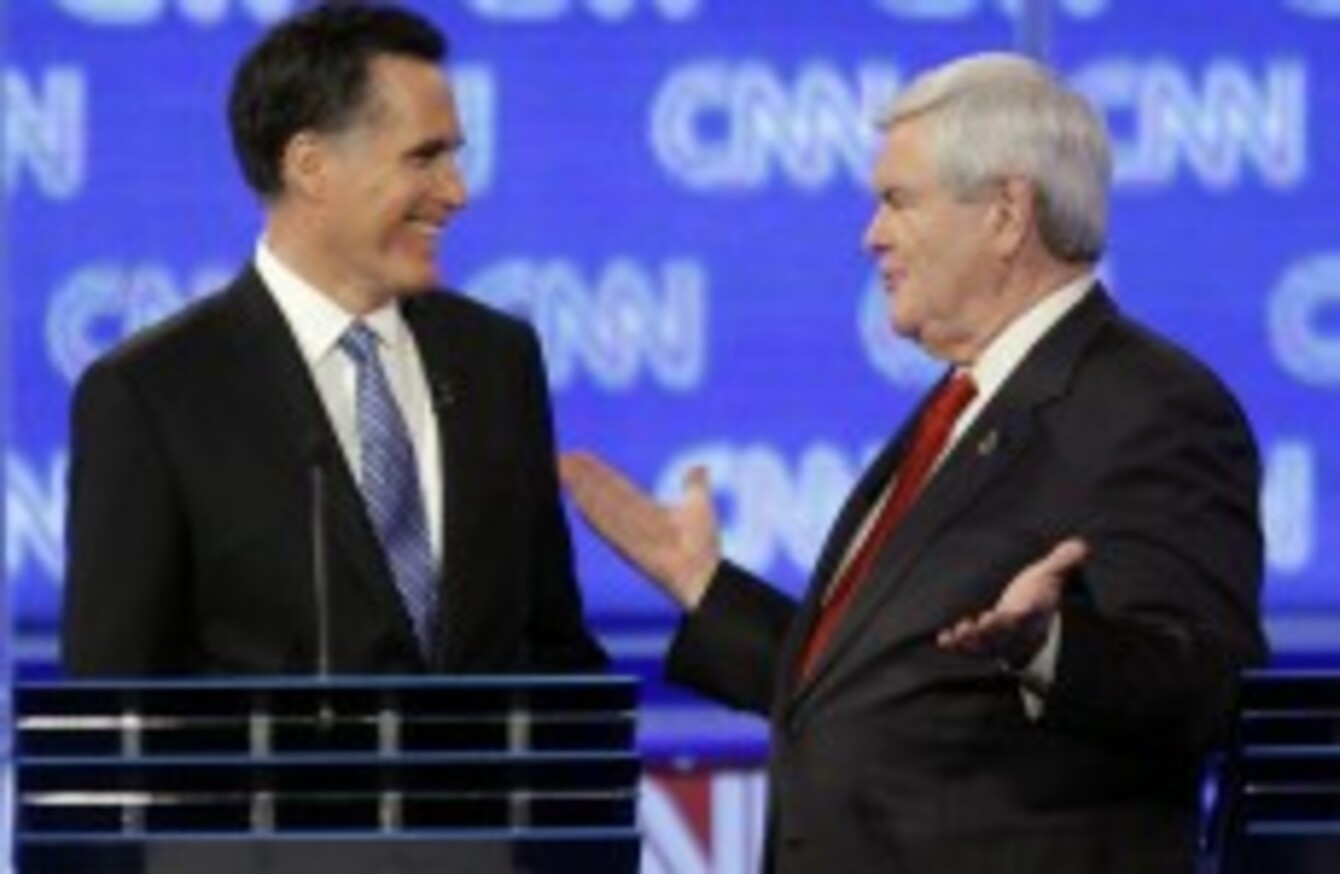 Polls show Gingrich (right) closing in on Romney (left) in South Carolina.
Image: David Goldman/AP/Press Association Images
Polls show Gingrich (right) closing in on Romney (left) in South Carolina.
Image: David Goldman/AP/Press Association Images
NEWT GINGRICH TOOK issue with the news media last night as the four men left battling it out for the Republican nomination for the US presidency took part in the final debate before the South Carolina primary vote.
The former US House Speaker was in robust form as the latest polls showed him closing the gap on frontrunner Mitt Romney and some even showing him leading the former Massachusetts governor who had established a seemingly unassailable lead in the Southern state.
Gingrich denounced the media after an interview with his ex-wife Marianne emerged yesterday with her revealing that the former Georgia congreessman wanted an 'open marriage'. Gingrich has faced questions during the campaign over his martial infidelity in the 90s.
He had already blasted the interview with ABC News as "tawdry" and went further in last night's debate, describing the decision of the debate hosts CNN to open with a question about the interview as "trash":

The debate came just hours after Texas governor Rick Perry withdrew from the race leaving just Gingrich, Romney, social conservative Rick Santorum and libertarian Ron Paul in the race.
Romney and Santorum effectively tied in Iowa caucus while Romney won New Hampshire. But polls released on Wednesday showed that Romney's seemingly inevitable pass to  the nomination was no longer as clear cut as it may have been last week.
And a Rasmussen Reports poll released yesterday showed that Gingrich now leads in the Palmetto State, gaining the support of 33 per cent of voters compared to 31 per cent for Romney, Fox Boston reports.
During the final debate, Romney faced more questions about his tax returns which he has promised to release but which have already proved problematic after it emerged that he pays just 15 per cent on his investment dividends.
Romney was asked would he follow the lead of his father, George, who relased 12 years of tax returns when he ran for president in 1968. "Maybe," Romney responded to boos from the crowd as other candidates also faced questions over their tax affairs:

YouTube: isancold
With his strong showing in the polls, Gingrich faced attacks of his own.
Former senator Santorum questioned whether the former House Speaker had the discipline to serve in the White House accusing him of displaying "no discipline, no ability to be able to pull things together" when in Congress.
While often on the edge of the debate, Texas congressman Paul alluded to the pressures Gingrich faces over his history of infidelity by noting: "I'm very proud that my wife of 54 years is with me tonight."