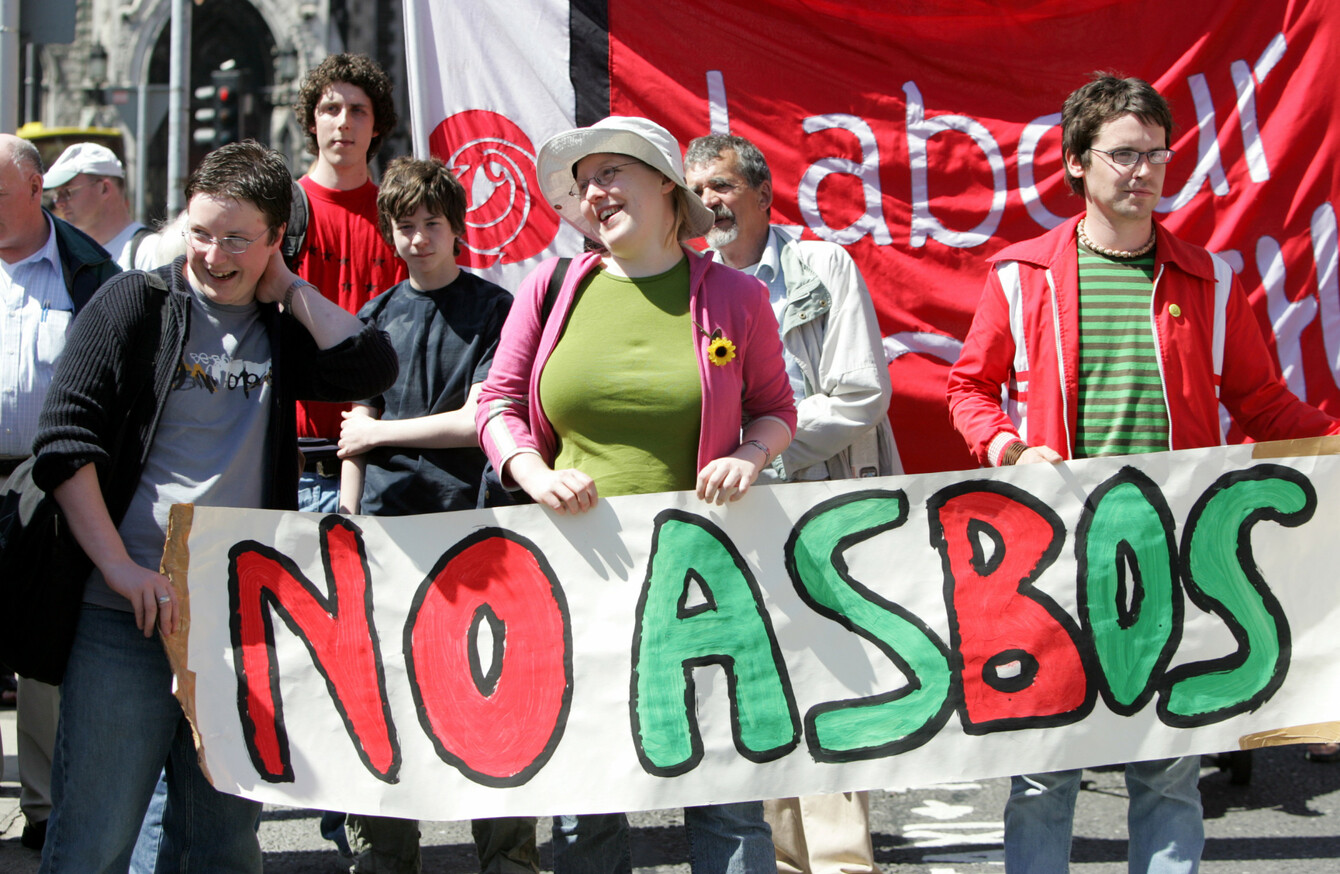 Labour Youth during a 2005 protest in Dublin where they called for the Anti Social Behaviour Orders (ASBOs) to be postponed.
Image: Leon Farrell/Photocall Ireland
Labour Youth during a 2005 protest in Dublin where they called for the Anti Social Behaviour Orders (ASBOs) to be postponed.
Image: Leon Farrell/Photocall Ireland
IN 2007, ASBOs (Anti Social Behaviour Orders) came into effect.
Hailed by then-Justice Minister Michael McDowell as a protection for "the little old lady in the gable house at the end of the road whose life is being made miserable by a group of youths", ASBOs were largely based on a similar scheme in the UK, which has since been scrapped.
An ASBO is a civil order made against a person who is shown to have engaged in some type of the anti-social behaviour. In Britain they were introduced under the government of Tony Blair in the late 90s as a way in which to address minor yet significant incidents that would not ordinarily see criminal prosecutions.
In Ireland, there were fewer than 1,000 used in 2017. Despite those figures, the Department of Justice says that the measures are part of a "comprehensive legal framework" aimed at fighting anti-social behaviour.
Asked about ASBOs, in a statement the Department said:
"An Garda Síochána is committed to tackling public disorder and anti-social behaviour by working with communities to reduce this type of behaviour and enhance community safety. The gardaí approach includes a strong focus on quality of life issues and collaboration with local authorities, businesses (in particular the night time economy) and other stakeholders to help address the causes of anti-social behaviour.
"It should be borne in mind that in this jurisdiction, anti-social behaviour orders are merely one strand available to Gardaí in tackling this form of offending behaviour. For instance, it is widely acknowledged that the use of ASBOs is only suitable in certain circumstances, for certain offenders and for certain categories of offences.
"An Garda Síochána currently employs a wide range of operational measures aimed at tackling public-order offences and anti-social behaviour. These measures are underpinned by a comprehensive legal framework. There is a range of strong legislative provisions available to An Garda Síochána to combat anti-social behaviour, including provisions under the Criminal Justice (Public Order) Acts, the Criminal Damage Act and the Intoxicating Liquor Acts and the Criminal Justice Act 2006."
Cllr John Leahy, the leader of the Renua party, wants more of the orders handed out. In fact, he wants them "served as swiftly and easily as a clamp or a parking ticket".
Criteria
ASBOs typically lay down certain terms and conditions. For example if your neighbour is playing loud music and an ASBO is issued they would be prohibited from doing so again. Breaching the terms of an ASBO could lead to a criminal prosecution.
If one is imposed by a District Court, you are restricted from doing anything specified in the order and it lasts for two years unless a shorter period is stated in the order.
If the order is not complied with, then it is a criminal offence with a fine of up to €3,000 or imprisonment for up to six months.
Why aren't they used more?
The truth is that there is no one answer to that question.
Fianna Fáil TD John Lahart alluded to one possible answer when talking about ASBOs in the Dáil last month.
"I am aware from my own constituency that community gardaí are the key to addressing anti-social behaviour. In 2010, there were almost 1,200 community gardaí in the State. Last year, there were 691."
For some in law enforcement, the low use of ASBOs comes down to one thing – the use of other methods including arrests.
"To be honest, if I want to give someone an ASBO it's more hassle than it's worth," says one Garda source.
"The application has to go through a Superintendent who has to go to the District Court to get the order issued. That's not really time me or the Super has."
However, many gardaí are happy that ASBOs are a tool at their disposal, even if they are not used all that much.
And they are here to stay, it would seem. Speaking in the Dáil earlier this week, Justice Minister Charlie Flanagan said the issue was "under constant review" but did not say that the regime would be changed.