Image: Newspress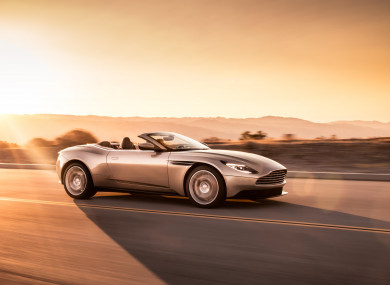 Image: Newspress
SAY HELLO TO the gorgeous Aston Martin DB11 Volante, the open-top version of the DB11 Coupe, which Aston is saying "sets new standards of performance, innovation, engineering and style to create the definitive open-top Sports GT."
The DB11 Volante replaces the DB9 Volante.
The striking looking convertible features an eight-layer fabric roof which takes 14 seconds to lower and 16 to raise. Both operations can be carried out at speeds up to 50km/h.
The roof can be had in three different colours – Bordeaux Red, Black Silver or Grey Silver – and the 20-inch alloys come in several different finishes.
The cabin is a 2+2 design, with 20 per cent more luggage room compared to the DB9 Volante. There are even ISOFIX anchor points on the rear seats.
The Volante interior is much the same as the Coupe's with a full-colour 12-inch TFT LCD instrument cluster and 8-inch TFT infotainment screen. There are also heated seats and a heated steering wheel so you can enjoy open-top motoring even on the coldest of days.
Under that single-piece aluminium bonnet lies a powerful AMG 4.0-litre twin-turbo 510hp V8 engine. Max power arrives at 6,00rpm and 675Nm of torque is available between 2,000- and 5,000rpm.
Top speed is quoted as 300km/h and the 0-100km/h sprint can be done in 4.1 seconds. An eight-speed paddle-shift automatic transmission channels power to the rear wheels via a mechanical limited slip differential.
The order books for the DB11 Volante are now open and deliveries will begin in spring 2018. The starting price in the UK is £159,900, which means it could cost around €340,000 to get one here in Ireland.