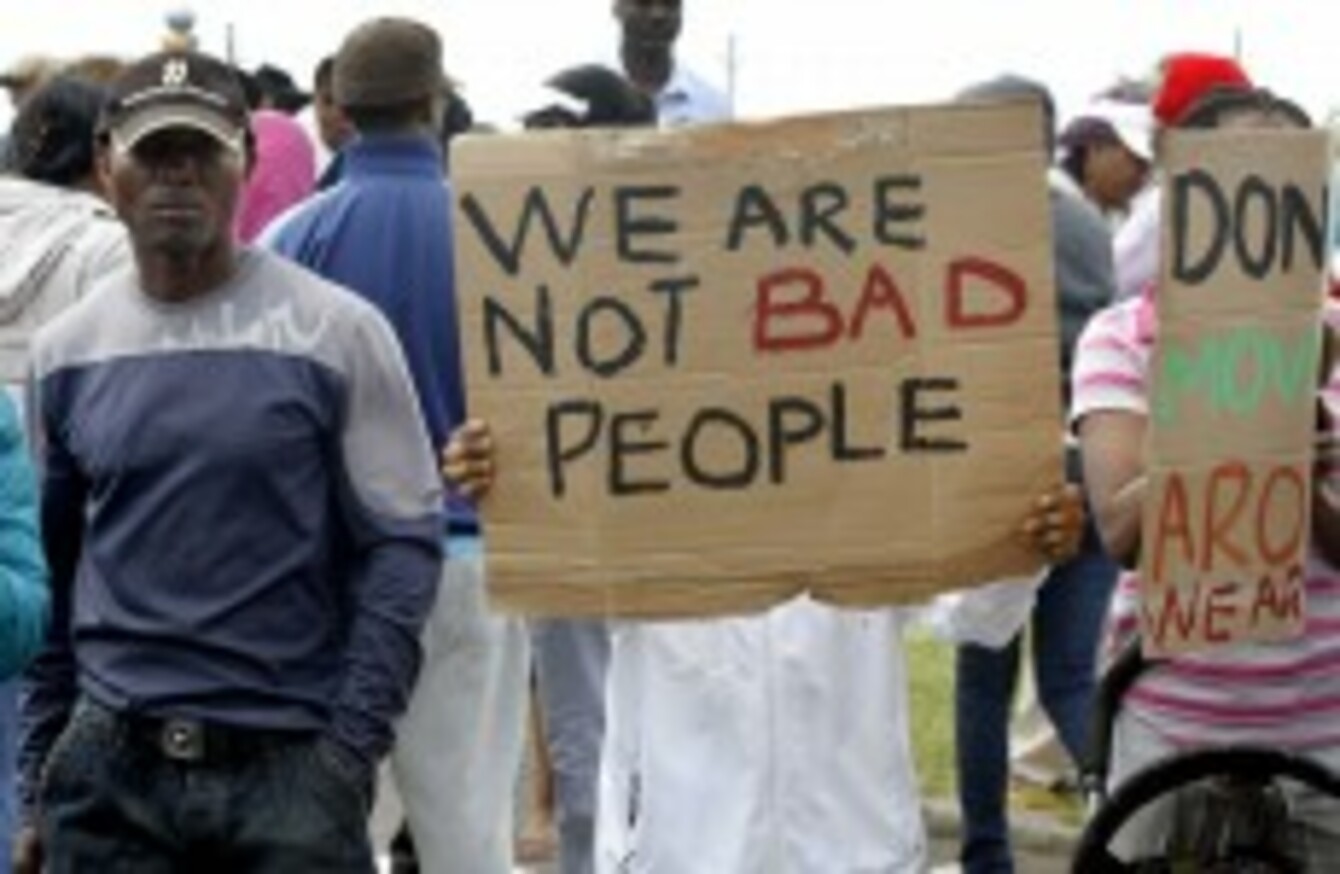 FIle: Asylum seekers at Mosney direct provision centre
Image: Mark Stedman/Photocall Ireland
FIle: Asylum seekers at Mosney direct provision centre
Image: Mark Stedman/Photocall Ireland
1,444 ASYLUM APPLICATIONS were received last year compared to 946 in 2013 – an increase of 53%.
That's according to new figures released by the Department of Justice, which said 2014′s asylum applications reversed the downward trend of recent years.
A total of 111 vulnerable people from Syria and the surrounding region have been granted admission to reside in Ireland following applications to the Justice Department from relatives already resident here.
In addition, the Government accepted 90 Syrian refugees in 2014 under the UNHCR resettlement programme.
Direct Provision
There were approximately 4,280 persons living in direct provision centres in the State, according to provisional figures for 2014. This was 110 fewer than at the end of 2013 and over 1,800 fewer than the number at the end of 2010 (6,100).
The information released by the Department also shows that from January to end of November 2014, almost 49,500 people were given permission to be in the State as students. This compares with 45,800 for the same period in 2013.
However, a number of private English language colleges closed in 2014. Minister for Justice Frances Fitzgerald said that the government has "worked hard" to develop a reputation for quality education services, which is why it designed a package of reforms to both the international education sector and student immigration system.
Citizenship
The backlog of naturalisation applications awaiting a decision for more than six months (which was 22,000 in March 2011), has been "comprehensively dealt with", said the Minister.
Since reforms in 2011, 90,000 applications have had decisions made. The "vast majority" of standard applications are now processed in less than six months, compared to 31 months.
In addition, the minister said that 42 new recruits started with the Irish Naturalisation and Immigration Service at her department, and they will be assigned to Dublin Airport.
This is part of the major programme to civilianise immigration functions that are normally done by gardaí, like immigration checks at Dublin Airport.
Deportations
Approximately 2,360 people were deported/removed from the State in 2014.
This includes 2,147 persons who were refused entry into the State at ports of entry and were returned to where they had come from.
In addition to this:
111 failed asylum seekers and illegal migrants were deported from the State
87 EU nationals were returned to their countries of origin due to an EU Removal Order
17 asylum seekers were transferred under the Dublin Regulation to the EU member stated in which they first applied for asylum.
The provisional 2014 year end estimates of non-EEA nationals with permission to remain in the State is approximately 95,000, compared to 107,000 at the end of 2013.
Currently, the top six registered nationalities which account for over 50% of all people registered are:
Brazil (12%)
India (11%)
China (9%)
USA (7%)
Nigeria (6%)
Philippines (5%)
Most of the people with permission to remain in the State are here for work or study purposes.
In 2014, approximately 172,000 new applications (such as visa, residence, protection and citizenship) were received by the Irish Naturalisation and Immigration Service (INIS).
Decisions were issued in almost 179,000 cases, and 92,000 new or renewed registrations of permission to remain in the State were issued by the Garda National Immigration Bureau.
Approximately 101,500 entry visa applications for both short and long stay visits were received in 2014. This is an increase of 6% on 2013, and a cumulative increase of 22% since 2011.
Minister Fitzgerald said:
These figures illustrate that the management and operation of an effective and modern immigration system continues to be an important function of the State.
She added that in 2015, "further ambitious reforms of the immigration system will be prioritised including a new single procedure for the asylum system and completion of the civilianisation of border control at Dublin Airport".