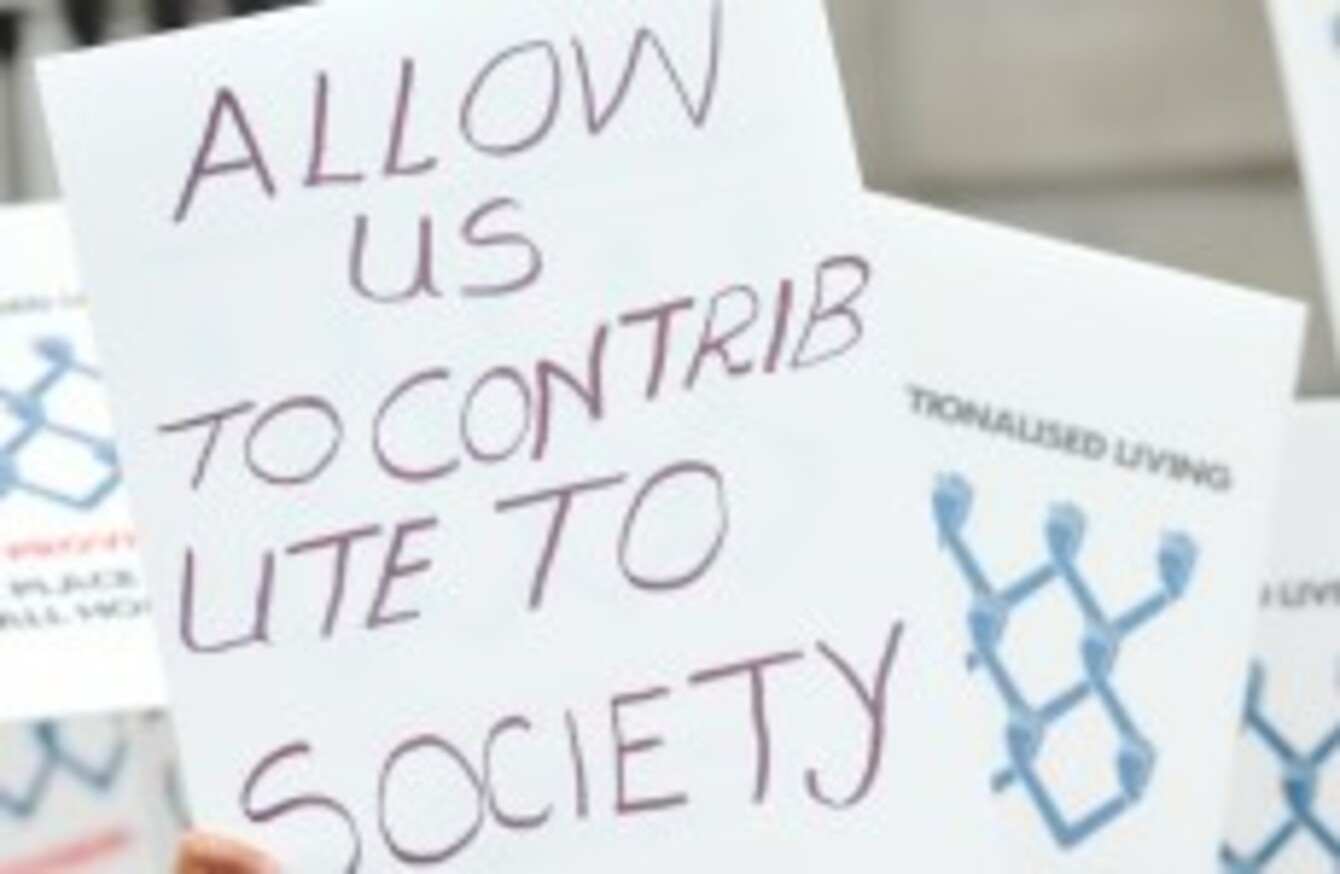 A protest against Direct Provision at Leinster House last April.
Image: Laura Hutton/Photocall Ireland!
A protest against Direct Provision at Leinster House last April.
Image: Laura Hutton/Photocall Ireland!
NEW RESEARCH HAS revealed that almost one third of residents in Ireland's so-called 'reception system' for asylum seekers have remained in State accommodation for more than five years.
And some 59 per cent of the 4,800 applicants at the end of 2012 had been in Direct Provision for at least three years. About 9 per cent had been living in the same situation for over seven years.
The ESRI/European Migration Network  report found a number of problems with the system, including lack of privacy, overcrowding, insufficient facilities such as homework and play areas for children and limited autonomy, especially regarding food.
The government has previously acknowledged that the reception system is not suitable for long-term residence but endorses it because it offers flexibility and cost-effectiveness. NGOs and international bodies also have concerns about the suitability of the system, especially for children.
People in reception centres have noted that they have lost autonomy because of certain rules they now live under.
Most reception centres – including two purpose-built properties, 13 former guesthouses, nine hostels and one mobile home site – provide full-board accommodation with adults receiving €19.10 per week. Asylum seekers are not allowed to work or receive social welfare payments.
All centres are managed and run by private entities under contract to the State. Ireland does not participate in the EU Reception Directive and there is no domestic legislative basis for the reception system.
RTÉ's Morning Ireland spoke to an asylum seeker currently living in Direct Provision. Using a pseudonym, Mary, she outlined how her situation has caused depression and despair.
"No dreams, no ambitions…you can't cook your own food," she said. Commenting on her children, she added, "Sometimes they go out to mingle with their friends, and they don't want to come back."
"I am really depressed and I don't know what to do…You wait and you keep waiting for years for something you have no power about."
An EU-wide report found that Ireland is one of just five States which do not tailored accommodation for vulnerable asylum applicants (other than unaccompanied minors).
All States other than Ireland and Lithuania allow asylum applicants to work, often after a certain period of time spent in the reception system.
It also highlighted a drop in the number of residents living in State accommodation. In 2011, there were 5,400 applicants in the system but this number fell to 4,800 at the end of 2012.