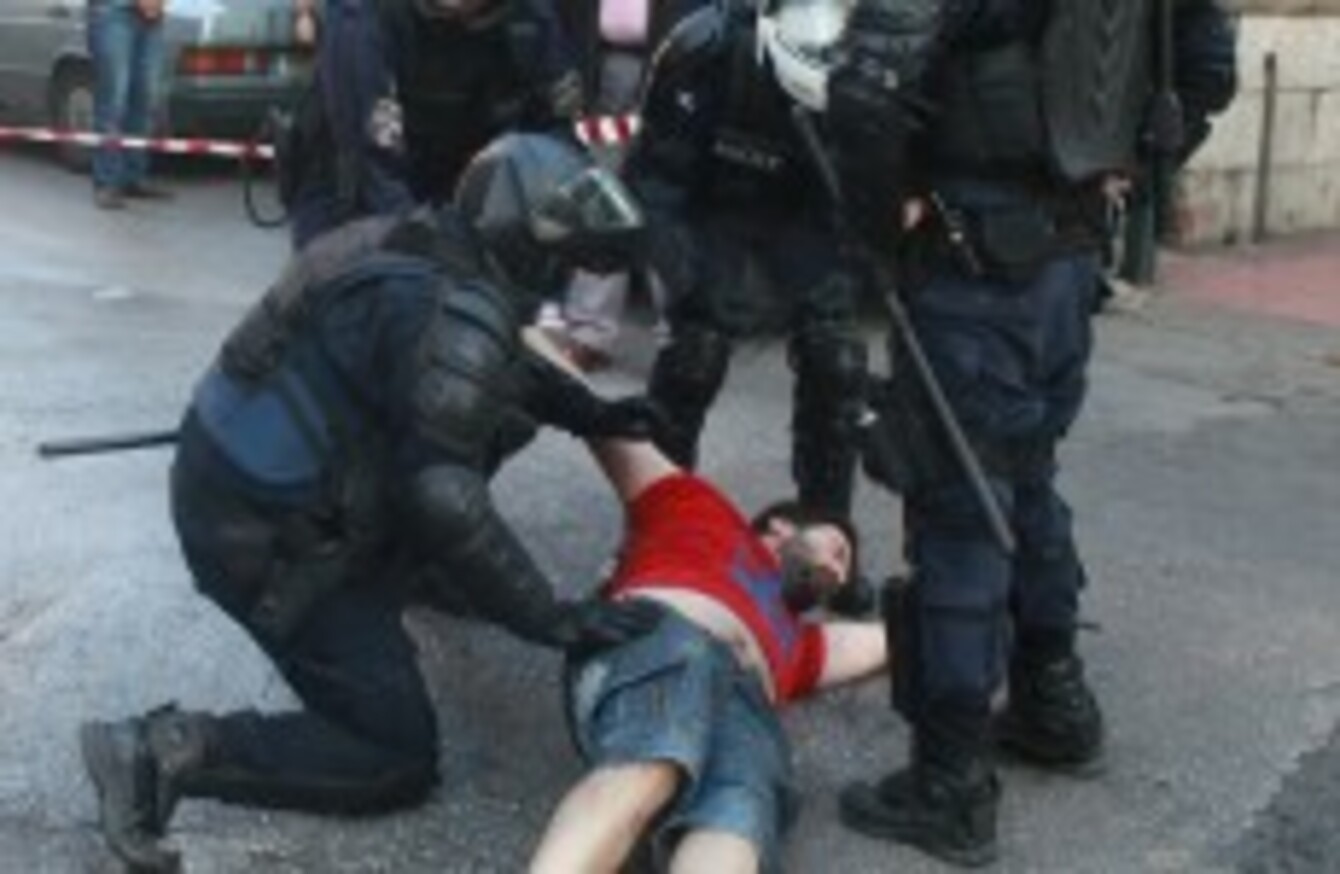 Riot police detains a demonstrator before a rally in Athens.
Image: Spyros Tsakiris
Riot police detains a demonstrator before a rally in Athens.
Image: Spyros Tsakiris
GREEK PM ALEXIS Tsipras has issued a strong message to crowds in Athens ahead of Sunday's referendum.
He used the opportunity to call for a No vote, asserting that it would strengthen the government's negotiating power.
The Greek leader delivered his speech to around 25,00 people.
We are not simply deciding to remain in Europe — we are deciding to live with dignity in Europe.
"I call on you to say No to ultimatums and to turn your back on those who would terrorise you," the 40-year-old said. "No one can ignore this passion and optimism."
Less than a kilometre away, Yes voters with a support of around 20,000 gathered to express a pro-European sentiment and fears of a Grexit if Tsipras is successful on Sunday.
This evening The Guardian is reporting that food and medicine are beginning to run low in the country – with a large number of tourists cancelling visits.
Disruption
This follows earlier disturbances in the city between protesters and the police, with tear gas and stun grenades reportedly being used.
Reuters says the scuffles involved a few dozen people, many dressed in black and wearing helmets. The situation calmed quickly afterwards.
A new opinion poll has shown a dead heat in the referendum which will ask Greeks should they accept more austerity in return for bailout loans.
The ruling Syriza party is supporting a No vote and a survey for the Proto Thema newspaper gave the Yes campaign a slight 0.6 point lead— well within the 3% margin of error.
Of those interviewed, 41.7% said they would vote Yes and 41.1% intend to vote No, with 10.7% undecided and the rest either casting blank ballots or abstaining.
#Open journalism No news is bad news Support The Journal

Your contributions will help us continue to deliver the stories that are important to you

Support us now
The survey, released Friday just ahead of the final campaign rallies, also found that 76% of Greeks want to stay in the Euro.
Tsipras said today he hopes Sunday's referendum will reset bailout negotiations as he demanded creditors forgive a third of the country's debt. He says the rest should be repaid on a delayed schedule.
Sunday's plebiscite is "a time of responsibility and democracy meant to silence the sirens of destruction," Tsipras said in a national television address.
"Rejecting an unsustainable agreement does not mean a break with Europe," he said.
"We will face a common future on Monday and we will not allow anything to divide us."
- With reporting from Associated Press, Michael Sheils McNamee and © – AFP 2015