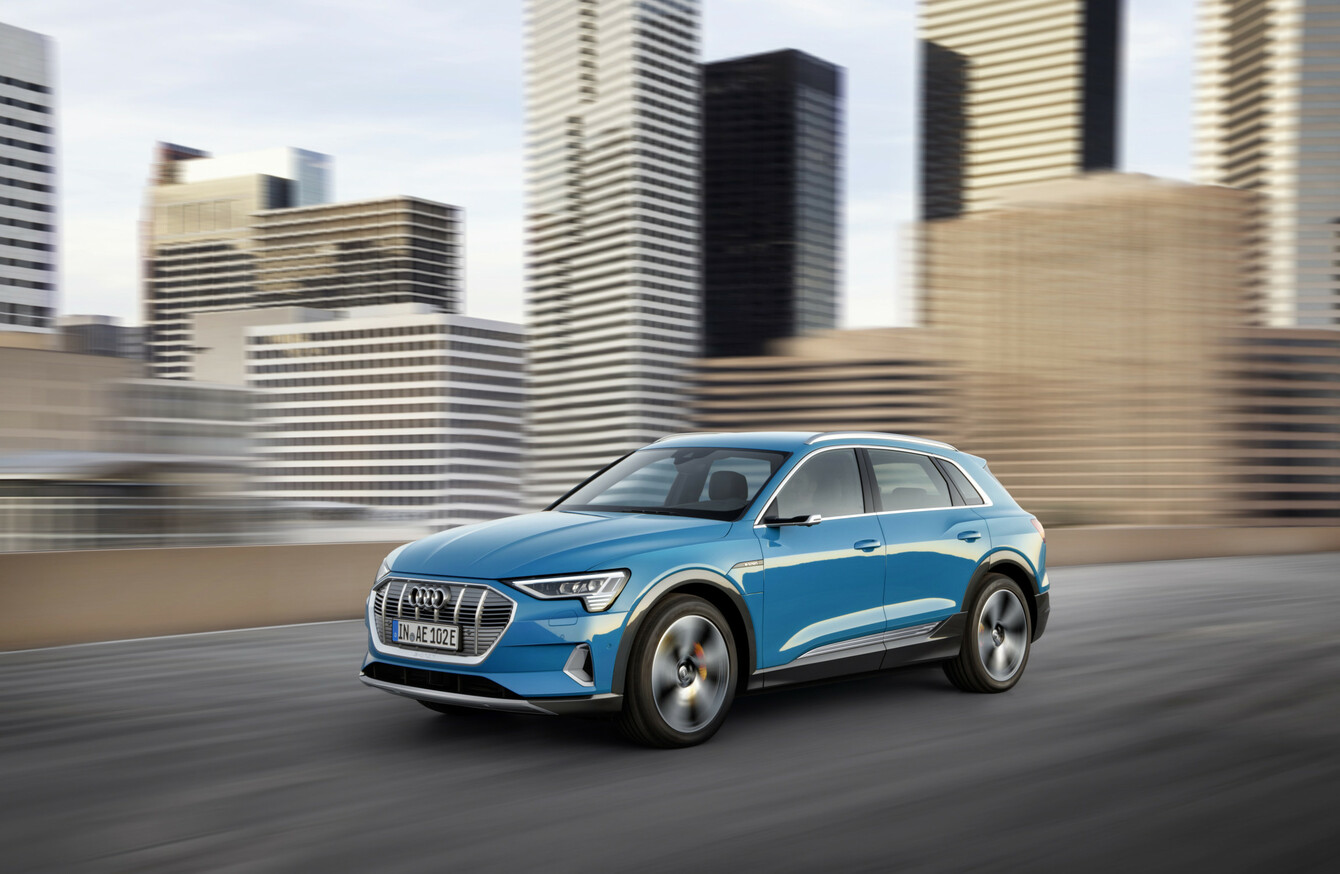 Image: Audi
Image: Audi
THE E-TRON QUATTRO is the first fully electrically powered series production model from Audi. The e-tron Quattro is based on the original e-tron concept car that was shown a couple of years ago and will be the first car to show that Audi is getting serious about EVs.
Sized roughly between the Audi Q5 and Q7, it is built on the MLB Evo platform which is also utilised by the Q5, Q7 and new Q8. It measures 4.9 metres long and, thanks to the batteries being stored under the floor, it has a boot capacity of 660 litres. It will only be offered with five seats but with a wheelbase of 2,978mm and because there is no transmission tunnel, the rear floor is flat which should equate to good legroom for rear passengers.
The new all-electric SUV will have a one-charge range of more than 400km (248.5 miles) in the WLTP cycle with Audi saying 350km in mixed conditions should be easily achievable.
There is an electric motor on each axle and combined they make 407hp and 664Nm of torque. Select 'Normal' driving mode and those outputs are dialled back a little to increase range but select 'Dynamic' mode and full output is unlocked.
The 0-100km/h time is a claimed 5.7 seconds and top speed is limited to 200km/h. 
Power comes from a 95kWh battery, which is compatible with the next generation of 150kW ultra-fast charging points. (Of which there are none in Ireland.) However, Audi, along with BMW, Daimler (parent company of Mercedes-Benz), Ford and Volkswagen, is investing in the pan-European Ionity network and five 150kW chargers are earmarked to open in Ireland in 2019.
Prices will roughly start between €85,000-€90,000 and just SE and S line trim levels will be available, plus plenty of options, of course.
The e-tron will arrive in Ireland in November and will go on sale early in 2019.
Want to make sure you don't miss out on anything going on in the world of motors? Like us on Facebook and follow us on Twitter for the latest updates.