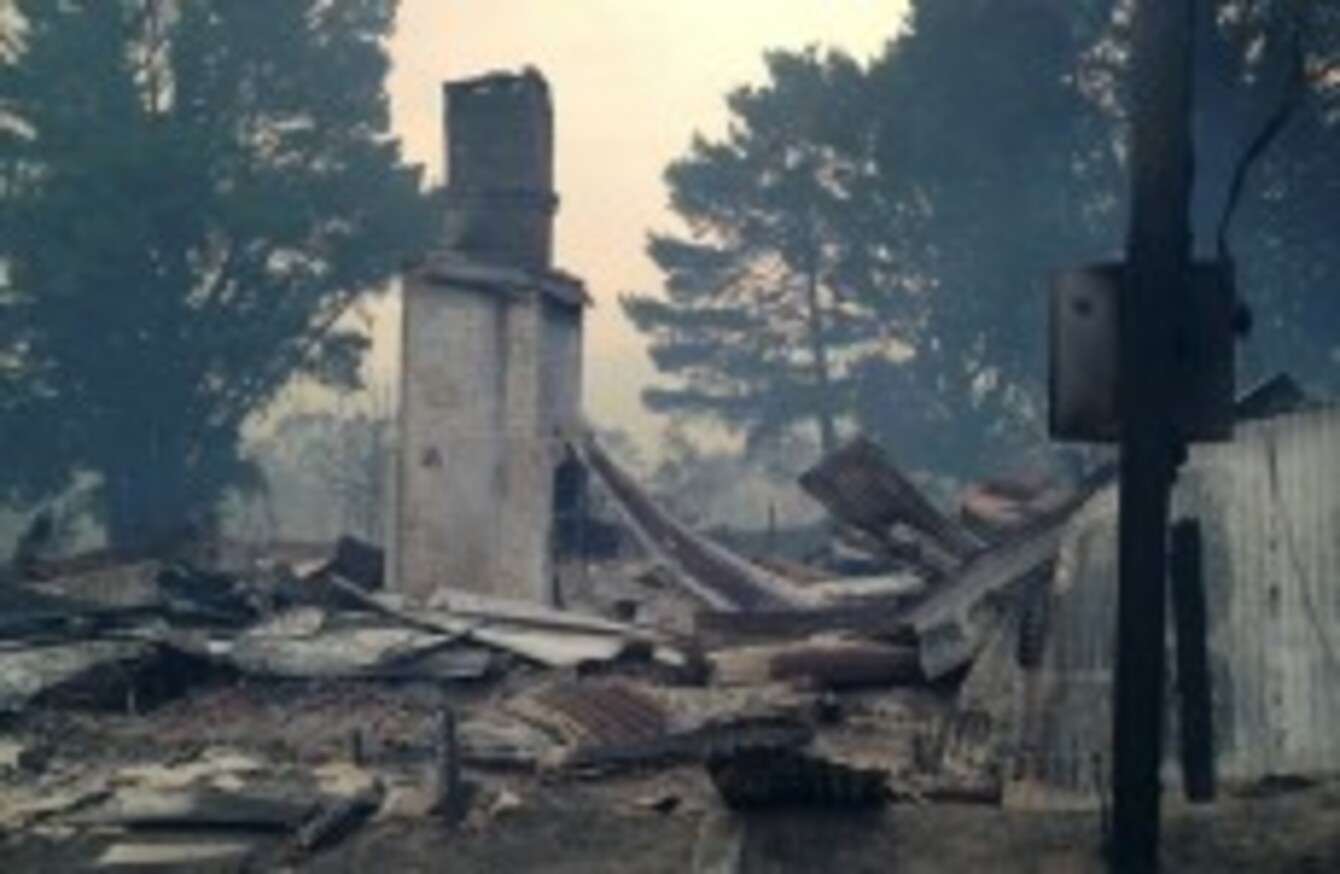 A crumpled pile after a wildfire destroyed the building at an unknown location.
Image: AP Photo/NSW Rural Fire Service
A crumpled pile after a wildfire destroyed the building at an unknown location.
Image: AP Photo/NSW Rural Fire Service
RESIDENTS FACED SCENES of devastation today after bushfires ravaged communities and destroyed "hundreds" of homes in southeastern Australia, leaving one man dead with dozens of blazes still out of control.
Cooler temperatures and a drop in wind offered firefighters some relief after an intense battle on Thursday but nearly 100 fires were still raging across the state of New South Wales.
NSW Rural Fire Services commissioner Shane Fitzsimmons said the situation was still "very active, very dynamic, very dangerous".
"We are going to… continue to save life and to protect as much property as possible, but at the same time slowly take advantage of the weather conditions," he said, adding that 91,000 hectares (224,000 acres) had been burnt out so far.
Several major blazes fanned by high, erratic winds in unseasonably warm weather ripped through communities in the Blue Mountains west of Sydney on Thursday with whole streets razed.
One fatality has been reported so far — a 63-year-old man who died from a heart attack as he defended his home on the Central Coast, north of Sydney.
(Smoke rises from a fire near Springwood, west of Sydney. Pic: AP Photo/New South Wales Rural Fire Service)
"That's the worst that anyone wants to happen and we send our sympathy to his family," said state Premier Barry O'Farrell, adding that two firefighters were in hospital with one undergoing an operation.
The Central Coast blaze was described as "apocalyptic" by residents with at least five historical buildings in the seaside town of Catherine Hill Bay reduced to charred ruins or badly damaged.
"It was huge, strong southerly winds and flames as high as trees," said long-time resident Wayne Demarco.
Hundreds of residents spent the night in evacuation centres in the Blue Mountains and awoke on Friday to confront the extent of the disaster.
Ron Fuller was one of those who lost his home in Winmalee, a town with a population of about 6,000 located 80 kilometres inland from Sydney.
"We've had a number of fires through here before but this was an extraordinary fire. The speed was extraordinary, it just raced through this whole area, took out some houses, left other ones standing," he said.
Blue Mountains Mayor Mark Greenhill said the enormity of the catastrophe was only now being realised.
"I think people who lost their homes yesterday are hitting reality today," he told ABC radio.
"You can see the devastation on their faces. It's very, very difficult."
In a tweet, the Rural Fire Service said crews were assessing the damage across the state street by street.
"It appears there may be hundreds of homes destroyed," the service said.
Late Friday, authorities said 81 properties had been destroyed in Winmalee and Springwood blazes, both in the Blue Mountains, and 37 homes damaged but said with just 30 per cent of the fireground assessed, the number will rise.
(Nearly a hundred wildfires are burning across Australia's New South Wales state. Pic: AP Photo/New South Wales Rural Fire Service)
Prime Minister Tony Abbott, himself a volunteer firefighter, visited some of the worst-affected areas, warning "there has already been loss of life, and we fear more".
"Australia is a country that is prone to natural disaster but every time it strikes it hurts, and we grieve for those who are now hurting," he said in authorising disaster recovery payments to help people get back on their feet.
O'Farrell praised the response from fire crews, many of whom are local volunteers battling the blazes as their own homes go up in flames.
"I think the planning, preparation and response has been some of the best we've seen," he said, calling the fires "some of the worst we have experienced around Sydney in living memory".
"We're in for a long, tough summer," he added.
Wildfires are common in Australia's summer months between December and February, and authorities are expecting a rough season this year due to low rainfall in the winter and forecasts of hot, dry weather ahead.