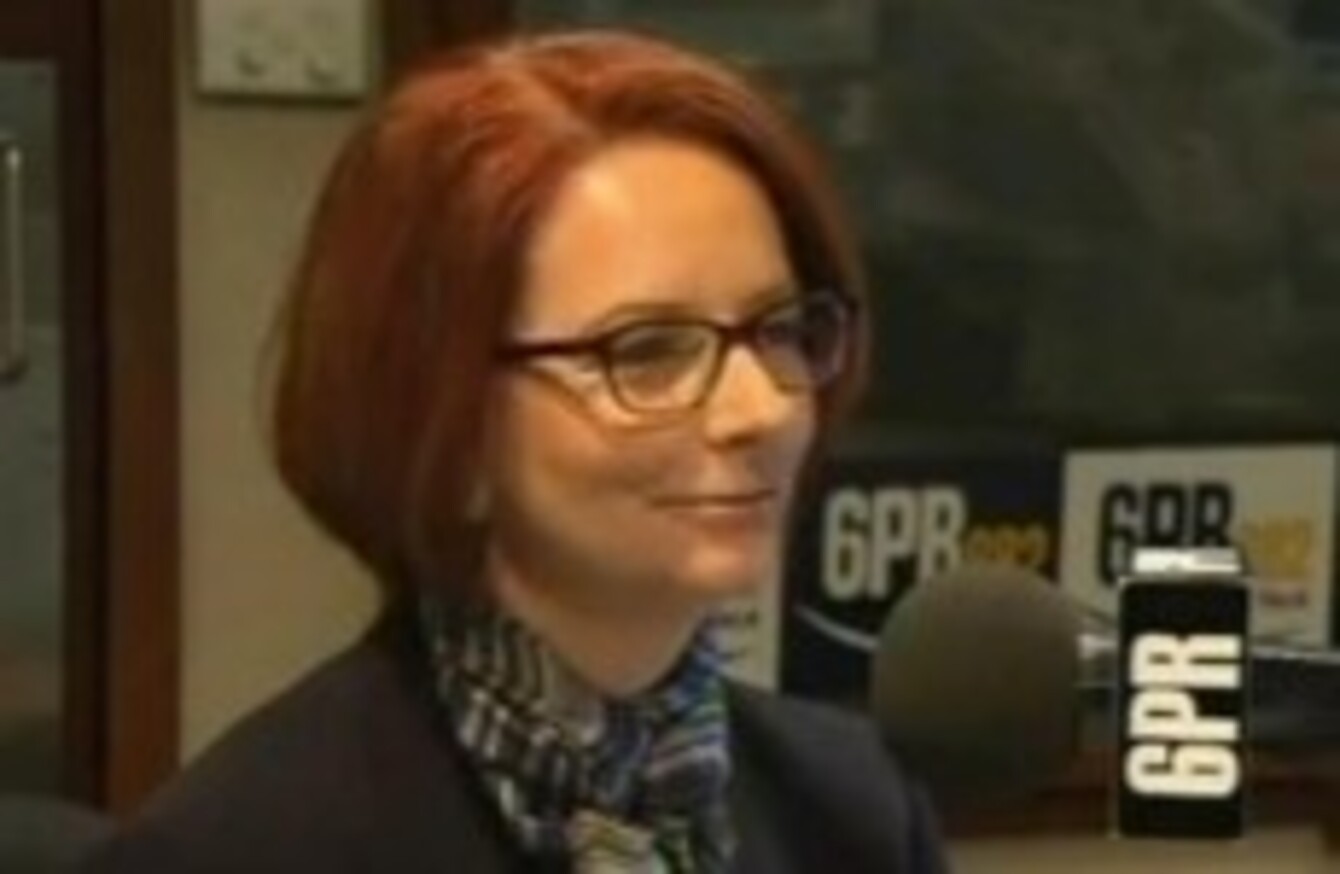 Julia Gillard on 6PR yesterday
Image: Screengrab
Julia Gillard on 6PR yesterday
Image: Screengrab
Updated: 10.14am
AN AUSTRALIAN RADIO presenter has been sacked after he asked the country's prime minister if her partner is gay during a live radio interview.
6PR presenter Howard Sattler suggested that Tim Mathieson may be gay because he is a hairdresser and asked Gillard to comment on speculation that this is the case.
He has earlier been suspended for his comments but has since been sacked by the station's parent company Fairfax Radio whose general manager announced the sacking on air earlier today.
The awkward radio exchange took place yesterday ahead of the country's general election in September where it is likely that Gillard's Labor Party will be heavily defeated by the Liberal National Party.

YouTube: videosa1099
In a statement issuing an apology for the incident, the Perth-based station said that the line of questioning was "disrespectful and irrelevant to the political debate".
"Mr Sattler apologised later in the programme for his line of questioning. The management of FRN also extends its sincere apologies to the Prime Minister and her partner," the statement said.
Sattler has been suspended from broadcasting pending an internal inquiry, the company added. He has since been sacked, it was confirmed by Fairfax's general manager this morning.
The incident is the latest in a string of sexism controversies in Australia involving Gillard. Earlier this week it emerged that a menu at a fundraiser for an opposition party candidate contained crude comments about her body.
The menu at Liberal National Party candidate Mal Broughs's fundraiser included: "Julia Gillard Kentucky Fried Quail – Small Breasts, Huge Thighs and a Big Red Box".
Gillard said the menu item was "grossly sexist" while opposition leader Tony Abbott called it "tacky".
In another incident last year, Gillard hit out at Abbot, "his performance in this parliament and the sexism which he brings with it" in a speech which went viral.
Abbot also previously said that Gillard, who has no children, was inexperienced when it comes to having babies.