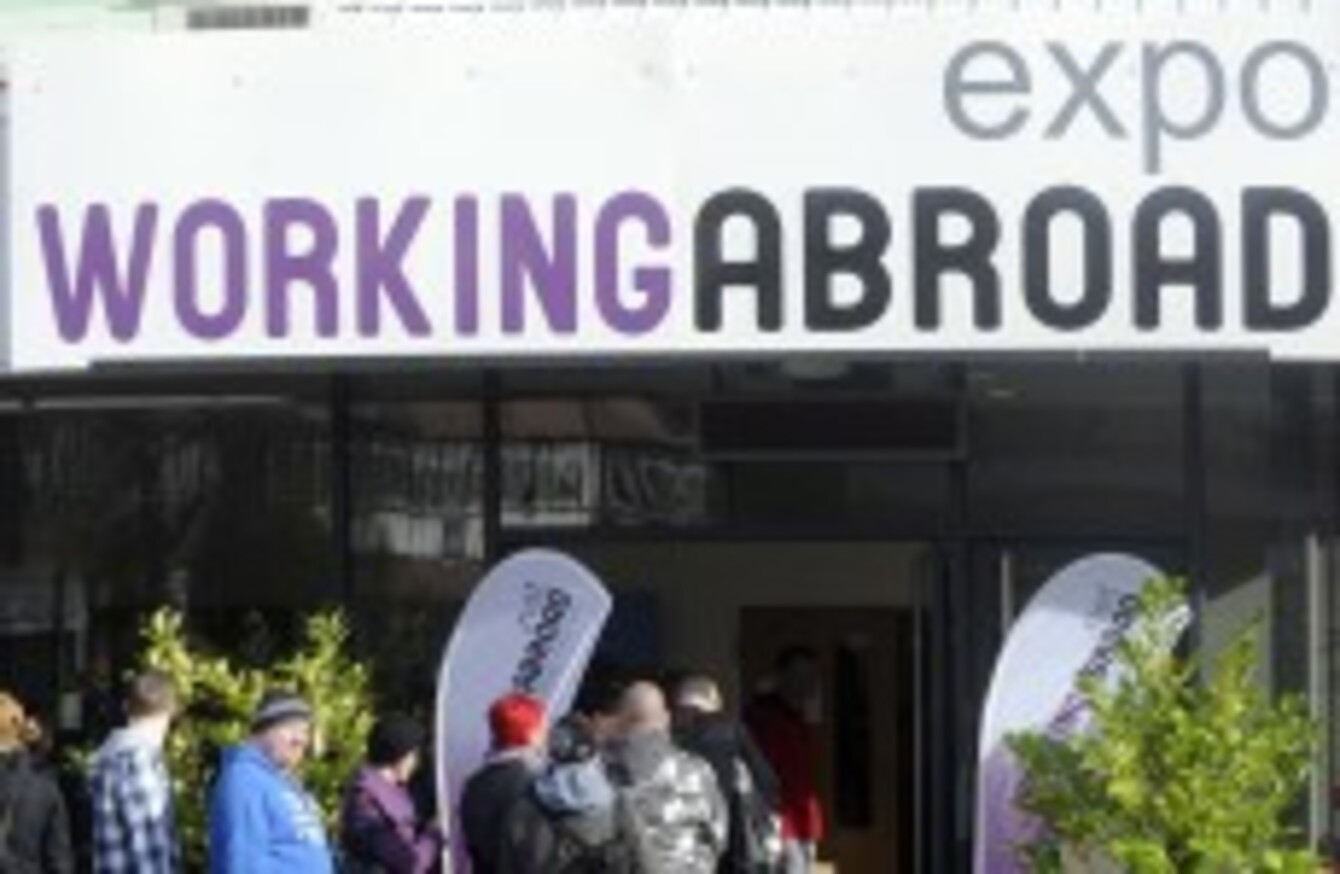 Queues for a previous Working Abroad Expo earlier this year
Image: Laura Hutton/Photocall Ireland
Queues for a previous Working Abroad Expo earlier this year
Image: Laura Hutton/Photocall Ireland
JOBSEEKERS HAVE BEEN heading to the Working Abroad Expo in Dublin today, where a number of companies are seeking to recruit for positions overseas.
One company alone has said it will be recruiting for 500 construction vacancies in Western Australia at the event, which takes place today and tomorrow at the RDS.
Osborne Recruitment said it had experienced a "surge in demand" from the region, which is experiencing a mining and mineral boom. Earlier this year, Western Australia government minister Peter Collier told TheJournal.ie that the area would need 150,000 extra workers by 2017.
Twitter users reported crowds at the event, with one person present writing that it is "frightening and upsetting how many couples wi kids" are at the RDS looking for work abroad. Another, Tara Fay, tweeted:
Brendan Murphy, CEO of Osborne Recruitment, said that emigration was a possibility for families as well as younger single people. "It can be a great opportunity for single people and families alike," he said. "Many of our clients pay for the relocation of full families supplying them with accommodation and support in finding good schools for employee's children."
He added that Irish workers are greatly in demand in Australia, as "our education system has traditionally been recognised as very strong."
Our clients are seeking Irish employees in particular as they have found them to be reliable and hard workers. Irish productivity rates are among the highest in the OECD and in Europe for many years. Our clients also find that Irish workers integrate well into the workplace, socially and culturally.
According to the Irish Examiner, the minister of business and employment for Australia's Northern Territories, Rob Knight, was also planning to attend today's event.