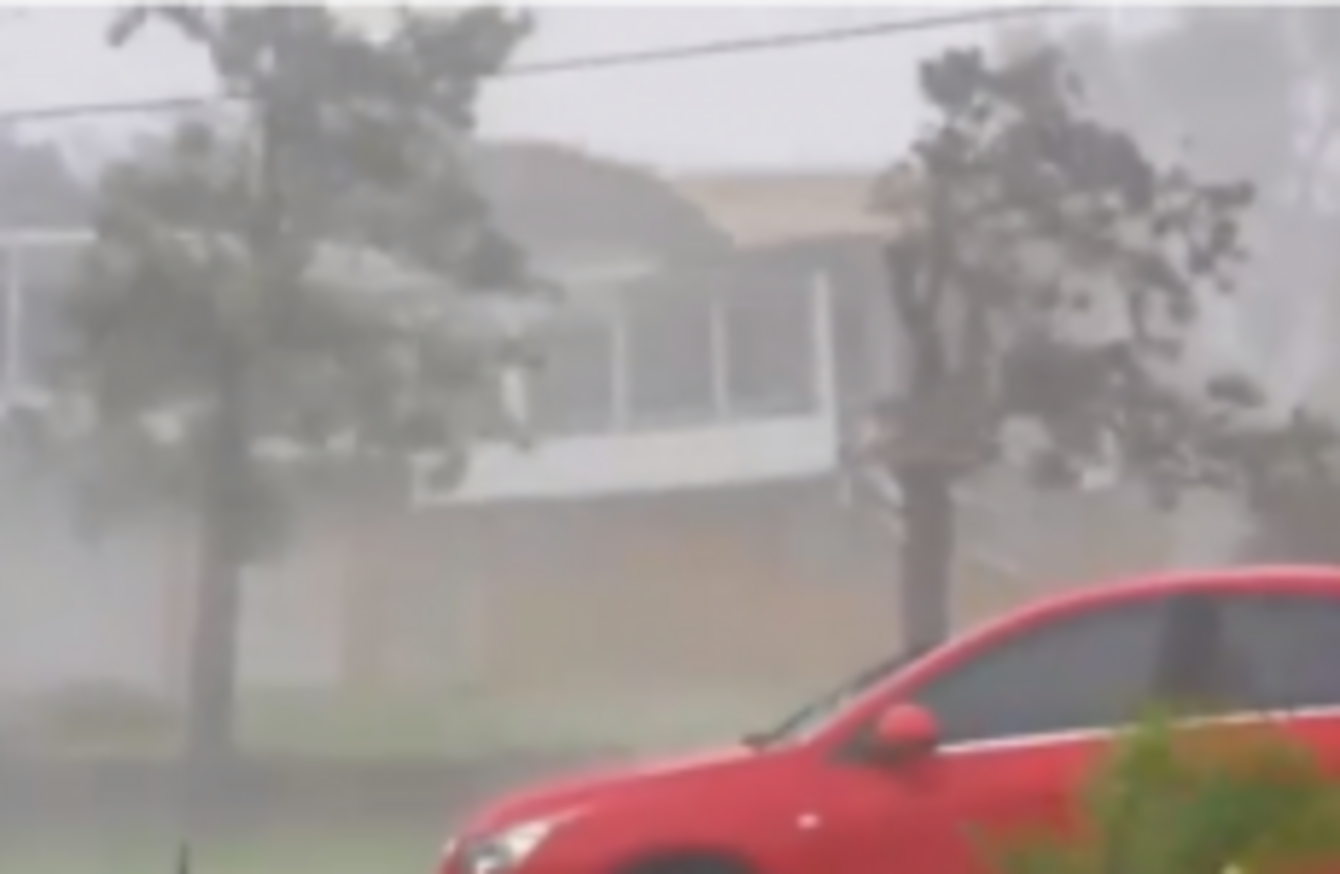 Cyclone Marcia makes landfall.
Image: Facebook/Shayne Pederson
Cyclone Marcia makes landfall.
Image: Facebook/Shayne Pederson
TWO POWERFUL CYCLONES pounded Australia and left a trail of destruction with houses ripped apart, trees uprooted and power lines torn down.
Electricity was cut to thousands of people as Tropical Cyclone Marcia, a category five storm, slammed into the Queensland coast just after 10pm Irish-time last night.
It has since weakened to a  category two storm.
Marcia happened just hours after after Cyclone Lam hit further north.
The category four Lam caused extensive damage to remote Aboriginal communities near Elcho Island, some 500 km east of Northern Territory capital Darwin.
"Initial indications are that there has been substantial damage, initial reports are the airstrip is still intact but covered with debris," regional police commander Bruce Porter said of the Elcho Island community, which was without power and water.
"There are downed power lines. There are a number of trees down and many roads are impassable and we do have a number of buildings and houses that have been severely damaged."
He added that reports suggested structural damage in Milingimbi and Ramingining but Gapuwiyak appeared to have escaped the worst. There were no reports of major injuries.
Further south, howling winds and torrential rain had residents hunkering down to wait out the terrifying conditions whipped up by Marcia. Authorities warned of a "calamity" although there were no early casualties.
Queensland Premier Annastacia Palaszczuk said there had been "significant damage" in the towns of Yeppoon and Rockhampton, which was still being assessed, with her biggest concern the number of power lines brought down.
"This poses a significant risk to people," she said.
The storm landed near Shoalwater Bay, a town of 16,000 people some 670km north of Brisbane. It has since been downgraded to a category three.
Officials forecast Yeppoon to bear the brunt of the storm's eye but Palaszczuk said it only "grazed" the town en route south towards the much bigger Rockhampton, home to some 80,000 people.
Despite this, there was extensive damage to property in Yeppoon with roofs torn off and some homes virtually destroyed, and more than 30,000 people left without power in the region.
"I don't care about the house whatsoever — our family's here so we can start again," Simone O'Leary told reporters from an evacuation centre in the town.
"We're all safe and that's all that matters."
Images posted to national broadcaster ABC's website showed what appeared to be the remains of small homes which had crumbled into the ocean as big seas eroded the beach on Great Keppel Island, off Yeppoon.
"Three houses have gone into the ocean," island resident Margaret Gearin told the ABC.
Massive seas
Roiling seas, a deluge of rain, and gusts of up to 295 km/h were experienced along the central Queensland coast with a storm surge predicted to raise sea levels three metres 10 feet higher than normal.
The storm was weakening as it headed south but still packing a powerful punch with the impact being felt over a wide area with power lines and trees down across Rockhampton, local officials said.
Residents as far away as Brisbane sandbagged their homes and cleared yards of objects that could be whipped away by the wind, while Australia's Channel Nine network showed images of a shark washed ashore by the waves.
Dozens of schools were closed and businesses shuttered as a series of domestic flights were cancelled.
"We've got trees all around us and it sounds like jumbo jets flying all around the top of us. All the trees are starting to fall over," said a caller to the Australian Broadcasting Corporation.
Queensland Police Commissioner Ian Stewart said it was a "desperate situation" and warned "this is going to be a calamity, no doubt about that" ahead of Marcia making landfall.
Queensland has been smashed by several major storms and cyclones over the past few years with Cyclone Oswald, also a category five, flooding parts of the state in 2013.
© – AFP 2015