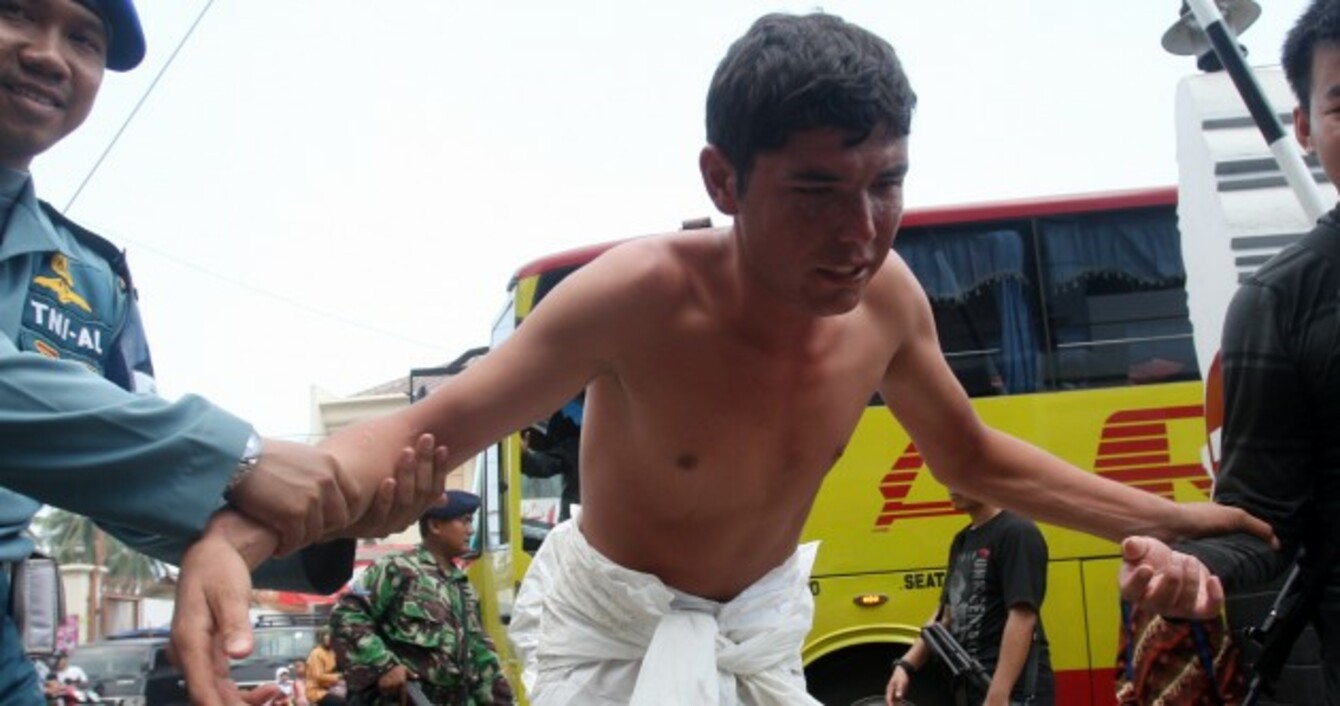 An asylum seeker who was rescued from a troubled boat adrift trying to reach Australia.
Image: AP/Press Association Images
An asylum seeker who was rescued from a troubled boat adrift trying to reach Australia.
Image: AP/Press Association Images
AUSTRALIAN PRIME MINISTER Tony Abbott has said the country will do "whatever we need to do" to combat people-smuggling, but repeatedly refused to deny claims an official paid thousands of dollars to turn back a boat from Indonesia.
Indonesian authorities said they were investigating allegations told to local police that the captain and five crew of a boat carrying asylum seekers were each paid US$5,000 (about €4,400) by an Australian immigration official to return to the Southeast Asian nation.
The boat was carrying asylum seekers from Bangladesh, Myanmar and Sri Lanka, and had come ashore on Rote island in eastern Indonesia in late May after they were intercepted en route to New Zealand by the Australian navy.
"The short answer is: the Australian government will do whatever we need to do to keep this evil (people-smuggling) trade stopped," Abbott told radio station 3AW when repeatedly asked if crew had been paid by an Australian official.
"By hook or by crook, we are going to stop the trade," he said. "We have stopped the trade and we will do what we have to do to ensure that it stays stopped."
The Australian leader told reporters later he would not reveal any details of his government's border-protection policies "because I'm not in the business of implicitly or explicitly giving information to people smugglers".
Indonesia's foreign ministry spokesman Arrmanatha Nasir said that if the claims were correct "we would truly regret that something like this could happen".
Opposition immigration spokesman Richard Marles called on Abbott to reveal what really happened with the boat.
"This whole area of policy is being conducted under a shroud of secrecy, which has no national security element to it, but is merely a media strategy.
"(It) denies the Australian people the opportunity to scrutinise policy which is most certainly in the public interest," he said.
The Australian people need to know whether or not our government is paying people smugglers, because if they are, that is a very dangerous development indeed… it creates a pull factor that we should not have in this situation.
Canberra has embarked on a tough immigration policy since Abbott's conservative coalition came into power in September 2013 and refuses to accept asylum seekers arriving by boats.
The policy includes military-led efforts to turn back such boats, which mostly come from Indonesia, and sending asylum-seekers to camps on the Pacific island outpost of Nauru and Papua New Guinea for resettlement despite strong criticism from human rights groups.
Australia has also signed a deal with impoverished Cambodia to accept unwanted refugees in return for millions of dollars in aid over the next four years.
Abbott and his ministers insist the hardline policy has saved the lives of asylum seekers.
Only one boat with asylum seekers has reached the Australian mainland since December 2013. Before the policy was introduced, boats were arriving almost daily with hundreds of people drowning en route.