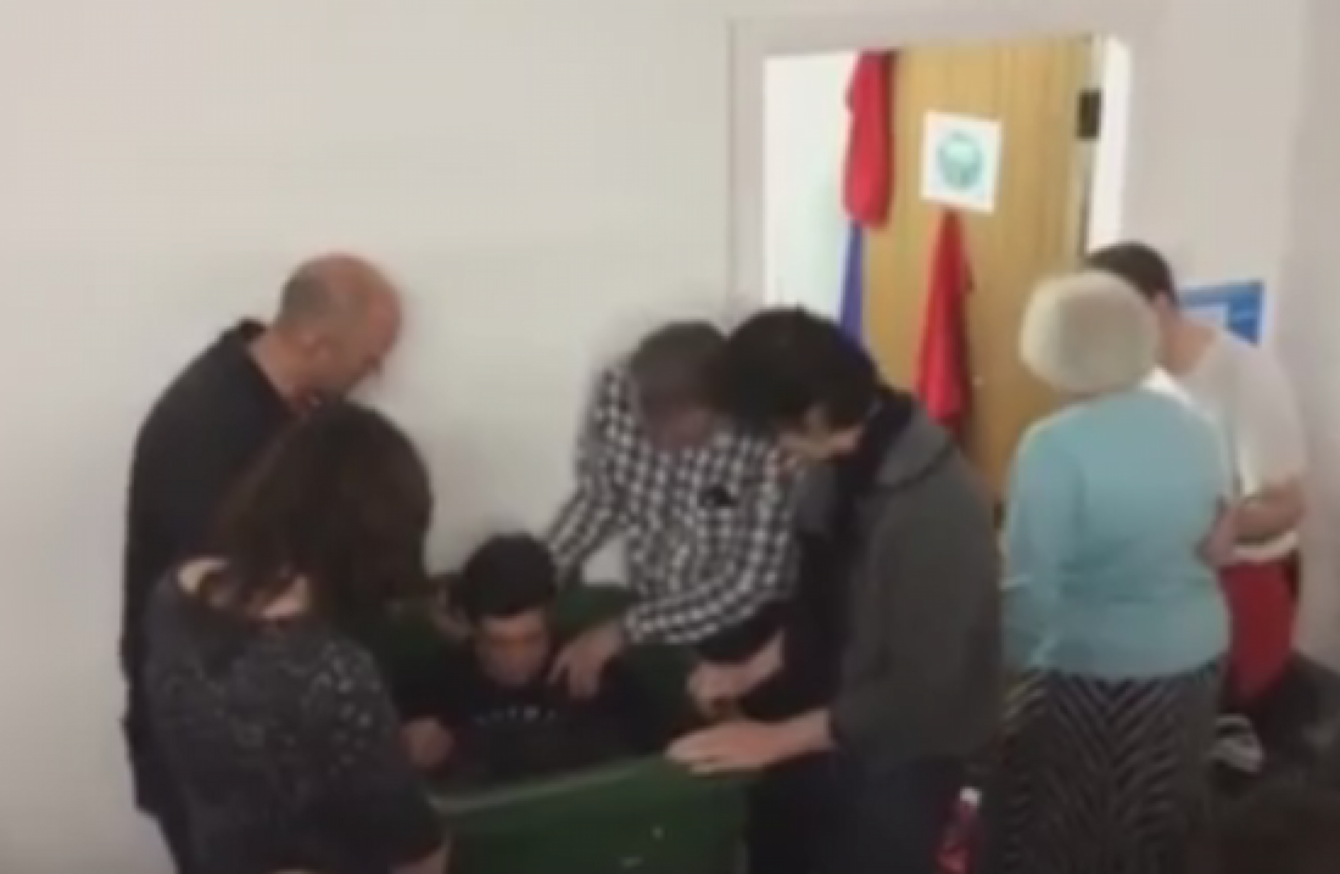 Image: Screengrab via Facebook
Image: Screengrab via Facebook
AUTISM ADVOCACY GROUPS are concerned about an upcoming event organised in Dublin by a religious group claiming to have 'set free from demons' a child with autism.
The Last Reformation is an offshoot Evangelical church originally set up in Denmark. Its founder, Torben Sondergaard, and his followers claim to be able to expel demons from within people by using prayer and baptism.
Sondergaard is coming with other members of the church to Dublin on 20 May for a "Kickstart" event, where he will hold prayer meetings, baptise people and go out with attendees "on the streets healing the sick and preaching the gospel".
Sondergaard travels around the world preaching the message of his church. He claims that through the power of Jesus and the gospel, people can expel demons from within themselves and others.
On a recent trip to Australia, he posted a video claiming that one of the members of the church had "set free from demons" a 9-year-old girl who had autism.
'Damaging'
Autism advocacy groups in Ireland have vehemently dismissed claims like this, however, calling them damaging and dangerous.
Adam Harris, the founder of AsIAm.ie, a website dedicated to informing and supporting the autism community in Ireland, said that there was a lot wrong with organisations such as the Last Reformation and the message that they preached.
"There's so much wrong with this," he said.
"At the most basic level it sends out the message to people that autism is something that needs to be cured.
It also shows the potential to take advantage of people at a very vulnerable stage in their lives.
Fiona O'Leary, an autism advocacy campaigner with Autistic Rights Together (ART) described claims that autistic children had demons as 'very damaging'.
"Saying autistic people have demons in their bodies is just terrible," she told TheJournal.ie.
'Demonic'
In a video posted on his Facebook page in January, Sondergaard described how a nine-year-old girl with autism had been 'healed'.
"That young girl with autism had many other problems… she could not cry like other kids did, she became angry instead, she heard voices… she couldn't play with other kids," he said.
"But one night on their meeting, my friend Michael prayed for her and that spirit just left her and suddenly she smiled… and said, 'Hey Mom, I'm happy'.
That was the first time she ever heard her daughter say she was happy. And when she heard that the mom just broke down crying and that girl was set free and she ran out playing with other kids.
She had never in those nine years seen her daughter play with other kids and smile the way she did and she just got set free.
Speaking to TheJournal.ie ahead of coming to Dublin, Sondergaard said that he believed that the girl had been healed, and while some conditions are to do with mental or physical ailments, at times they "can also be demonic".
"So when I come to Ireland of course we'll pray for people and we'll see people get healed from demons," he said.
But we don't announce it as to come and get healed because the focus is not that, the focus is to become like Jesus and get to know him.
#Open journalism No news is bad news Support The Journal

Your contributions will help us continue to deliver the stories that are important to you

Support us now
The Last Reformation has a following in Cork, where a number of similar organisations preach the same message of baptism and healing. They held an event in the county last November where people were publicly baptised.
The event in Dublin is advertised as free but Sondergaard said that the church accepts a "gift" donation to cover their costs.
The location for the event has yet to be determined. Sondergaard said that children as well as adults would be invited to attend:
I would say everybody was invited but to focus is not to pray for sick people the focus is to train Christians to become like Jesus.
'Exorcism'
For autism advocacy groups, however, any message or group that states that those with autism have demons inside them can only be damaging.
"They are targeting very vulnerable people," added O'Leary.
"We're basically campaigning to ban unregulated treatments to autism and I heard this man said that he had freed this child.
This is an exorcism, that's what it is.
Harris concluded that instead of trying "to cure" autism, the focus should be on understanding and informing people on the condition.
"What we should be doing is meeting the person where they're at and giving them the supports and information they need to flourish," he said.
[Events like these are] highly damaging to people's self-esteem, highly damaging to people's pockets and highly damaging to public information knowledge of autism.