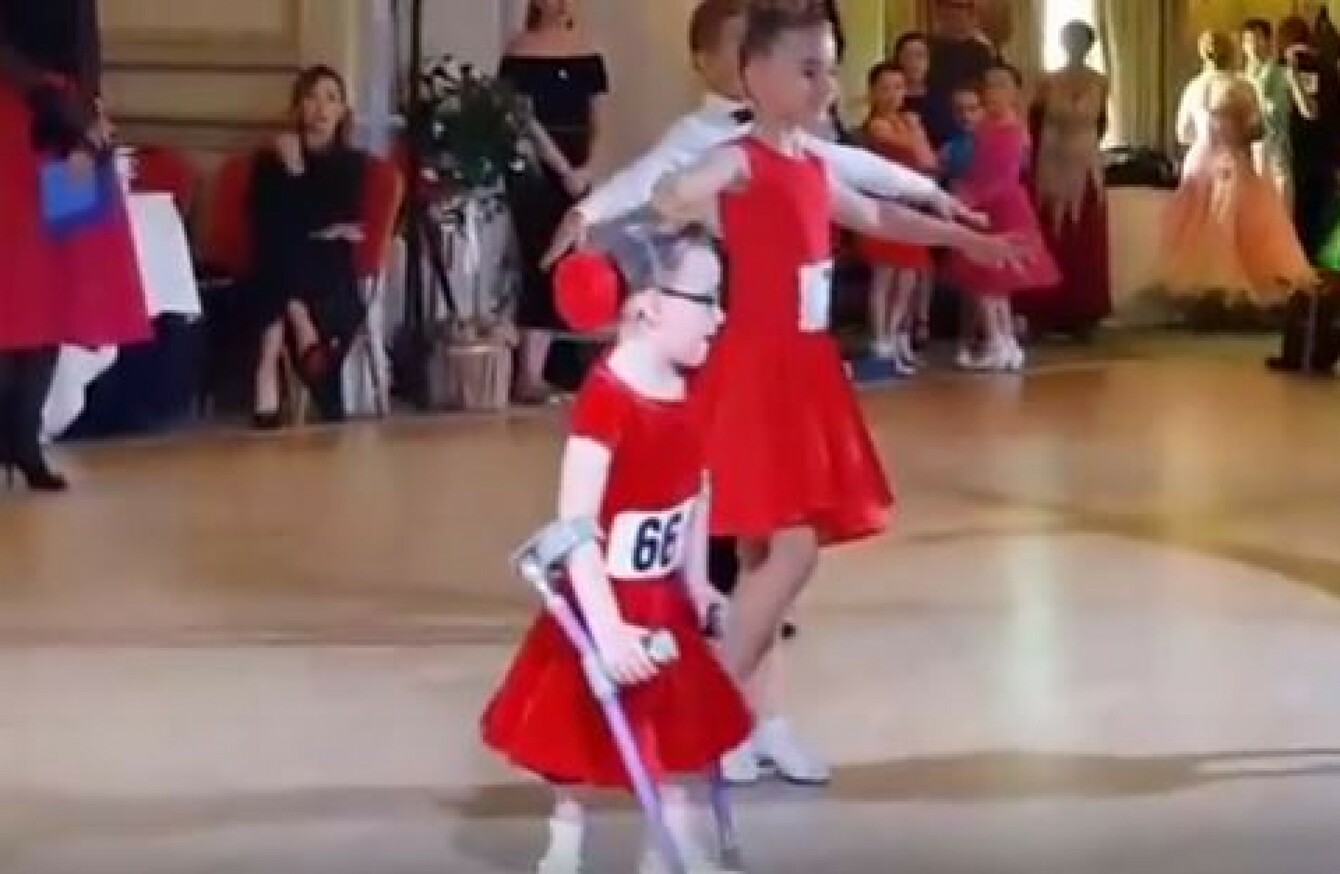 Image: Youtube via Fiona Hutton
Image: Youtube via Fiona Hutton
A SEVEN-YEAR-OLD girl who was told she would never walk has defied all odds and competed in an All-Ireland ballroom dancing competition last week.
Ava O'Donovan was diagnosed with Spina Bifida at birth and her parents were told she would be a 'non-walker'.
She had a spinal fusion when she was two days old. Her hips were also dislocated during birth.
Spina Bifida causes a defect of the spine in which part of the spinal cord is exposed through a gap in the backbone.
People with Spina Bifida can be paralysed from the waist down, and some may have learning difficulties.
Despite all this, Ava has been going to ballroom dance classes for the past two months and the video below shows her performance at competition last week.
Source: Fiona Hutton/YouTube
Emotions ran high the day Ava took part in the competition.
"I always knew Ava would be what she is and I know she had that determination," she said.
That day there wasn't a dry eye in the house.
"The whole family came down to watch her. Her dad was videoing it and crying at the same time because we never thought it would happen."
'Determined' 
Ava has four older siblings, all of whom are ballroom dancers.
She decided she wanted to pursue dancing after seeing her brother Jack (11) compete in competitions in the UK.
"It was all the hype around him doing it that made her want to," she said.
"She a tomboy and the fact that we got her into a dress was a huge thing.
Three weeks before the competition she said 'Mam, I think I want to be a dancer' and I was floored because Ava doesn't do girly stuff.
"Ava is a very determined child, she always has been. The more things she's told she can't do, the more she'll say she can," Ava's mother Sonya told TheJournal.ie. 
Sonya said that despite the prognosis, Ava constantly pushed herself further.
"Ava went in to get her hips put back in place [when she was two] and she was in a cast for three months," Sonya said.
From there on she walked with a little walking frame. We gradually progressed her from that to tripods and from that to crutches. Now that we're on two crutches we're going to try get her onto one.
'No inkling' 
Ava's parents had no clue of her condition until she was born.
Sonya said that the news left her in complete denial.
"Both myself and her dad went into denial. We had no inkling, there was nothing in the whole nine months until she was born by section.
"If we had an idea we could have prepared the other kids. It was a difficult time trying to explain to the rest of them in a childlike way when you don't fully have your head around it either," she said.
In December, Ava is set to follow her brother over to Paris where he'll compete in the ballroom world championship.
Around 40 babies are born with Spina Bifida each year in Ireland.