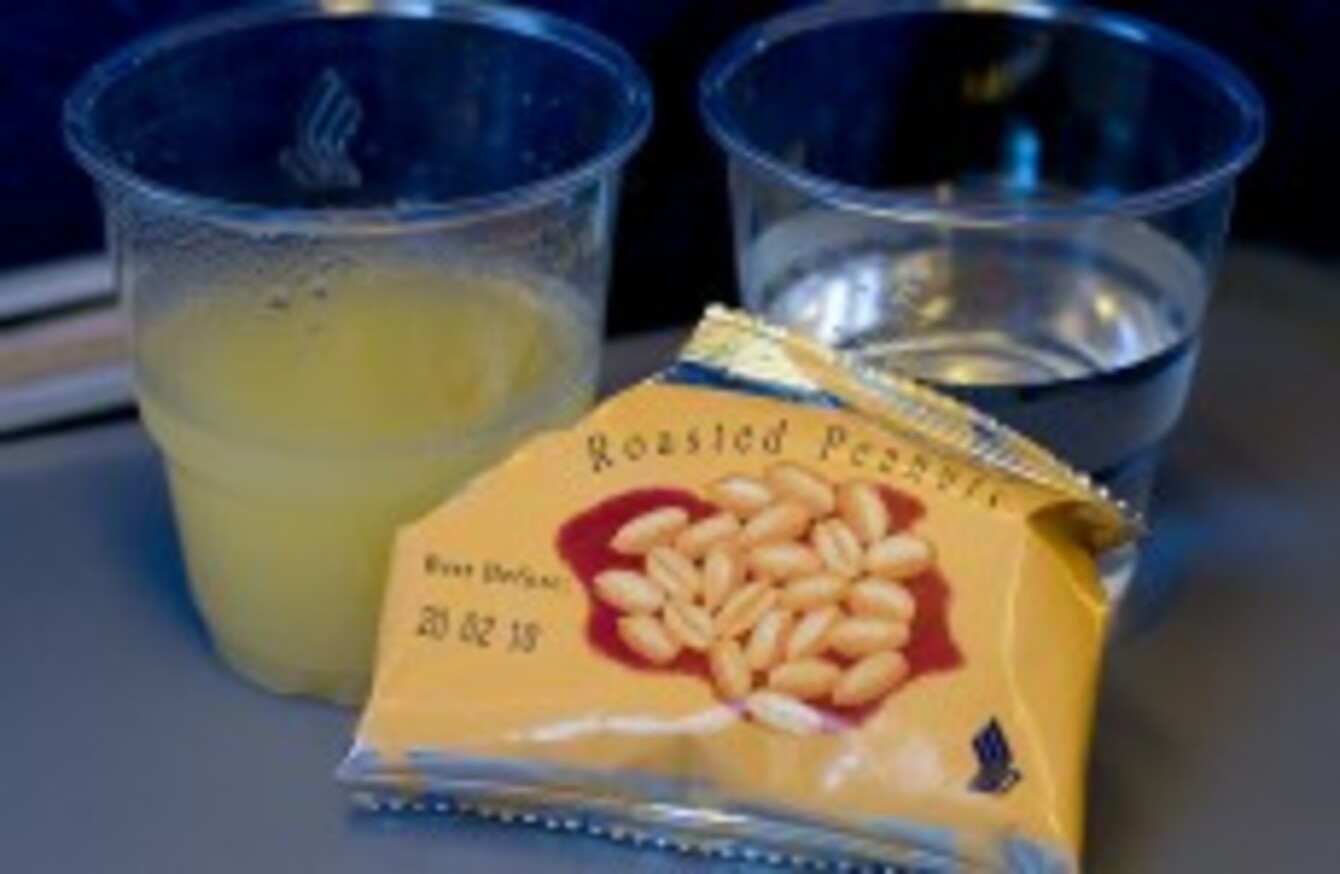 HAVING A NUT allergy can be a tricky thing to navigate.
No aspect of this is more tricky than flying. The nature of air systems on planes means that for those with severe allergies, flying can be extremely dangerous.
But how do you get around this?
Ryanair says that the best approach to take is to alert staff to your needs as soon as possible, a spokesperson told TheJournal.ie.
"Ryanair cannot guarantee a peanut-free aircraft as other customers may bring their own peanut products on-board. However, customers with nut allergies are asked to inform cabin crew when boarding the flight and a public address is then made informing other customers, and advising that no products containing nuts will be sold on-board."
According to Anaphylaxis, a UK site for those who suffer nut allergies, Aer Lingus has roughly a similar policy.
"Aer Lingus recognises that some passengers are allergic to peanuts. Although we do not serve peanuts, there may be trace elements of unspecified peanut ingredients, including peanut oils, in meals and snacks. Additionally, other customers may bring peanuts on board. Therefore, we cannot guarantee customers will not be exposed to peanuts during flight and strongly encourage customers to take all necessary medical precautions to prepare for the possibility of exposure."
Baby troubles
The problem was brought home to the Brennan family. They asked KLM to assure them that no nuts would be served on a flight this Monday to South Africa.
Their son Samuel is due to fly with his parents to South Africa on Monday to meet his grandparents for the first time.
His father Patrick told TheJournal.ie that as soon as he and his wife booked their flight, he called the airline's customer service line to ask that no nuts be served on the flight and that the crew make an announcement asking passengers to keep any nut products they have in their bags.
He was told the KLM would not be in a position to do that, but he could try his luck with the flight attendants on the day.
Brennan said this worried him as he had read about a high-profile example recently in which a 4-year-old girl stopped breathing on a Ryanair flight after a man sitting four rows behind her opened a bag of peanuts. In this case, staff on the flight had given three clear warnings that the little girl had a severe allergy.
"It shows how dangerous it is to have it being in the air and travelling through recycled air," he said. "It's one thing to have to put a plane down in European air space if he takes ill but it's another to do it over central Africa or something."
He said the baby's allergy is "very severe and potentially life threatening". His parents always have an EpiPen on hand but they would obviously prefer not to have to use it on the ten-month-old.
#Open journalism No news is bad news Support The Journal

Your contributions will help us continue to deliver the stories that are important to you

Support us now
Last night, the concerned father made a last ditch attempt to convince the airline by posting on its Facebook page. Here was the response he got:
Hello Patrick. Our meals do not contain any whole or ground peanuts or peanut paste, but we cannot guarantee that KLM flights are 100% free of peanut contamination. On intercontinental flights, we serve a mixed nut snack in Business Class and almonds in Economy Class. Unfortunately, we are unable to serve you an alternative. It is also possible that other passengers have taken peanuts or other nuts on board with them. If you have any further questions, please let us know.
He and his wife now have to decide before Monday whether or not to cancel their trip to visit Samuel's grandparents.
A KLM spokesperson said that the airline would be in contact with the family.
A spokesperson said that while it's impossible to guarantee a peanut free flight, if a customer presents at the desk or on board to a crew member as someone with a nut allergy, they can announce to passengers not to eat nuts on board.
They do serve a mixed nut snack in business class and almonds in economy class on intercontinential flights but "on a case by case basis the crew can decide not to serve those".
They said they will be in contact with the Brennan family to discuss this.
Additional reporting by Paul Hosford