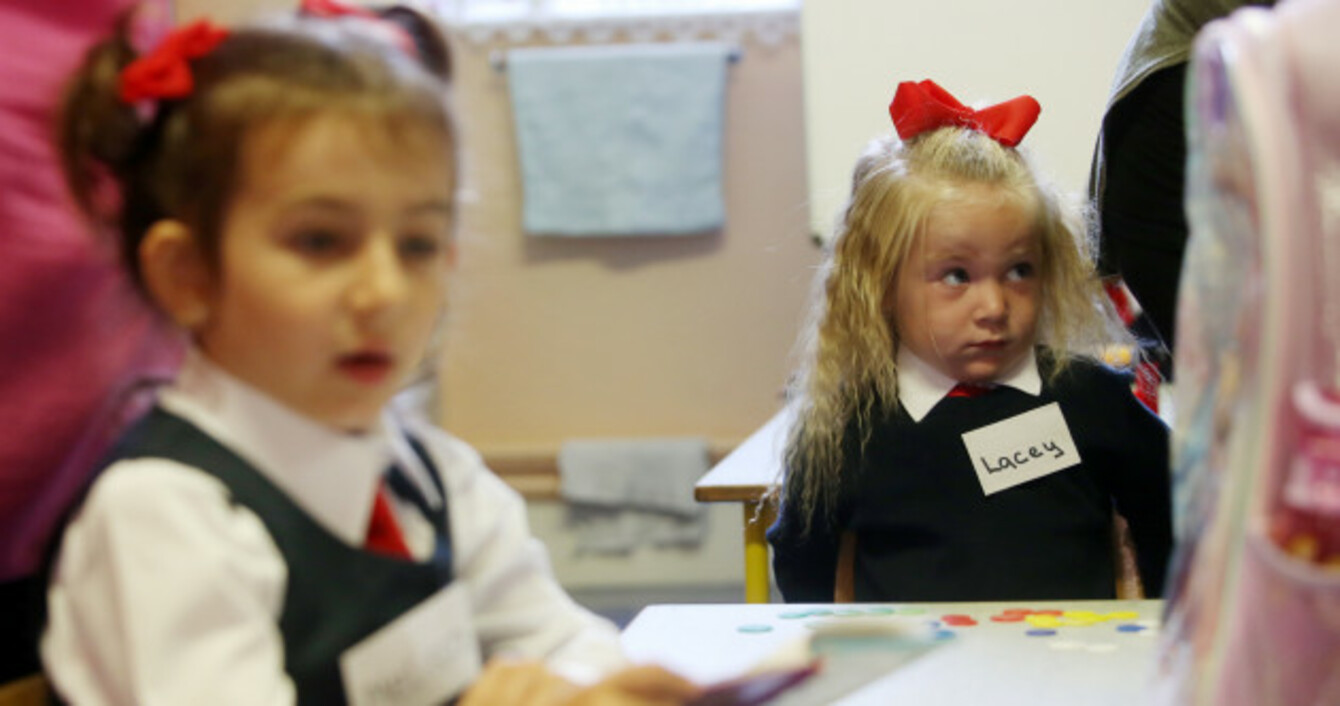 Lacey Weldon, then 4, starting school in Dublin in August 2016
Image: Sam Boal
Lacey Weldon, then 4, starting school in Dublin in August 2016
Image: Sam Boal
MY SON IS a worrier. He worries about whether the flowers in the garden have enough water, whether there are too many germs on his body (or sometimes not enough). He worries about being late to play dates, whether his wiggly tooth will hurt when it comes out and he worries about school all the time.
This September he will be in First Class while his brother begins Junior Infants. For the last two years I have hugged him every single morning as he clung to me at the classroom door, getting more and more hysterical until eventually, his teacher prised him off me, and I walked away, listening to his cries. This year, there will be two children to drop, two classrooms to navigate and potentially, two tearful boys who need equal attention. It's safe to say I'm freaking out.
Back To School Fever is infecting all families with school-going children around now, and whether you have children who skip into the classroom without a second glance, or worry warts like mine, it's a stressful time. How do we best prepare our children for life beyond us, and foster independence in people we are unsure are ready for the big bad world? And how do we parents stop ourselves descending into the madness of worry and prevent ourselves morphing into Tiger Parents when a child has an upset at school?
Clingy and moody
Joanna Fortune is a clinical psychotherapist and the director of the Solamh Parent-Child Relationship Clinic in Dublin and is well placed to offer advice to anxious parents. She says that it is extremely important to remember that change and transition is a process for any of us. The difference with very young children is that rather than talking about it, they'll handle it in a way that feels comfortable to them.
"Common behaviours that are notable but not necessarily a cause for concern in this context might include; clingy, moody, angry, anxious, withdrawn or less sociable behaviours," she says.
"Parents should expect to see some of this as they start Big School but you should also expect these to disappear again as they adjust. If they linger beyond a few weeks – four to six weeks or so – then you may need to specifically address the struggle with and for them. Some children regress at times of change to behaviours that they displayed when younger and again this is quite normal while they are adapting to the change and should disappear. During this time offer lots of extra hugs and cuddles and encouragement to help them negotiate through it."
Emotional cues
Fortune says that how we as parents behave around back to school time is crucial. "Our children take their emotional cues from us adults so if we are anxious then they will be too and if they are anxious we want them to look to us and see calm so that they can co-regulate emotionally with us," she explains.
"Very importantly, parents must stay super positive about school as a great place and that he/she will have lots of fun there so your child can mirror your emotions and behaviours about it."
How do we deal with a child like my son, who is suffering with anxiety around school? Parents must talk to the school, says Fortune. "They deal with these types of struggles each term and as such may well have a policy about how they handle it," she points out.
"Helping your child to hold you in mind can work too. So bring them to where you are every day, especially if you work outside of home, so they can picture you where you are when not with them.  Giving them a transitional object is also helpful, a small key ring with a photo of the two of you in it/a small hankie scented with your perfume they can put in their pocket that smells like you or something like this."
Drive-bys
No matter what, the key to a successful school transition, says Fortune, is in practical preparation. "Try to be available to them the first week if you can take it off work so that you are close by if they are really struggling," she suggests. "Talk about the change in the most appropriate way for your child. For example, you can do regular drives past the new school and point it out or mark the change by buying them a new back-pack, new shoes or uniform."
There is no greater help for a child who is finding the transition to school a challenge than talking, according to Joanna Fortune, and this is something that all families could do more of. "We need to create more opportunities for our children to talk about their feelings and to do so in calm times rather than heightened stressful times.
"One good way is to start a family tradition of everyone taking turns around the dinner table to say what their best bit of the day was and what bit they would like to change (rather than a worst bit).  This allows you to hear the highs and lows of their day while also being able to think and process aloud what they could do differently about the bit they'd like to change."
With a week to go until the first bell rings, our bags are bought, pencils sharpened and a new family tradition of sharing the pit and peak of our day is about to take hold at our dinner table. As for me? I think I need to stop freaking out so much – it's all zen from here… kind of.
Stay updated by following the Family Magazine on Facebook and Twitter – and don't forget to enter this week's competition for a two-night getaway, dinner and a spa treatment at the Ice House in Co Mayo!