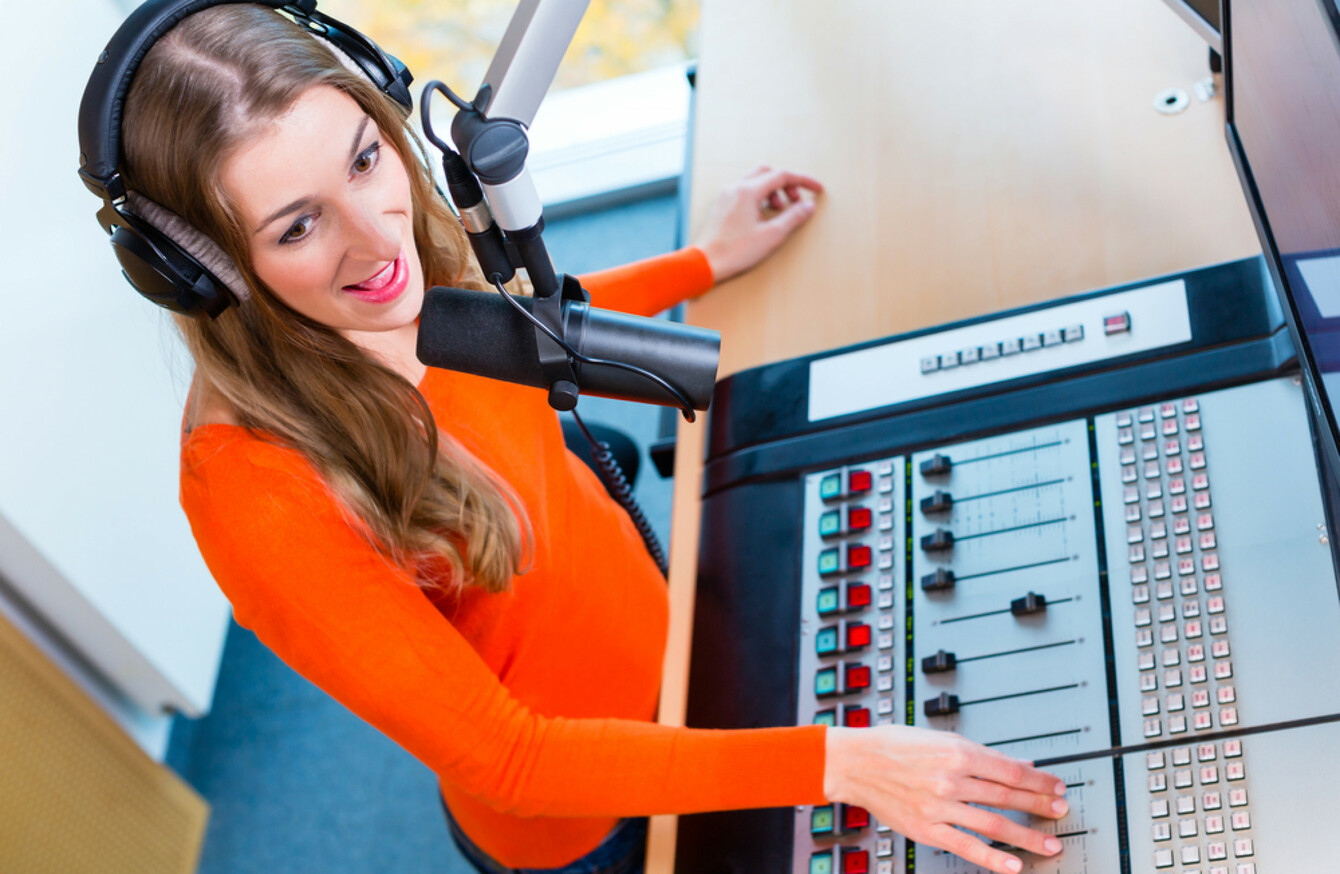 Image: Shutterstock/Kzenon
Image: Shutterstock/Kzenon
THE NATIONAL WOMEN'S Council of Ireland (NWCI) is to ask the Broadcasting Authority of Ireland (BAI) to monitor the Irish airwaves for gender balance on a yearly basis.
In 2015, a report called Hearing Women's Voices?, part funded by the BAI, was published by the NWCI and DCU'S Institute for Future Media and Journalism. It involved monitoring Irish radio stations to assess the level of representation of women presenters and guests on current affairs shows.
It found that current affairs programmes had a poor representation of women presenters and guests, and there were overall much fewer women's voices in comparison to men.
The NWCI was very critical of the stations at the time, and the pressure did lead to some changes. But the organisation fears that if regular monitoring does not take place, stations will not make big enough changes when it comes to gender balance on air.
Orla O'Connor of the NWCI told TheJournal.ie:
We want the BAI to do a regular monitoring in the way that we did a few years ago, because what we found is that when a spotlight is put on the radio stations they take notice – some of them are embarrassed and then there can be a flurry of activity. But unless that is kept under a constant spotlight the urgency dies down until we do that again.
She said that the NWCI doesn't have the resources to do regular monitoring.
"If the BAI were doing that annual monitoring piece, from our experience the news stations don't like the negative publicity they get. From our experience and when we have done those monitoring reports, we do get an immediate response and then it dies down -that's why it needs to be on a consistent basis."
Proactive measures
The council also wants the BAI and the Communications Minister Denis Naughten "to look at what proactive measures should be taken by stations and what sanctions need to be sought if they aren't meeting the targets that are set".
She said that the monitoring would not just be around gender balance in terms of presenting, but also around "addressing gender issues all the way through", such as guests and gender-based issues that are discussed on air.
"From our research it was also about experts, bringing women on more as victims in terms of issues, rather than for analysis as experts. So in addition to asking the BAI to do that regular monitoring we think the stations need to do an annual report in terms of their progress in relation to gender equality within the station," said O'Connor.
"That needs to be monitored, whether through the BAI or department. It needs to be taken on in a much more proactive way. This situation, it isn't improving to the level that we would hope that it would have improved. So it needs some real proactive measures."
But she said there had been some positive advances made, particularly in RTE, "and that was really important".
"What we would be interested in seeing is has that sustained and has it grown in terms of other programmes," she said of future monitoring. "And we don't know that without the data. That's why we absolutely need that regular data, at least it holds all the stations to account."
She said that the monitoring also needs to be done in more extensive way. The NWCI did its research over the course of a week. As for what stations should be included, O'Connor said that national stations would be a start, noting that some local stations told the NWCI that they had "a much greater gender balance" than national stations.
The NWCI will seek a meeting with the BAI and with Minister Naughten on the issue.
Gender quotas
Last year, Communications Minister Denis Naughten told TheJournal.ie that he is prepared to introduce gender quotas for Irish radio stations if recommended in a forthcoming report. The report, by Dr Kevin Rafter, is due this month or February.
Though his powers cover public service broadcasters such as RTÉ and TG4, Naughten said that the quotas could even be extended to commercial stations if the Broadcasting Authority of Ireland was willing to connect them to licensing agreements.
O'Connor said that in terms of private stations such as those run by Communicorp, "that is where the BAI come in". She suggested that conditions could be put with licences, but said that the renewal time of licences needs to be looked at, as often quite a period of time has passed before licences come up for renewal.
"We need to look at more proactive measures in between," said O'Connor.
#Open journalism No news is bad news Support The Journal

Your contributions will help us continue to deliver the stories that are important to you

Support us now
'I locked myself in a room for a week with three radios'
Lucy Keaveney has been monitoring the Irish airwaves on-and-off over the past few years, in order to see what gender balance is like in the current affairs arena.
"When I retired I did Equality Studies in UCD, and I love current affairs and I would always have a radio on in the house no matter what room I was in. And I began to notice there was an awful lot of men on air, but you can't say there is an awful lot of men without figures," she told TheJournal.ie.
"I did the survey on my own – I locked myself in a room for a week with three radios," she said. They were tuned to Today FM, Newstalk and RTÉ.
"I was like a zombie when it finished. The figures were very bad in 2010. Morning Ireland was 14% representation. I got such a dose, I said 'never again'."
But she was persuaded by Dolores Gibbons, who wrote a masters thesis on the topic of women and media, to keep going. "It's very hard to go back, when you know things are bad, to go back and realise that nothing is changing," said Keaveney of what she discovered.
"I am a retired teacher: if there was an accident in the yard staff would get together and would devise a policy to prevent it from happening again."
She said that stations are "just plodding along and trotting out the same hapenny month after month, year after year".
Keaveney believes that for things to change, Irish radio stations need unconscious bias training. "That has to go from the very bottom, the camera person, the interviewer who goes out on the street. Vox pops – sometimes it will be mostly male and the men will often get named and the women won't. It's nauseating. It makes watching TV and listening to radio particularly impossible for me."
Keaveney's findings from 2010 – 2017 are below: