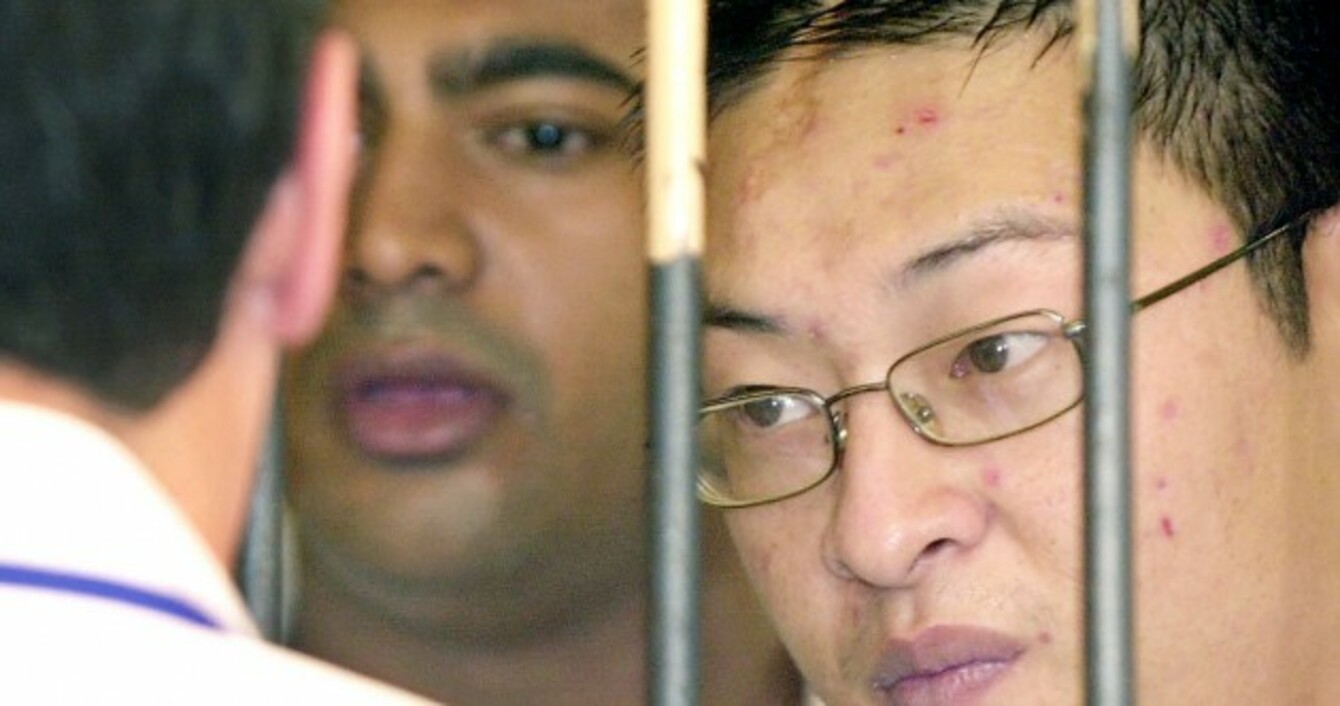 Condemned drug smugglers Myuran Sukumaran and Andrew Chan in 2006
Image: AP Photo/Firdia Lisnawati
Condemned drug smugglers Myuran Sukumaran and Andrew Chan in 2006
Image: AP Photo/Firdia Lisnawati
THE RINGLEADERS OF the Bali Nine drug smuggling gang are due to face a firing squad tomorrow despite claims their sentencing judge courted bribes in return for lighter sentences.
The explosive allegations came from the former Indonesian lawyer for condemned pair Myuran Sukumaran and Andrew Chan, who are due to be executed shortly.
The pair are expected say their final farewells on Tuesday afternoon after being given 72-hour execution notices on Saturday. They will reportedly be shot at midnight, local time.
Australian Prime Minister Tony Abbott made another plea for clemency to Indonesian President Joko Widodo over the weekend.
Allegations were recently aired that the judge who sentenced the two men to death asked for bribes worth over AU$130,000 (€93,700) to give them lighter punishments.
Australia's Fairfax Media reported the pair's former lawyer, Muhammad Rifan, claimed the deal only fell through when the judged upped his demand in the face of pressure from legal and government sources.
"We met many times with the judges," Rifan told Fairfax.
We were talking about how long the penalty would be. Even though this is prohibited between lawyers and a judge, this is the reality. It's normal."
Questions remain
Australian Foreign Minister Julie Bishop said the men should not be executed while legal questions remained, including a still-pending appeal to Indonesia's constitutional court.
Both of these processes raise questions about the integrity of the sentencing and the clemency process," she said.
Indonesia's judicial commission has said it will investigate the corruption claims – but that would have no bearing on the death penalties being carried out.
Meanwhile, UN secretary-general Ban Ki-moon yesterday appealed for Widodo to consider introducing a moratorium on executions before putting eight foreign drug convicts – from the Philippines, Brazil and Nigeria, as well as Australia – to the firing squad this week.
But Indonesia signalled the executions would go ahead as preparations were "100%" complete, according to the country's attorney-general.
Filipino world boxing champion Manny Pacquiao also begged for clemency for his compatriot, Mary Jane Veloso, who is among the group waiting on death row.
- With AFP