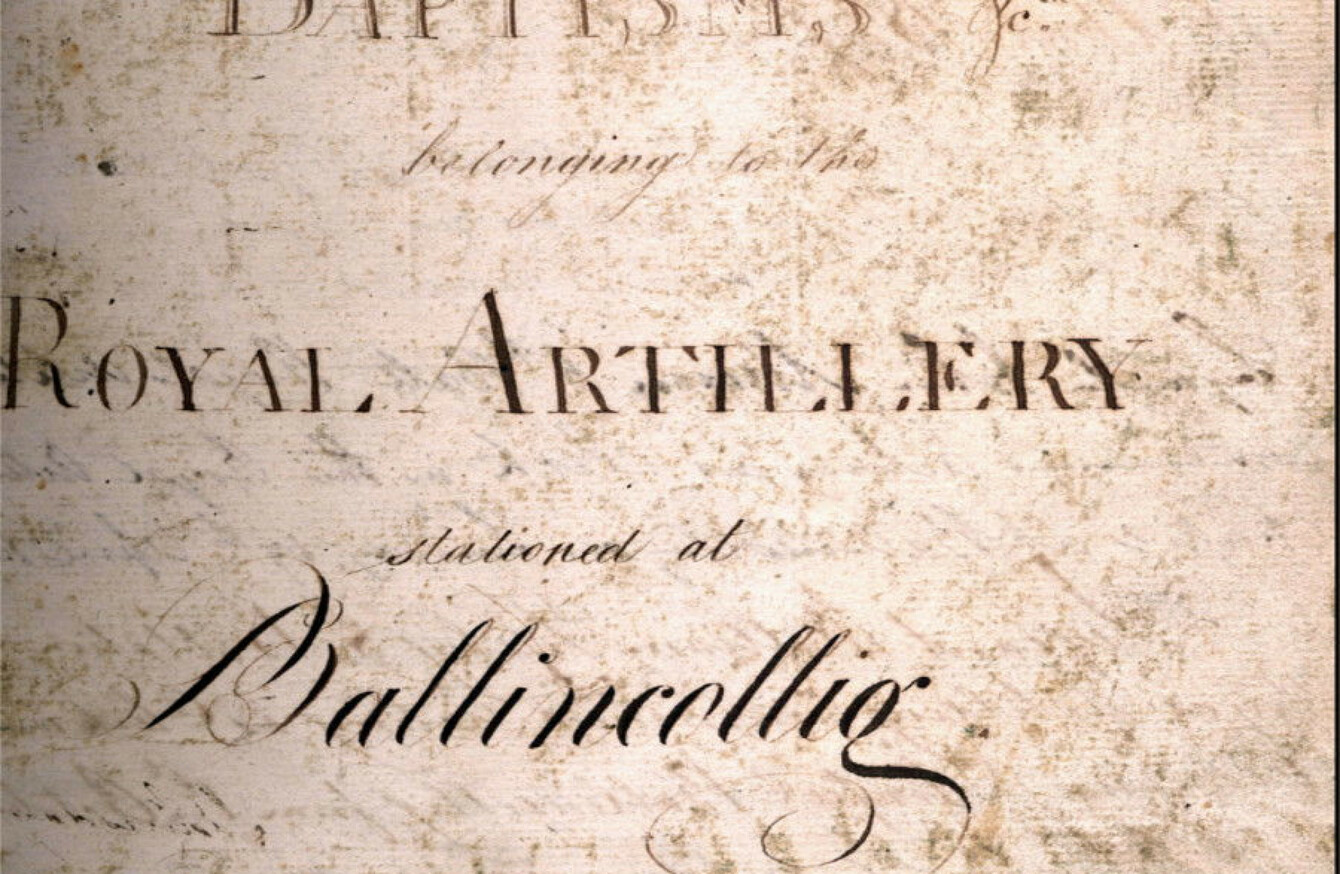 The front page of the Ballincollig registry
Image: RCB Library
The front page of the Ballincollig registry
Image: RCB Library
A NOTORIOUS ESCAPE artist, a young man who drowned trying to impress his mates, and the odd deserter or two – all of these stories from a British military garrison chapel in Ballincollig, Co Cork, during the 1800s and early-1900s are now available online.
The latest archive of the month on the Church of Ireland website, Ballincollig Military Men & Their Families 1810-1922 features records of 2,187 people – soldiers and their families – that were painstakingly transcribed over the past few years.
Doing that work was local historian Anne Donaldson, who told TheJournal.ie that it was an "amazingly hard task".
"I started doing it before all this information was available on the internet," she said. "Before then it was almost impossible, but it was still hard to do with it.
It's like climbing Everest. If you want to do it, you'll just go for it.
This Himalayan effort involved poring through thousands of records of baptisms, burials and marriages, and then using primary sources to link up and tell the stories of the people involved, over the course of 112 years.
"Take Private Elstob Dryden, or Cavalry Jack Shepherd as they called him," she said. "He was a notorious escape artist, who was stationed there in 1948.
There was a lot of desertion at the time but he was always escaping from custody. He was forever rolling out another ruse – picking locks, putting stones in locks. He'd be getting brought from one barracks to another, and then disappear along the way.
The enthusiastic Donaldson said that the development of Ballincollig was tied up with the army barracks there during the 19th century.
"Ballincollig is now very much a modern town around six miles from Cork city," she said. "But in the 1700s it was a very rural place. When they started making gunpowder in the latter part of the century, the army came in and stuck around."
So what was it like for the people who came to live at the barracks in Ballincollig?
"These poor divils were coming to live in horrible conditions very far from home," the local historian said. "It was a very sociable area to be sure, but there were an awful lot of avoidable deaths."
A high infant mortality rate and an excessive number of people being drowned were features identified by Donaldson as she was transcribing the histories and learning more about each person.
She said: "There was one group of fellas that came down. Soldiers – all of them were fairly new.
They went down to the Hell Hole – you won't find that on any map but it's a spot down by the river there. There was one who couldn't swim, and they were all saying 'jump in, jump in'. So he did. One of the others tried to jump in to save him, but they couldn't.
Anne is pleased to have been able to get the data online, and hopes people will use it to discover bits about their past they may not have known about.
"There's such a rich history here. I'm glad I was able to tell these stories," she said.
Coinciding with the publication of Donaldson's Ballincollig records, the Church of Ireland is launching a new parish centre on the site of one of the old gun stores in the town.
"All of these lads came over," she added. "They may have been to war, they have been about to head to war. It must have been horrible.
I hope we never have to live through times like that again. But with our friend over there in America, I'm sure anything's possible.