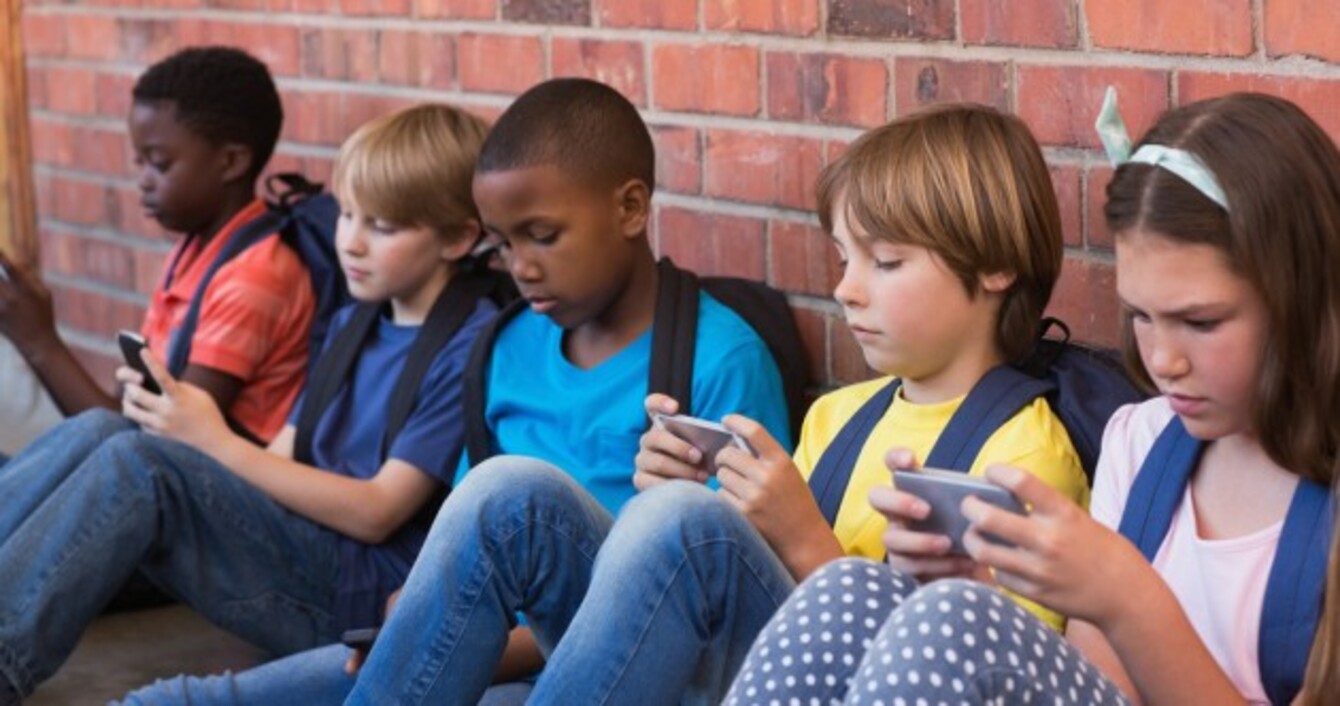 Image: Shutterstock/wavebreakmedia
Image: Shutterstock/wavebreakmedia
Updated at 9.35am
A NEW BILL that will make it illegal for retail outlets to sell a mobile phone with internet access to minors under the age of 14 is currently being drafted.
Under the proposed Internet Access for Minors Bill 2017, it will also be illegal for parents to allow their children born after 2015 to own a portable device which has the internet.
According to Fine Gael's Jim Daly, who has been working on the Bill for a number of months, the primary aim is to introduce a new law that will force device manufacturers to develop a "child-friendly" mobile phone or tablet, which has limited access to the web.
While the drafting is in the early stages, it's understood other aspects include making it illegal for any commercial outlet to provide access to Wi-Fi without identification.
Speaking this morning on RTÉ's Morning Ireland, Daly warned of the dangers unsupervised internet access posed to children.
"Essentially you're giving your child of seven or eight years of age a mobile device that allows them to access unlimited pornography of every type," he said.
How will this be enforced?
A retail outlet caught selling a device to a minor will be subject to a fine not exceeding €100. Similarly, parents who are deemed to have broken the law by allowing a child to independently own or use a device unsupervised will also face a penalty.
Speaking to TheJournal.ie yesterday, Daly said this penalty is similar to the legal position for the consumption of alcohol in Ireland by minors, where it is an offence to give alcohol to a minor under the age of 18 unless in a domestic setting unless they have parental consent.
"I do not see this as Nanny State policing, but rather a law in place to assist parents to say no to their eight, nine or 10-year-old who is begging to own one of these devices because all of their friends have one," he said.
The West Cork TD said the new law would prevent children from accessing content that is not suitable for their viewing and deter children from engaging in social media sites which are aimed at teenagers.
'What age are you happy for them to see pornography?'
"When people ask me, 'what age should my child be before I buy them a such a device?' I reply: 'whatever age you are happy with them viewing pornography,'" said Daly.
#Open journalism No news is bad news Support The Journal

Your contributions will help us continue to deliver the stories that are important to you

Support us now
He said restricting children's unsupervised access to the internet will help eradicate cyber-bullying and will force a debate on an issue which he claims is "robbing children of their childhood".
Looking at my own experience as a parent to six young children, and as a former school principal, I am very conscious and very aware of the challenges and dangers posed. I am particularly aware of the pressure that is on parents, where your eight year old comes home and says they want an iPhone for Christmas because everyone in their class has an iPhone.
The chairman of the Oireachtas Committee on Children and Youth Affairs said he fully expects to face some criticism about the Bill.
"Of course there will be much accusations about this being Nanny State and how do you enforce it, with people perhaps calling this law a joke," he said.
However, he said there is universal appetite for this issue to be tackled. Daly said he has spoken to parents, child welfare groups, TDs and members of Cabinet about his plans.
I think as a parent it would be hugely helpful if there was guidance, regulation and indeed laws in the State that will allow me, as a parent, to say to my child 'it is illegal to have device at your age'.
I think there will be significant support from parents. A lot parents are at the stage that I am, where they are really feeling very, very inadequate at rising to the challenges that are presenting themselves in the online space in relation to protecting their children.
Daly concluded by stating that safety online is the single, greatest challenge of our time in terms of child protection.
With reporting from Cormac Fitzgerald