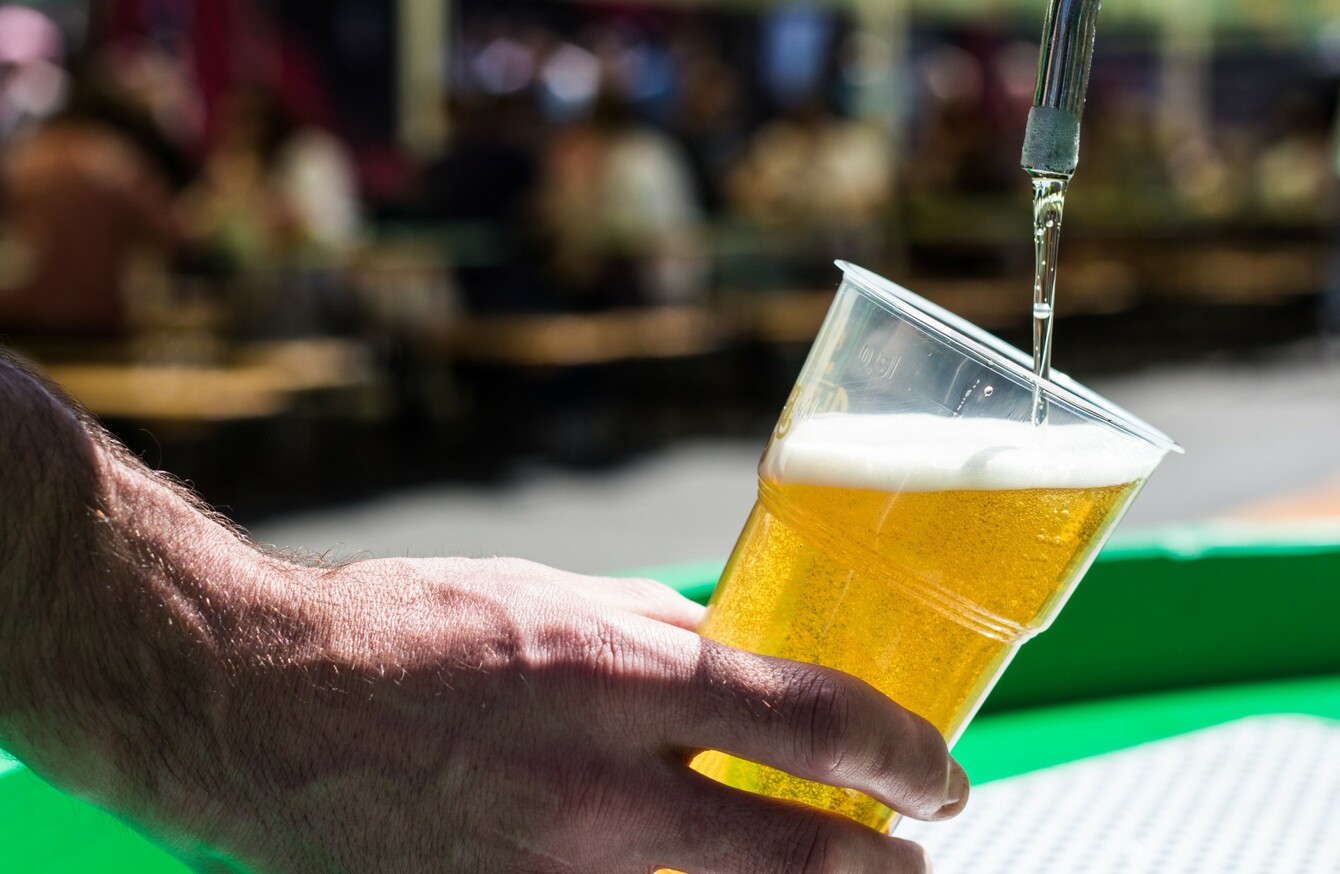 This is a second u-turn by the government on the issue in the last 24 hours.
Image: Shutterstock/Karina Sofit
This is a second u-turn by the government on the issue in the last 24 hours.
Image: Shutterstock/Karina Sofit
Updated Nov 17th 2020, 6:00 PM
HEALTH MINISTER STEPHEN Donnelly has said large crowds gathering outside drinking alcohol has only really "taken off at scale" over the last number of days. 
In an attempt to explain why the government has done two u-turns in the space of 24 hours in relation to a crackdown on people drinking takeaway pints outside, the minister said he wanted to "act quickly" in tackling the issue. 
When pointed out to him on RTÉ's Six One News that perhaps it was not a growing phenomenon and that people have been enjoying drinks outside throughout the pandemic, the minister said: 
"We haven't had a situation before whereby people have been gathering in large crowds drinking outside."
Plans to give gardaí new powers to fine people who gather outside to drink alcohol were shelved by Cabinet today. 
Ministers instead decided to focus on the enforcement of existing rules which govern the consumption of alcohol in a public space.
It is understood Micheál Martin, Leo Varadkar and Eamon Ryan met prior to Cabinet to discuss the proposals being floated by Donnelly.
Ultimately, a memo prepared by Donnelly on the initiative was not brought to Cabinet in the end.
Speaking on the Six One News this evening, Donnelly said large crowds meeting up to drink outside together was "against the spirit and the letter of the regulations". 
He said there was a "productive discussion" Cabinet members today, with broad agreement that the focus should be on the enforcement of existing rules which govern the consumption of alcohol in a public space.
It is understood the proposals for fines were "stood down and withdrawn" at Cabinet this morning amid opposition from Fine Gael and Green Party ministers to Health Minister Stephen Donnelly's plans.
Speaking to reporters this afternoon Arts and Culture Minister Catherine Martin said the idea of banning takeaway pints was not "bringing people with us".
She said there was agreement around the Cabinet table today enforcement of the current laws should be looked at before the introduction of any new legislation.
However, she also warned that there seems to be a sense of complacency creeping in. She said there was no-knee jerk reaction, but that ministers felt new laws were unnecessary.
U-turn 
This is a second u-turn by the government on the issue in the last 24 hours. 
Lengthy discussions took place last night about a memo the Fianna Fáil minister planned to bring to Cabinet about people drinking outside. 
It emerged yesterday that the health minister was in favour of an all out ban on takeaway pints and other alcoholic drinks which was mooted yesterday as part of a new crackdown on people gathering outdoors to drink.
Despite reports that moves were being made by Donnelly to introduce at outright ban on takeaway drinks, it emerged that a number of Cabinet ministers had no knowledge of the plan yesterday.
After much discussion about the matter at government level last night, it emerged that new draft regulations for fines rather than a ban would be brought to Cabinet today, after some government sources stated they had concerns that such a measure would not be workable.
However, such plans have now been scrapped.
Speaking in the Dáil today, Taoiseach Micheál Martin said that greater enforcement would now be prioritised. 
"The scenes of last weeked and the previous week where large crowds had gathered outside of takeaway facilities is problematic in terms of the overall messaging and maintaining confidence in the sacrifices and underpinning the sacrifices that people have made," he said.
"We need to acknowledge that. And that's why enforcement is important, of existing laws, and we will have further engagement with gardaí in relation to that but I think the key point is that the issue needs to be highlighted and needs to be responded to.
Existing laws
Cabinet ministers have decided that the focus should remain on enforcing existing laws which already state it is an offence to consume alcohol bought in a closed container (like a bottle or can) within 100 metres of an off-licence or pub where it was sold.
The existing law does not forbid a pub from delivering drinks to people's homes, or allowing customers to bring drinks home.
However, it does allow for a person who consumes any alcohol within 100 metres of where they bought it liable to be fined up €300. A licence holder is subject to a fine not exceeding €1,500 if they consent to someone drinking within 100 metres of the premises. 
Cabinet members highlighted today that it is already illegal to drink on the streets of Dublin and Cork, while it is also against public health regulations under Level 5 to be more than 5km from your home.
Under Level 5 restrictions, pubs cannot open for customers but are allowed to operate on a takeaway basis.
Drinking outdoors is not prohibited in general but many city and county councils have bye-laws that forbid drinking in some or all public places.
Yesterday, the Taoiseach confirmed the government would review the selling of takeaway pints from pubs due to a number of instances of people congregating in defiance of public health guidelines.
#Open journalism No news is bad news Support The Journal

Your contributions will help us continue to deliver the stories that are important to you

Support us now
Micheál Martin spoke with the Minister for Justice Helen McEntee and Health Minister Stephen Donnelly about the matter yesterday, as well as seeking advice from An Garda Síochána.
It is understood that the issue of enforcement of the current regulations was raised during those discussions yesterday, as were options on how to deal with offending pubs under the current rules.
Social media
The Taoiseach's comments yesterday came as videos of people gathering on Dublin's South William Street and Cork's Patrick Street and Coal Quay were shared online and generated news coverage. 
Yesterday, there appeared to be significant opposition to the planned ban on takeaway drinks. While some said it was clear that a number of publicans are not following the "spirit" of the current rules, they said a ban was not the answer.
A number of senior government sources said that only a small number of publicans are flouting the rules, and that it would be unfair to end the sale of all takeaway drinks due to the actions of a few.
Another said it is illegal to drink on the street in most areas, insisting that enforcement is the solution, not an outright ban, adding that they would not be in favour of preventing local pubs from providing takeaway.
However, one health source defended the proposal, saying it is "very hard" to police the current rules around preventing people drinking alcohol purchased within 100 metres.
One source said there were similar discussions a number of weeks ago about the shutting off licenses and that that had come to nothing.
While a number of government sources raised concerns about the mooted ban, backbench TDs were also raising red flags yesterday evening.
Fianna Fáil's Barry Cowen tweeted yesterday evening: 
Encourage compliance and enforce existing restrictions/regulations if necessary but don't punish others who need lifelines like takeaway options to stay afloat.

— Barry Cowen (@CowenBarry) November 16, 2020
Brian Foley of the Vintners Federation of Ireland (VFI) insisted some people who are drinking outdoors are getting alcohol from off licences, rather than pubs.
He said any pubs that break guidelines should be "dealt with", but added that "the vast majority of publicans are following the guidelines".