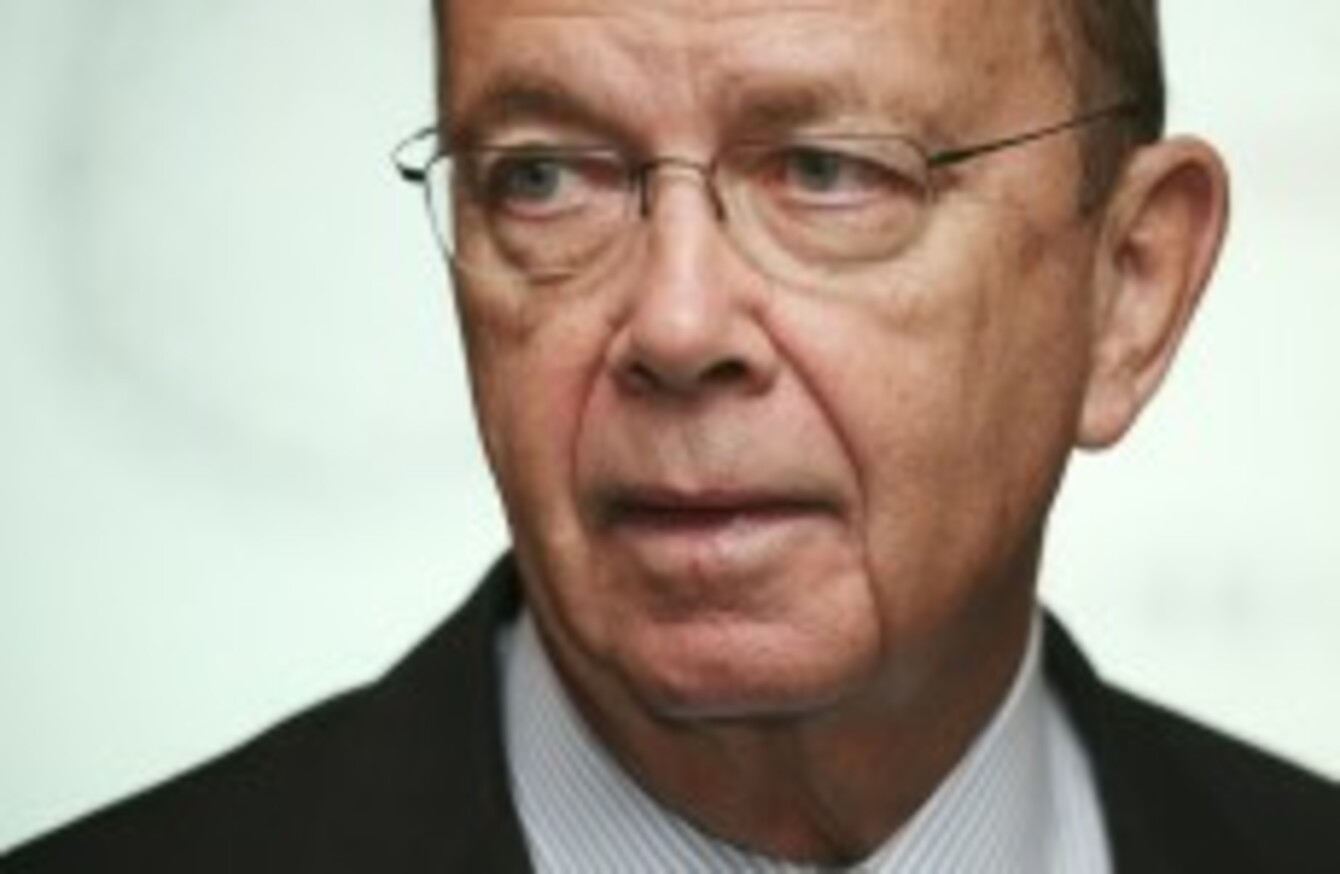 Investor Wilbur Ross
Image: AP/Press Association Images
Investor Wilbur Ross
Image: AP/Press Association Images
Updated at 7pm
US BILLIONAIRE WILBUR Ross has made €477 million from the sale of the remainder of his holding in Bank of Ireland this morning.
Observers said that the move was being taken by the market "in its stride" after an early dip in share value.
Bank of Ireland shares are now down just under 2.5 per cent after dipping by as much as five per cent in early trading, before regaining ground and then plateauing below 27.5 cent per share for much of the morning.
On the run in to lunchtime, the share gained more ground to land at 27.7 cent per share.
Investec Ireland chief economist Philip O'Sullivan said that it seemed the market is taking the placement of Ross' 1.8 billion shares in its stride.
He said that the bank is generally in a good position, despite the investor's decision to dump the remainder of his holding.
"From an investor standpoint, Bank of Ireland has a lot of things going for it."
"It is highly leveraged to a recovering Irish economy, while the improving prospects for the housing market in particular offer the prospect for capital friendly provision write-backs following the conclusion of the EBC's stress tests later this year."
No longer distressed
Ross most likely decided to get rid of his position with Bank of Ireland because it was no longer his natural investment class, which is a distressed asset.
"Think back to when it first invested in Bank of Ireland – it was in the wake of the Moody's downgrade of Irish debt to junk status. Many investors had abandoned Ireland and that's the time a distresses asset fund begins doing its due diligence."
Now that we are in a situation where the economy has returned to growth, Irish bond yields are at historic lows and BoI trades at a premium to its European peers, it was simply anomalous for a distressed asset fund to maintain its exposure.
Government sell-off
The Government, which still holds a 14 per cent stake in the Bank of Ireland, is unlikely to be spooked by how the market received this morning's placement.
O'Sullivan argued that a sale of the stake this year is more likely after the market reaction to the Ross share sale.
Investec is still betting on the State's holding being sold towards the back end of a 12 month window, but O'Sullivan added:
"Two considerations that could prove us wrong are how well the market has absorbed the WL Ross placing, and that the Government may wish to have one bank restored to full private ownership before seeking to, as Minister Noonan put it, test the market, with a partial sale of AIB before the next election."
The Minister
Speaking in the Dáil this evening, Finance Minister Michael Noonan said he had no immediate plans to take action regarding the State's interest in the institution.
"When it comes to our remaining shares we will bide our time and I have no current plans to start selling down investment," Noonan said.
Addressing Ross's decision to sell off his remaining interest, he said it was "certainly encouraging that such a significant amount of shares could be sold on the market".
"This is, after all the third successful placing of shares in the bank in recent months," the Finance Minister said, adding "it really demonstrates a continued very strong interest in Irish assets".
Noonan said that the State had benefited from Ross's investment in 2011, and that it had "reduced the risk the taxpayer had to take on board".
However, he said, "Ireland is now a completely different place".
Additional reporting, Daragh Brophy.