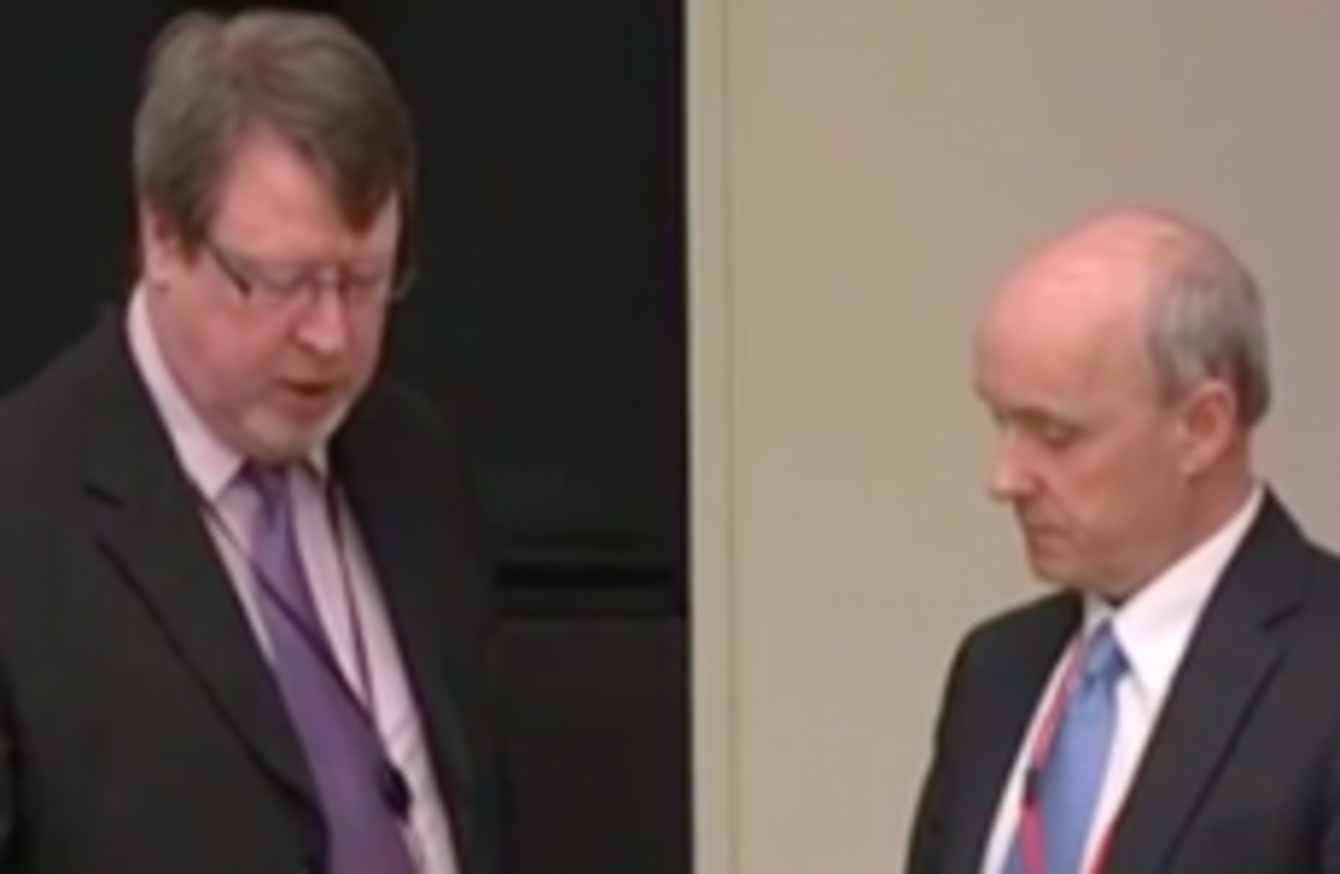 Donal Forde takes the oath at the banking inquiry today
Image: Oireachtas TV
Donal Forde takes the oath at the banking inquiry today
Image: Oireachtas TV
THOUGH IT HAS faced criticism for lacking any real teeth, the banking inquiry has significantly escalated its workload and its powers.
From this week on all witnesses appearing before the committee are now required to take an oath or affirmation prior to giving evidence.
You can expect former and current senior bankers and politicians to be holding the bible and taking the oath in the coming weeks, just like ex-AIB chairman Dermot Gleeson did earlier today:
It's all part of the powers given to the inquiry under the Inquiries Act.
It means some of the most senior bankers in the country at the time of the bank guarantee as well as politicians are being formally compelled to appear before the committee – irrespective of whether or not they've indicated a willingness to cooperate.
If they don't cooperate, they could be prosecuted under the Inquiries Act. They could also face prosecution for providing false or misleading information to the committee or unlawfully disclosing documents related to the inquiry.
Punishments of up to five years in prison and up to €500,000 of a fine can be handed down by the courts, if witnesses are found to have been in breach of the Act.
The oath
The oath has been taken by the four witnesses who have so far appeared under the nexus phase.
These include NAMA's Brendan McDonagh and Frank Daly yesterday, and Gleeson and Donal Forde, former managing director of ROI division of AIB, earlier today.
The oath reads:
I swear by Almighty God that the evidence I shall give shall be the truth, the whole truth and nothing but the truth.
Here's Forde taking it this afternoon:
Source: Video TheJournal.ie/YouTube
There's also an affirmation available for those who are not religious, which reads:
I, do solemnly, sincerely and truly declare and affirm that the evidence that I shall give shall be the truth, the whole truth and nothing but the truth.
Once the inquiry moves into the political aspect of investigation expect to see the likes of Brian Cowen and Charlie McCreevey taking oaths before they face questioning.