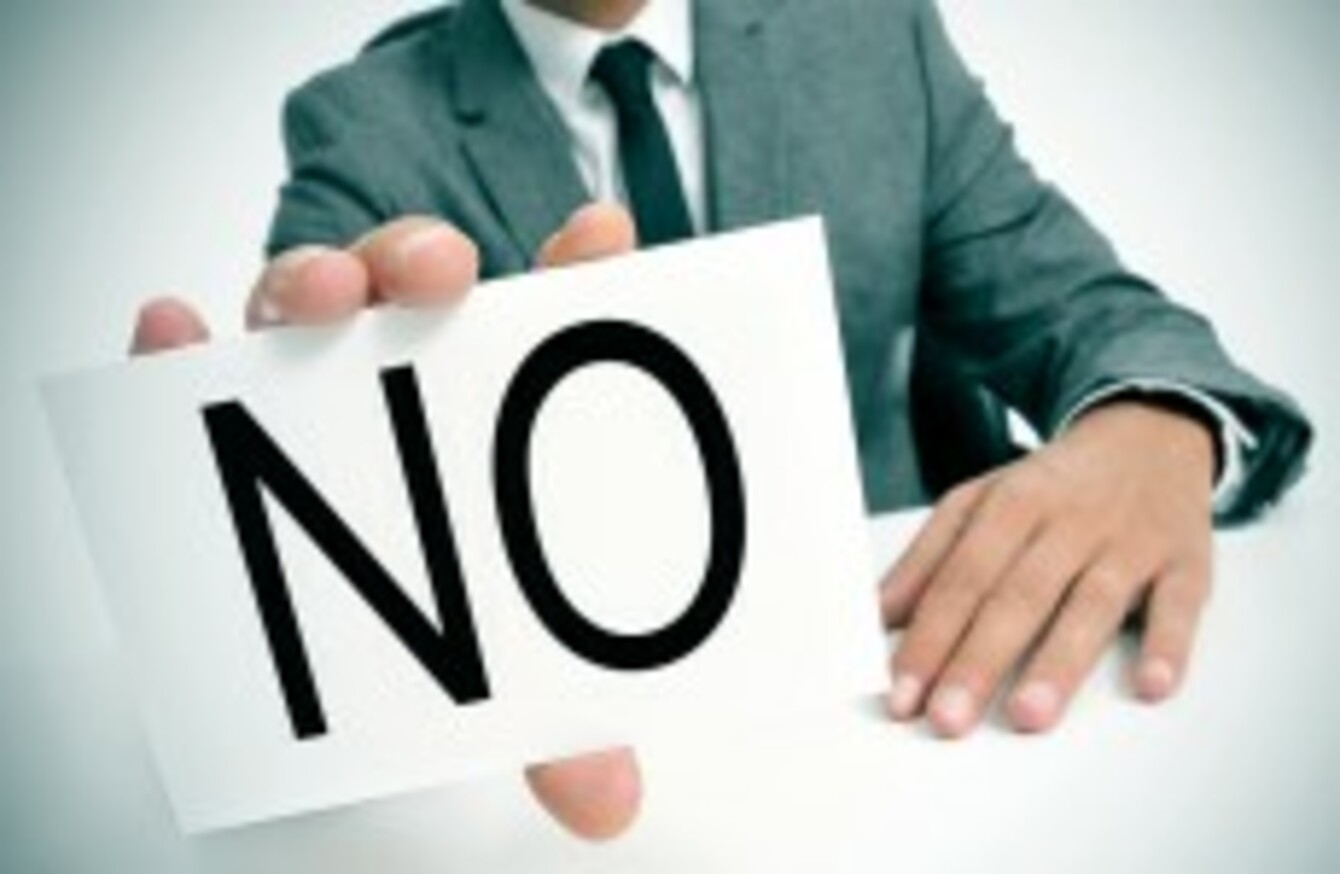 Image: Shutterstock/nito
Image: Shutterstock/nito
IRELAND'S STATE INSOLVENCY service is claiming that for every insolvency application rejected by Irish banks and other creditors, the institutions stand to lose €100,000.
The claim is made by the Insolvency Service of Ireland (ISI), the debt-resolution service established by the government in March 2013, in its statistical publication for the first three months of 2015.
The service ran an analysis of 47 such rejected applications (with the debtors then forced into bankruptcy) and concluded that the average loss made by opting for bankruptcy in each case was €102,000.
The overall loss made on the 47 analysed cases was €4.8 million.  The analysis exercise began in October 2014.
The institution with easily the largest amount of rejections is Permanent TSB with 16. Meanwhile, sub-prime lender Start Mortgages has 8.
Elsewhere in the release the ISI  assert that take-up of their services in the first three months of 2015 has been vastly improved on the previous year.
Over 400 debt resolutions have been negotiated so far this year, with over 2,000 applications received.
That stands as a significant improvement on the take-up from last year when only 1,000 applications of an expected 15,000 were processed.
Director of the ISI Lorcan O'Connor said the statistics were indicative of the 'momentum' generated by the service's 'Back on Track' information campaign which was launched late last year, which coincided with the elimination of fees for applicants.
"Our on-going campaign has helped people to understand that help is available for anyone with unsustainable debt," he said.
Less impressed with the release is David Hall, director of the Irish Mortgage Holders Association (IMHO), who points out that of the 400 debt resolutions, only 129 were Personal Insolvency Arrangements (PIAs), while 162 were bankruptcies.
#Open journalism No news is bad news Support The Journal

Your contributions will help us continue to deliver the stories that are important to you

Support us now
"The Insolvency Service press release tries to present what are pathetic figures in as positive a way as possible. There is such an exaggeration to these figures," he told TheJournal.ie.
There were 162 bankruptcies in this period, and statistics confirm that 70% of those going bankrupt lose their family home.
Asked about the claimed €100,000 loss to creditors, Hall said: "What do you expect with institutions that are OCD about writing off debt."
The only way to change bullies is to introduce regulation.
I would also like to know how many of he 129 personal insolvencies involved family homes – our belief is that 90% of those mentioned are investment properties.
Hall also had strong words for the chief executive of PTSB.
"Given the Government is seeking to make changes to the insolvency system, the Taoiseach should call in the CEO of PTSB, Jeremy Masding, to explain why a state owned bank rejects twice as many arrangements presented to it as any other bank," he said.